Archive for the 'somalia' Tag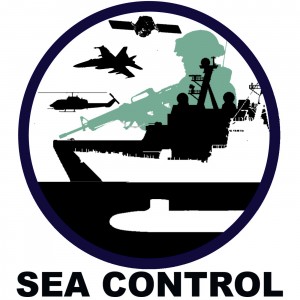 James Bridger interviews adventurer extraordinaire, Rob Young Pelton, about his upcoming crowd-funded journey to find Jospeh Kony and further updates on the situation in Africa. Jim and Rob discuss civil wars, and piracy amongst others.
The episode finishes with an interview done on Federal News Radio, 1500AM, for their series "In Depth with Francis Rose." Sean McCalley interviews our NEXTWAR Director, Matt Hipple, about his thoughts on what to watch in the coming year. They discuss Africa, China, drones, and informal military innovation/networks.
Please enjoy Sea Control 17: Rob Young Pelton plus Federal News Radio (Dowload).
And remember… we are available on Itunes and Stitcher Stream Radio! Tell a friend, leave a comment, and rate 5 stars!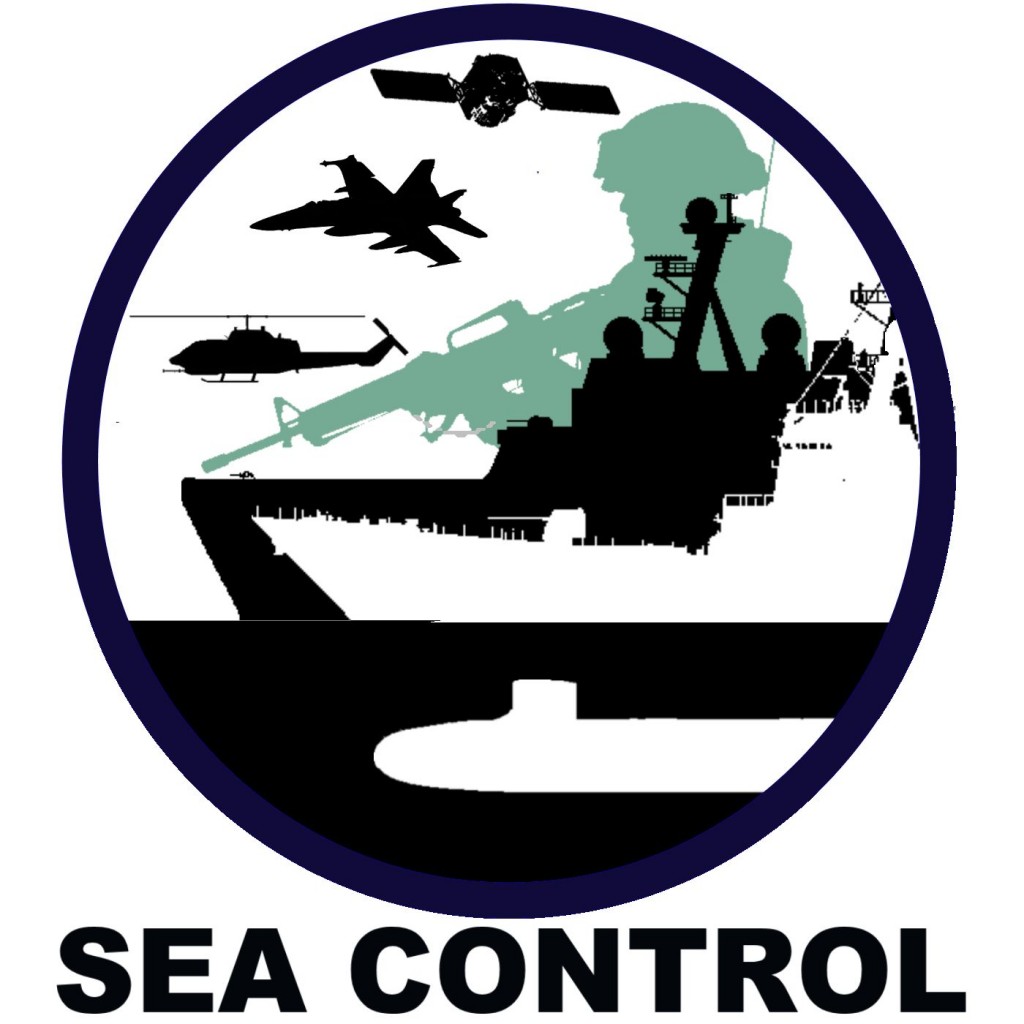 Matt Hipple is joined by Zack Elkaim and James Bridger to talk about rebellions in Africa: the Central African Republic, Mali, and Nigeria, as well as the future prospects for Somalia. Today's podcast is one of our best, and we highly encourage you to give it a listen. Enjoy our latest podcast, Episode 14, My Other CAR is a Mali (download).
Remember to subscribe on iTunes or Stitcher Stream Radio! Leave us a rating and a comment!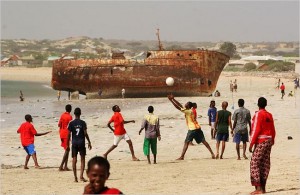 In the week following the 2010 USNI History Conference; Piracy on the High Seas, there are two points that have staying power for me. They help describe why we are having such a difficult time fixing a relatively basic function of a sea power with literally the entire written history of mankind to tap into for examples about how to solve it.
This isn't a new problem even if you have a shortsighted view of history. Just sticking to "new media" – our friend EagleOne was blogg'n about piracy from the start – well before piracy was "cool." Check out his archive and you can see the arch from SE Asia to the Horn of Africa and a few other garden spots in between.
The problem isn't piracy itself; it is our inability to take decisive action to eliminate it. Once again, it boils down to solid, informed leadership – leadership that is allowing itself to be confused by two things – the same two things that are still bouncing around my nogg'n a week after the conference.
Peer Review vs. Prop-wash
The first problem was indirectly pointed out by LCDR B.J. Armstrong, USN via his opening statement during the first panel;
"Hey, I'm just an operator … "
… at the assembled academics and recidivist Staff Weenies encircling him.
His opening reminded me of a very clear point; in piracy like many things, we are suffering from analysis paralysis. Academics, researchers, and historians are very important parts of the discussion, but when we give them too much weight – and minimize the opinion and the observations of the operator – then we get what we reward; talk and discussion – and the finer points of rejoinders to introspective quandaries. I call it The Darfur Effect
.
In The Darfur Effect, we have a very serious and very difficult problem that all agree is very serious and very difficult. As any good academic, researcher, and historian will tell you – the best response to such things is to get grant money, organize symposiums, publish some papers, and even better get some time in front of a Congressional committee or a temporary assignment with an IO, NGO, or GO working on a White Paper on the subject.
That is all good and well – but if that is your primary focus, and you give most of the time, money, and power to that focus – nothing really is done. Like Darfur, after the clucking of tongues and interviews on PBS's Frontline – few are saved and the problem isn't solved. Well, in the case of Darfur where each new finds that there is a very limited and dwindling number of Darfuris to save, eventually there are few to none to save and the problem solves itself, in a fashion.
Piracy is different in one respect. Unchecked, it grows. Unlike the case of Darfur where the people there are trying to be eliminated faster than they can replace themselves – with piracy like all lawlessness – it grows when ignored. Mitigation or elimination requires decisive operations. Yes, we have anti-piracy operations, but are they really that effective? The proof that we are still talking about this after so many years shows that no, they are not effective.
Does anyone think that we have not talked enough about piracy? In more time than we took to defeat Nazi Germany and Imperial Japan, we are still roughly talking about the same issues we were in 2005.
Ideas we have – good Direction and Guidance based on a sound Operational Concept derived from the best ideas we do not have.
DC-10s, Pintos, and Kismaayo
The best speech for its substance, subject, and delivery was at lunch by a non-military, non-historian, non-academic; the Senior Vice President of Maersk Line, Limited – Stephen M. Carmel.
He had no difficulty in getting people to stop chewing for a moment as he came of the blocks with his spines out and claws extended. He wasn't hostile – but he gave a delivery in a manner that told you he knew that many people would not like what he had to say, many have never thought of things from his point of view – and something that warmed my heart – he had a BM1's sense of not suffering fools lightly.
Mr. Carmel knows his business. Unlike most, he has to know his business – he has a firm understanding of sunk cost, opportunity cost, cost benefit, and comparative advantage. He actually has metrics that cannot – legally at least – be fudged or pushed into the next fiscal year. He doesn't work in a career that is based on the conveyor belt mentality of promotion – he must perform or he will be replaced.
Such an environment can do much to clear the mind, and his presentation was focused and fact based. I won't go into the double-ledger aspects of it all, but let me summarize it for you; piracy is a commercial non-issue for him and his company. They have, do, and will pay ransom when needed. They can mitigate piracy's impact on their bottom line. If you need a justification for doing something about piracy – don't use Maersk's business needs as it.
From his area of responsibility, he has a point – but I don't think he has the final answer either. When the green eyeshade becomes the green blinder, we often find ourselves in trouble. There were very sound business decisions made concerning the DC-10
and the Ford Pinto
– but they were morally indefensible. I don't think leaving hundreds of men languishing off some septic Somali port for hundreds of days is moral.
Though Carmel's thoughts should be part of the discussion – it should be but a small part of a balanced view. Piracy is part of the general cancer of maritime disorder – a violent symptom along with its less directly dangerous pollution and industrial fishing sisters. Piracy is a barrier to freedom of the seas, and if left alone will grow and impact what was once an area where goods were free to flow to markets with minimal external interference.
It will grow along the same lines as the "broken window" theory of crime states that if not aggressively countered, crime will continue to grow and alter the larger culture in ways not fully understood – but never in a better way.
Those are the macro reasons – the micro ones are even more important. Hundreds of people are being held against their will as hostages by pirates. If those people were mostly Canadian, American, British, and German as opposed to South Asian and Philippino – does anyone here think that we would be sitting here talking about it being a non-issue? Really?
That is the moral reason. Sometimes, like with the anti-slavery operations by the British in the 19th Century – you do things because it is the right and moral thing to do, especially in those things that do not require a lot of blood or treasure to execute. Political and economic benefits will follow the moral – and if they don't at least you can look yourself in the mirror in the morning.
In an age of moral equivalence and a bias against stating what is or is not acceptable, doing things because it is "the moral thing" to do is problematic perhaps – but ponder this: what makes you more uncomfortable – setting an acceptable price on another man's freedom, or punishing those who decide to earn their living from crime and the enslavement of others?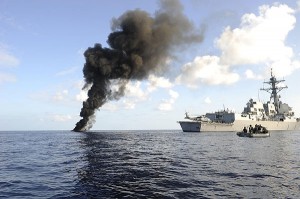 In April the Russia's Admiral Panteleyev captured a group of Somali suspected of attacking a Russian oil tanker the day before:
"During the inspection, the crew found seven Kalashnikov guns, handguns of various brands, aluminum ladders for ascending aboard, navigation equipment, including the satellite one, reserve tanks with fuel, and a big amount of empty cartridge cases," a Russian Defense Ministry source told the news agency."
Now, a video has started circling the internet showing the boarding and destruction of the Somali vessel. Interestingly, the Russian Marines use English to speak to the Somalis, a practice previously seen the video of the Dutch operation.
[Apologies for my inability to embed the video]
"Abdullahi Lami, one of the pirates holding the Greek ship anchored in the Somali town of Gaan, said: 'Every country will be treated the way it treats us. In the future, America will be the one mourning and crying,' he told The Associated Press. 'We will retaliate (for) the killings of our men.'"
Taken from here. This is an interesting quotation to me as it relays the pirate's sense of entitlement. For some reason, he thinks that they have a right to seize property and detain foreign citizens. The man quoted above seems to be as sure of his right to rob as we are sure of our right to freedom on the high seas. I wonder what led him to think this? Perhaps they've been conditioned to consider it a right given that payment of ransom is the standard procedure of dealing with pirates. 
Anyway, we seem to be dealing with an ideology and not just a criminal enterprise. They truly think they have a right to rob, and it will take force to convince them that it is not in their interests to keep pursuing this "right."
Well, what do you know? Somalian pirates are adapting to multinational forces. An "unbelievable" spurt of attacks have marked the past couple of days. This past Saturday a German vessel was seized 400 miles off the coast, bringing the total to 5 vessels captured over a span of 48 hours. And of course today the Maersk Alabama was attacked.
Check out this map of pirate attacks for 2008. Attacks are heavily concentrated in the Gulf of Aden with some attacks off of the east coasts of Somalia and Kenya.

Now check out this map for 2009. Attacks still occur primarily in the Gulf of Aden but a quick glance seems to reveal more attacks four months into 2009 off the eastern coasts of Kenya and Somalia than in all of 2008. I'd love to get my hands on the raw data especially distance from coasts but even a qualitative glance reveals the attacks are shifting further from the coast with more action off the coast of Kenya.
They've changed it up. Will we?