Archive for the 'South Korea' Tag
Standing there, head bowed, pausing to reflect on the 46 Republic of Korea (ROK) navy Sailors whose lives were lost when their ship was sunk by an alleged North Korean submarine torpedo, makes one realize how precarious peace remains in the dynamic theater that is the Asia Indo-Pacific.
During what was a leadership symposium for other task force commanders, led by U.S. 7th Fleet commander, Vice Adm. Joseph Aucoin, I had the solemn privilege to tour the memorial dedicated to those Sailors, which includes the salvaged stern of the ship, ROKS Cheonan (PCC-772).
ROKS Cheonan was a Pohang-class corvette commissioned in 1989, one of the many worthy surface ships in the ROK navy fleet. On March 26, 2010, as the ship patrolled waters near the border with North Korea, she was struck by the torpedo, broke in two and sank.
As anyone with a Twitter account is well aware, North Korea continues to make headlines by test-launching ballistic missiles.
North Korea's rhetoric and actions is just one fault line in a patchwork of tectonic plates that could lead to regional instability. And as such, we must remain steadfast in ensuring our forces, Sailors and Marines part of the Blue-Green team, are ready to deploy at a moment's notice.
In early June, the Navy conducted a sort of stand down after a series of off-duty incidents. It may have seemed from outside that Navy leadership was going "high" and "right" – but instead it served as an important time to refocus us to readiness and the incredible importance we bare in being forward-deployed here.
As commander of Amphibious Force 7th Fleet, I command over a wide range of forces from an amphibious ready group to a mine countermeasures squadron to a helicopter sea combat squadron. Each unit has a unique role and each Sailor – and Marine – has an equally unique and important role.
To me, the recent stand down was about looking ourselves in the mirror – and looking each other in the eye – and challenging ourselves to do better, to conduct ourselves every second of the day with a recognition that we may be called to action.
One of the key components during this period was a buddy rule. The emphasis here was on accountability, a renewed attention on shipmates being shipmates.
While "shipmate" is a U.S. Navy term, it applies to all services and it applies to our bond with other nations. In my last year in command, I have grown bonds with several other amphibious leaders in different countries.
This past March, I had the privilege of commanding forces, more than 17,000 in total, alongside my ROK counterpart Navy Rear Adm. Park, Ki-kyung in the exercise Ssang Yong. Though we are from different militaries, we share the same oath to defend our nation.
While the specific policies of our recent stand down period have been eased, the mentality to stand tall at all times must remain. Our nation, this region, is counting on us too much for us to "slip." We must realize that we are not only accountable to ourselves and our unit, but the partner forces that rely on us to answer the call with them.
Craig Hooper and I have a new article on The Atlantic discussing the evacuation of US citizens off the Korean peninsula in the event of renewed hostilities. We argue that the difficulty of evacuating 140,000 US citizens and select foreign nationals might well require the US to ask China and its military for assistance:
Even under the best conditions, a mass evacuation is no easy task. In July 2006, as a battle brewed between Israel and Lebanon-based Hezbollah militants, the U.S. took nearly a month to evacuate 15,000 Americans. According to the Government Accountability Office, "nearly every aspect of State's preparations for evacuation was overwhelmed", by the challenge of running an evacuation under low-threat conditions in a balmy Mediterranean summer.

Evacuating a Korean war-zone would be far harder. And the U.S. would likely have no choice but to ask China for help.
Read the full article at The Atlantic.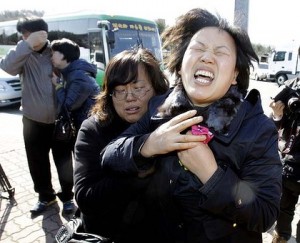 It seems the South Korean patrol ship Cheonan split into two pieces. After the explosion, the stern sank immediately, while the other half took three hours to go down, floating about four miles before sinking. The stern has yet to be found.
That news in itself might suggest damage akin to a mine or torpedo, but some family members say the vessel was in poor condition:
Some families vented anger at the military, accusing authorities of a cover-up and saying survivors told them the Cheonan was leaky and in need of repair. They jumped on a car carrying the rescued captain of the Cheonan.
Details are sketchy, but it seems U.S. assets may be on the way to the incident site. According to the JoongAng Daily, a vessel that appears to be the USNS Salvor (T-ARS 52) will soon arrive to help:
Defense Ministry spokesman Won Tae-jae said that the United States 3,000-ton salvation ship Salvo is scheduled to arrive this morning at the area of the sinking to support the search and rescue missions. Specially trained U.S. military divers will join the operations.
US sources say the Salvor is standing by:
U.S. Navy vessels including the USNS Salvor rescue and salvage ship are standing by to help in the event South Korea requests assistance, said Lt. Anthony Falvo, a spokesman for the U.S. Seventh Fleet, based in Japan. The American ships were wrapping up a joint training exercise nearby with South Korea.

"Should our forces be requested to provide assistance, that would be one of our main units," Falvo said in a telephone interview.
It will be interesting to see how the investigation plays out. And as to North Korea's response to the presence of a U.S. naval vessel near the contested sea border? Their response is anyone's guess.
Korea's "Remember the Maine" moment may still arrive.
Possible big news coming out of South Korea:
South Korea scrambled naval vessels to western waters near the disputed maritime border with North Korea late Friday after an explosion ripped a hole in the bottom of a military ship, officials and news reports said.

South Korea's YTN TV network said the government, which met in emergency session in an underground bunker after the incident, was investigating whether the sinking was due to a torpedo attack by the North.

The 1,200-ton ship — reported to have 104 crew on board — began sinking off the coast of South Korean-controlled Baengnyeong Island close to North Korea around 10:45 p.m. (1345 GMT, 9:45 a.m. EDT), an official at South Korea's Joint Chiefs of Staff said, speaking on condition of anonymity in line with department policy.
Update: The ship is the PCC-772 Cheonan, a Pohang class corvette.
In Asia, America has gotta move away from a long-standing habit of engaging in simple, bilateral force measurements. Asia is a multi-polar place, and America's penchant for strategic over-simplification is going to land the U.S. into serious trouble.
Put bluntly, U.S. Navy-folk need to remember there are a few other countries over on the other side of the Pacific. Some of them are rather formidable. And the U.S. is neglecting them.
So…Let's take a moment to compare some naval forces in the Pacific Basin. Using the official DOD Annual Report to Congress on the Military Power of the PRC 2005 and 2009, it looks like China's Navy is growing. But…when China's rate of growth is compared with other neighbors, that burst of growth over the past five years looks a lot less daunting.
China: Diesel Attack Subs: (2005 vs. 2009): 51 vs. 54 (+3)
USA: Diesel Attack Subs: (2005 vs. 2009): 0 vs. 0 (+0)
Note: Japan commissioned 4 Oyashio-class, 2 Soryu-class SSKs; South Korea commissioned 3 Type 214s from 2005-2010.
China: Nuclear Subs (SSN only, 2005 vs. 2009): 6 vs. 6 (+0)
USA: Nuclear Subs (SSN/SSGN only 2005 vs. 2009): 58 vs. 56/57 (-2/-1)
China: Destroyers (2005 vs. 2009): 21 vs. 27 (+7)
USA: Destroyers (2005 vs. 2009/10): 46 vs. 54/57 (+8/+11)
Note: Japan brought into service 2 Atago-class destroyers, 2 Takanami-class destroyers, and a Hyuga-class "carrier" destroyer; Taiwan put 4 ex-Kidd-class vessels into service; South Korea put 4 KDX-2-class destroyers into service over the past 5 years.
China: Frigates (2005 vs. 2009): 43 vs. 48 (+5)
USA: Frigates (2005 vs. 2009/10): 30 vs. 30/31 (+0/+1)
Note: Regional Frigate-building programs are proceeding apace.
China: Coastal Missile ships: (2005 vs. 2009): 51 vs 70+ (+19 at least)
USA: Nada. Zip.
Interesting. China's small missile ships are allowing China's larger vessels to engage in "blue water" activities, so, while these vessels expand China's "reach", a dependence on small ships may prove a vulnerability. The region needs to know more about the small ship programs hosted by Taiwan, South Korea and Japan. What, by way of smaller vessels, can these navies offer? How good are the region's Air Forces in hunting and destroying smaller craft?
In short, does China's love of small craft contribute to regional stability or not?
Look. China's Navy is still awfully small. And with China not exactly on friendly terms with it's neighbors (who, on the part of Japan and South Korea, are building some very modern navies), the PLA(N) has a lot to do to secure China's maritime borders. It is a little bit of a stretch to think all this new floating hardware is aimed exclusively at the U.S.A.