Archive for the 'space' Tag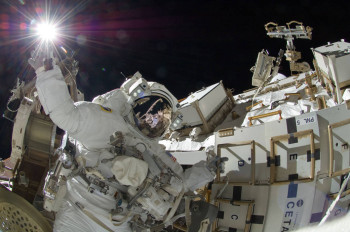 NASA astronaut Sunita Williams, Expedition 32 flight engineer, appears to touch the bright sun during the mission's third session of extravehicular activity (EVA) on Sept. 5, 2012.
During the six-hour, 28-minute spacewalk, Williams and Japan Aerospace Exploration Agency astronaut Aki Hoshide (visible in the reflections of Williams' helmet visor), flight engineer, completed the installation of a Main Bus Switching Unit (MBSU) that was hampered by a possible misalignment and damaged threads where a bolt must be placed. They also installed a camera on the International Space Station's robotic arm, Canadarm2.
Image Credit: NASA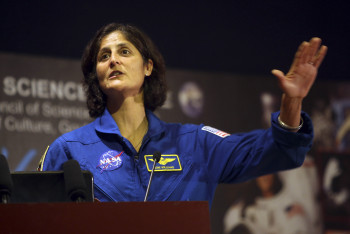 Williams received her commission as an Ensign in the United States Navy from the United States Naval Academy in May 1987. After a six-month temporary assignment at the Naval Coastal System Command, she received her designation as a Basic Diving Officer and then reported to Naval Aviation Training Command. She was designated a Naval Aviator in July 1989. She then reported to Helicopter Combat Support Squadron 3 for initial H46, Seaknight, training. Upon completion of this training, she was assigned to Helicopter Combat Support Squadron 8 in Norfolk, Virginia, and made overseas deployments to the Mediterranean, Red Sea and the Persian Gulf in support of Desert Shield and Operation Provide Comfort. In September 1992, she was the Officer-in-Charge of an H-46 detachment sent to Miami, Florida for Hurricane Andrew Relief Operations onboard USS Sylvania. Williams was selected for United States Naval Test Pilot School and began the course in January 1993. After graduation in December 1993, she was assigned to the Rotary Wing Aircraft Test Directorate as an H-46 Project Officer, and V-22 Chase Pilot in the T-2. While there, she was also assigned as the squadron Safety Officer and flew test flights in the SH-60B/F, UH-1, AH-1W, SH-2, VH-3, H-46, CH-53 and the H-57. In December 1995, she went back to the Naval Test Pilot School as an Instructor in the Rotary Wing Department and the school's Safety Officer where she flew the UH-60, OH-6 and the OH-58. From there, she was assigned to the USS Saipan (LHA-2), Norfolk, Virginia, as the Aircraft Handler and the Assistant Air Boss. Williams was deployed onboard USS Saipan when she was selected for the astronaut program.
She has logged more than 3000 flight hours in over 30 different aircraft.
NASA EXPERIENCE: Selected by NASA in June 1998, she reported for training in August 1998. Astronaut Candidate Training included orientation briefings and tours, numerous scientific and technical briefings, intensive instruction in shuttle and International Space Station systems, physiological training and ground school to prepare for T-38 flight training, as well as learning water and wilderness survival techniques. Following a period of training and evaluation, Williams worked in Moscow with the Russian Space Agency on the Russian contribution to the space station and with the first Expedition Crew. Following the return of Expedition 1, Williams worked within the Robotics branch on the station's Robotic Arm and the follow-on Special Purpose Dexterous Manipulator. As a NEEMO2 crewmember, she lived underwater in the Aquarius habitat for 9 days. After her first flight, she served as Deputy Chief of the Astronaut Office. She then supported a long duration mission as Flight Engineer for Expedition 32 and International Space Station Commander for Expedition 33. Williams has spent a total of 322 days in space on two missions; she ranks sixth on the all-time U.S. endurance list, and second all-time for a female. With 50 hours 40 minutes, she also holds the record total cumulative spacewalk time by a female astronaut.
The U.S. Naval Institute's 2013 annual history conference, "Past, Present, and Future of Human Space Flight" at Alumni Hall on the grounds of the U.S. Naval Academy opened with the morning keynote presented by astronaut and retired Lt. Gen. Thomas P. Stafford.
Stafford, a veteran of the Gemini and Apollo programs and the Apollo-Soyuz Test Project, opened his remarks by expressing his pleasure at returning to his alma mater. "I'll be talking fast today because there's a lot of history to cover," he said. Stafford explained that the launch of Sputnik 1 in October 1957 had a galvanizing political effect in the United States that led to a push across the country to boost science, technical, and math (STEM) education, and inspired Senator Lyndon Johnson to push for a manned space program. Stafford summarized the subsequent creation of the Mercury program, explaining that the Mercury spacecraft suffered from limitations largely imposed by the limited size of the available launch vehicles. For example, while astronauts were able to change the Mercury spacecraft's attitude, they were not able to affect its vector — a factor that would play a significant role in the design of the subsequent two-person Gemini spacecraft.
When Yuri Gagarin made mankind's first manned space flight on April 12, 1961, it spurred the United States to respond by launching Alan Shepard on a suborbital flight President Kennedy to make his famous speech before Congress a month later in which he called for a man to be landed on the moon and safely returned to Earth. "I'm glad he used the words, 'safely returned,'" Stafford quipped. A little-known fact about the speech was that Kennedy had already informed, and secured the support of, key Congressional leaders prior to the speech. "So while the speech came as a surprise to many of those in Congress, to the power brokers, the deal was already done," said Stafford. "This is a lesson in political history."
See the complete on scene report »