Archive for the 'strategic nuclear weapons' Tag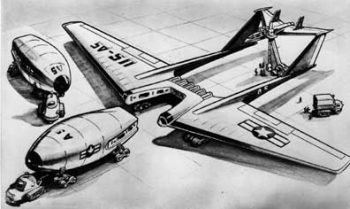 There are some things that should stop everyone in their tracks. At the top of that list should be an apparent lack of risk awareness concerning nuclear weapons.
This line from Patrick Tucker's article in last month's The Atlantic stopped me cold;
Future nuclear missiles may be siloed but, unlike their predecessors, they'll exhibit "some level of connectivity to the rest of the warfighting system," according to Werner J.A. Dahm, the chair of the Air Force Scientific Advisory Board. That opens up new potential for nuclear mishaps that, until now, have never been a part of Pentagon planning. In 2017, the board will undertake a study to see how to meet those concerns. "Obviously the Air Force doesn't conceptualize systems like that without ideas for how they would address those surety concerns," said Dahm.
Stop. Stop right there.
If this reporting is accurate, the work of Air Force Scientific Advisory Board needs to be halted immediately and a thorough review of the members and leadership of the board conducted by an outside party.
Our nuclear weapons themselves must in no way be part of any IP connectivity or network enabled in any way. Full stop.
"We have formal Air Force documents that detail the formal certification process for nuclear weapons. To what extent do the current models for certifying nuclear systems carry over into these modern, network enabled systems and how would you re-conceptualize certification for systems that are likely to come out of these recap programs?" asked Dahm.
Some support systems? Sure, but command, control, mission loading, arming, and launch must be contained in a robust, hardened, isolated & closed system. Simple, almost primitive, with multiple physical human interfaces required. To be even thinking of network access to the weapons systems themselves is the height of irresponsibility; even more irresponsible than a reliance on GPS or satellite systems as a point of failure between authorization, launch, and "servicing the target." Ahem.
This is the same kind of thinking that leads otherwise smart people to think "smart gun" technology is a good idea. It simply assumes away all risk, and places everything in the unstable hands of hubris-centered hope ungrounded by operational experience.
The fact that future nuclear weapons will be far more networked (though not necessarily to the open Internet) will create better safety and oversight, and allow for more coordinated operations. But more connectivity also introduces new potential vulnerabilities and dangers.

"You have to be able to certify that an adversary can't take control of that weapon, that the weapon will be able to do what it's supposed to do when you call on it," said Dahm. "It isn't just cyber. That's definitely the biggest piece, but … When was the last time we built a new nuclear system? Designed and built one? It's been several decades now. We, as an Air Force, haven't done certification of new nuclear systems in a long time. These systems are different … What are the surety vulnerabilities for such a system, so to speak? How would you address them? How would you certify that the system will work when you need it to work and will do what it's supposed to do?"

That's what the study will cover.
The entire entering argument is wrong.
The only thing worse than the accidental launch of a nuclear weapon would be for our deterrent to be unable to perform when tasked – or worse – a hostile power thinks they can prevent its use.
Eric Schlosser's book, Command and Control: Nuclear Weapons, the Damascus Accident, and the Illusion of Safety, is required reading for those not up to speed on how lucky we have been when it comes to nuclear weapons in case you are overconfident.
Opening additional paths for benign or malicious human malpractice?
No. Just no.
The new START Treaty was signed in Prague today and the text for both the Treaty (17 pages) and the Protocols (165 pages) are available.
On reading the text of the Treaty (still wading through the Protocols) am finding nothing untoward or diverging from what has been said here and elsewhere these past few days. Overall, it is a modest effort at reduction — nothing on the order of the original START reductions. It does re-establish an atmosphere of verification and compliance, though not as intrusive as the previous Treaty and includes use of "national technical means," on-site visits and exchanges of telemetry data. 
In the final months of negotiation there was a lot said on the Russian side about missile defense and linkages to the new Treaty – much more than reported in the Western press, by the way. Of relevance to this part of the discussion is Article III 7(a) which states:
"A missile of a type developed and tested solely to intercept and counter objects not located on the surface of the Earth shall not be considered to be a ballistic missile to which the provisions of this Treaty apply."
In other words, ABM and ASAT missiles that have been exclusively developed and tested for those purposes (e.g., SM-3 family) are exempt from the Treaty.
Note also that there is a withdrawal clause for "extraordinary circumstances" (Article XIV Section 3) which is a common clause for treaties of this nature and is not extraordinary for this treaty. In light of the Russian's unilateral statement on missile defense, it may be highlighted in subsequent discussions. The text of the declaration follow:
"April 8, 2010
Statement by the Russian Federation on Missile Defence
The Treaty between the Russian Federation and the United States of America on the Reduction and Limitation of Strategic Offensive Arms signed in Prague on April 8, 2010, can operate and be viable only if the United States of America refrains from developing its missile defence capabilities quantitatively or qualitatively.
Consequently, the exceptional circumstances referred to in Article 14 of the Treaty include increasing the capabilities of the United States of America's missile defence system in such a way that threatens the potential of the strategic nuclear forces of the Russian Federation."
(reference: http://eng.kremlin.ru/text/docs/2010/04/225214.shtml)
Worth keeping an eye on as we move down the pike on the European PAA is the "qualitatively" part of the first sentence. Earlier (March 18) statements by Foreign Minister Lavrov singled out improved capabilities of the EPAA "by 2020" which coincides with introduction of the SM-3 BlkIIB.
Finally, at the signing ceremony, the President stated:
"President Medvedev and I have also agreed to expand our discussions on missile defense. This will include regular exchanges of information about our threat assessments, as well as the completion of a joint assessment of emerging ballistic missiles. And as these assessments are completed, I look forward to launching a serious dialogue about Russian-American cooperation on missile defense."
How much this was intended to allay or soften the Russian unilateral statement and the substance of those future talks 9as well as the direction they will take the European PAA and other bi- and multi-lateral missile defense initiatives in various theaters and regions, remains to be seen.
(crossposted at steeljawscribe.com)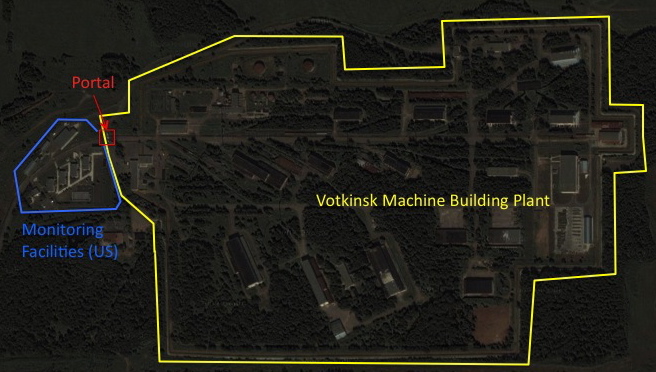 Votkinsk Machine Building Plant.
Located about 8.5 km to the east of the birthplace of Pytor Illyich Tchaikovsky, in the Russian Federation Republic of Udmurtia, is an industrial facility whose name, in typical Soviet fashion, obscures the products made there. It is a name unfamiliar to most outside of the arms control, intelligence or strategic planning communities, yet promises to figure prominently in the upcoming finalization and ratification of the START I follow-on treaty.
Why?
Because up until December 2009 (expiration of START I) the US maintained a relatively robust inspection and verification outpost at the portal to the facility. At one time or currently in production at this facility were/are the:
Pioneer (INF: RSD-10 DoD/NATO: SS-20 Sabre) mobile IRBM,
RT-2PM Topol (START: RS-22 DoD/NATO: SS-25 Sickle) road mobile ICBM,
RT-2PM2 Topol-M (START: RS-12M2 DoD/NATO: SS-27) and
the 9K720 Iskander-M (DoD/NATO: SS-26 Stone) SRBM
All solid-fuel, mobile missiles designed by the Moscow Thermotechnical Institute for production at Votkinsk.
Mobile Missiles and Inspection Regimes
As part of the INF Treaty and later, START I, an intrusive inspection regime was established to provide and facilitate onsite inspection of production facilities and deployments by both the US and the Soviet Union (later Russian Federation). Given Votkinsk's central role in producing the most difficult missiles to monitor for treaty "breakout" reasons, the US established a monitoring facility manned by Defense Threat Reduction Agency (DTRA) employees and contractors to monitor missile production via inspection of production units passing through the portal. Perimeter inspection, via a concrete road around the perimeter of the facility, was also conducted to ensure portal inspection wasn't being thwarted. Indeed, inspection under the INF Treaty included passing units through a cargo inspection facility to be x-rayed to ensure that the banned SS-20 was not being hidden in the mobile launch canisters used for the SS-25. Upon the completion of destruction of the last SS-20, that facility was decommissioned.
Where mobile missiles are concerned, a rigorous, verifiable inspection regime is a must. It has been said that a long-term collection effort to create a sound intelligence base and target familiarity is essential for missile monitoring in peace or targeting during war1 — hard experience learned by the US following SCUD-hunting in Desert Storm. An example of that kind of rigor is found in the Mobile ICBM provision (Article VI) of START I:
1. Deployed road-mobile launchers of ICBMs and their associated missiles shall be based only in restricted areas. A restricted area shall not exceed five square kilometers in size and shall not overlap another restricted area. No more than ten deployed road-mobile launchers of ICBMs and their associated missiles may be based or located in a restricted area. A restricted area shall not contain deployed ICBMs for road-mobile launchers of ICBMs of more than one type of ICBM.
2. Each Party shall limit the number of fixed structures for road-mobile launchers of ICBMs within each restricted area so that these structures shall not be capable of containing more road-mobile launchers of ICBMs than the number of road-mobile launchers of ICBMs specified for that restricted area.
3. Each restricted area shall be located within a deployment area. A deployment area shall not exceed 125,000 square kilometers in size and shall not overlap another deployment area. A deployment area shall contain no more than one ICBM base for road-mobile launchers of ICBMs.
4. Deployed rail-mobile launchers of ICBMs and their associated missiles shall be based only in rail garrisons. Each Party shall have no more than seven rail garrisons. No point on a portion of track located inside a rail garrison shall be more than 20 kilometers from any entrance/exit for that rail garrison. This distance shall be measured along the tracks. A rail garrison shall not overlap another rail garrison. (more)

and Article XI (Inspections):
14. Each Party shall have the right to conduct continuous monitoring activities at production facilities for ICBMs for mobile launchers of ICBMs to confirm the number of ICBMs for mobile launchers of ICBMs produced. (emphasis added)
Concern, however is growing that the above provision (continuous monitoring) may not be part of the START follow-on treaty currently being finalized between US and Russian negotiators.

Follow-on Verification?
Late in 2009 hints about a major concession on the part of the US began to emerge, both in the general press and in the arms control blogsphere. In essence, in Nov 2008 the bush Administration presented a proposal to Russia (one year out form expiration of START) that rolled back the verification regime under START I to a more informal one that dropped monitoring while allowing verification visits to "START sites." The rationale behind this approach evidently lays in a change in focus — away from launchers and towards deployed warheads themselves. It appears some form of this approach has been accepted by the Obama Administration now if the following item from a Ria Novosti from earlier this month:
Russia will submit new ballistic-missile test data in exchange for a U.S. agreement not to monitor mobile missile production. Russian presidential aide Sergei Prikhodko and negotiators claim that while technical discrepancies remain, the document could be signed in March or April.
A White House spokesperson said Russia had agreed to provide telemetry data on new intercontinental ballistic missile tests under the new treaty, and that the START-I Treaty which expired in December 2009 included a similar clause. The United States undertakes not to monitor production of ballistic missiles at the Votkinsk Engineering Plant in the Republic of Udmurtia, Russia. U.S. inspectors were permanently based at the plant under the START-I Treaty.
So — in order to get an agreement, negotiators agreed to a Russia providing something that was already part of START I (telemetry data) while foregoing a critical means of monitoring mobile missile production? Some will argue that 15+ years of data collection alleviates the need for maintaining the portal monitoring. The article goes on to note that while a signing may be set for Prague sometime in the spring (ignoring the irony of linking Prague and spring) the really difficult part will be getting ratification in the US Senate.
Indeed, that nut may be a tough one to crack, but not for the necessarily obvious reasons. Jeffery Lewis, over at ArmsControlWonk has some interesting analysis based on Senator Lugar's comments at the Strategic Weapons in the 21st Century conference. In essence, Lugar, who has been an important presence and force in the post-Cold War arms control world, has weighed in with his concern:
I have been a strong advocate for extending START I verification procedures. Unfortunately, a choice was made to informally act in the spirit of the treaty after its expiration on December 5, 2009, rather than to extend it by formal agreement. I am hopeful that a successor for START I will be successfully concluded in the coming months and that it will contain strong verification procedures.
Lugar, a moderate, is generally not regarded as a partisan firebrand, but the gist of his remarks had better give the Administration pause to consider its approach to ratification of a START follow-on treaty. On the one hand, refusal to ratify the treaty (and here I note that again, we have not seen the final draft) would play into the Russian's hands as they clearly wanted the intrusive monitoring stopped. A post-START world absent a follow-on treaty would enable the Russians to pursue a changes to their land-mobile force without having to provide the US telemetry on new or modified missiles (e.g., the RS-24 a MIRV'd Topol-M).
On the other hand, agreeing to dropping the intrusive inspection and monitoring at the chief production facility for mobile ICBMs and SRBMs may have been the price the Administration was willing to pay to keep the Russians from arguing a quid-pro-quo between providing ballistic missile telemetry and the US providing telemetry from its missile defense tests. This item has been particularly a complaint on Putin's part for the better part of the past half-year. The assertion lacks substance though when one considers the handful of GBIs that constitute the BMDS vs. even the new lower limits of 1100 launchers per side reportedly agreed to under the new format. The only other interceptor with an counter-ICBM capability, the SM-3 Blk IIb is a paper design only and won't see IOC until mch later in the decade.
It remains then to see (a) what the final wording of the new treaty offers and more importantly, (b) how the Administration justifies the negotiating position it took if the START I monitoring provisions are not included. If it isn't included, and if there are no apparent provisions that balance the lack of that monitoring (and clear delineation from the Administration why), then mustering 67 votes for ratification may well be a bridge too far.
Not like we haven't been down that road before either…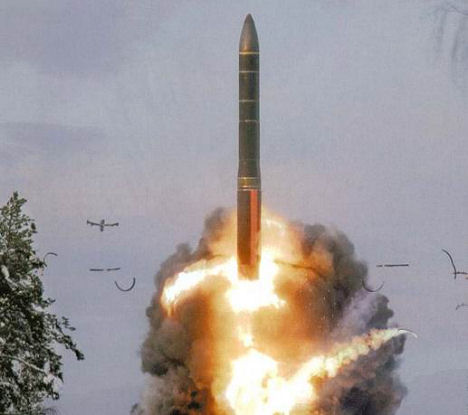 1 Jermano, Jill L. and Springer, Susan E. Monitoring Road-Mobile Missiles Under START: Lessons From the Gulf War. Parameters 23:70-80 Spring '93
(cross-posted at http://steeljawscribe.com)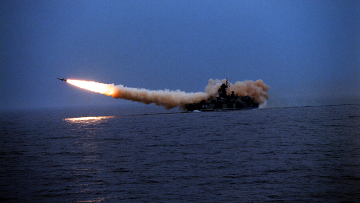 (via Ria Novosti)
Generally speaking, the preferred direction for a ballistic missile, especially a sub-launched one is UP
Six launch failures is also not career enhancing – at least its not off to the Gulag in the New Russia …