Archive for the 'submarines' Tag
Diversity has been an increasingly hot topic in the news lately, especially in the military. Because of its often-political undertones, some people cringe when they hear the word. But diversity brings very real benefits to teams that should not be ignored.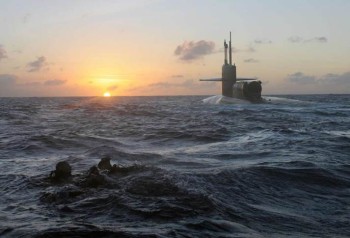 Diversity at its very core is courage; It is courage to lead when no one looks like you, courage to speak up when people around outrank you, and courage to listen to opinions that may differ from yours. In my experience as a junior officer on a submarine, and as a woman on a submarine, I have seen the positive effects of diversity in its many forms.
To be frank, not everyone was excited about women on submarines. One of the biggest fears people have with diversity is that it will be forced upon a situation where it "does not matter" and will negatively impact performance. What I found was that action and results spoke much louder than the dull murmur of discontent. After just a few months on board the submarine, we had a casualty in the middle of the night. I threw on my uniform and ran to the scene to help. I was amazed and encouraged by how quickly every member of the crew jumped at the call to save the ship; I have observed this to be a crucial tenet of the submarine force.
I call this my "hair story" because once the casualty subsided, everyone jokingly commented on how crazy my hair was. The truth of the matter was that I ran to the scene in the middle of the night; who cares how my hair looks? I can laugh about it now but at the time I felt a dichotomy. When it came to fighting the ship in a casualty, it did not matter if I was an officer or enlisted, male or female. As soon as the smoke cleared, however, it was back to how I looked.
In an environment where you have to rely, sometimes with your life, on the person standing watch next to you, it only makes sense that we should strive to have the best operators. To achieve this goal, we need to include everyone regardless of gender, race, religion, or opinion. Countless times underway, a Fireman has saved the day by speaking up and making sound recommendations without fear of being unheard. This is one of the very positive impacts of diversity: the courage to speak up and the courage to listen to differing opinions. This is what has made our nation great in the past and it will continue to make us elite in the future.
Early submarines are often associated with Jules Verne's famous book, Twenty Thousand Leagues Under the Sea. However, in the American Navy submarines had been in development for nearly a century prior to Verne's writing. In fact, it was early American submarine designs that served as a guide for Verne's book. Today, we take a look at the birth of the submarine in the U.S. Navy, and we do this through the lens of the actual pay documents issued by the State of Connecticut to the designer of the first American submarine during the Revolutionary War.
The IDF is facing a manning problem. According to Ha'aretz, the Israeli Defense Forces' sub fleet is working to expand the submariner pipeline, growing from three sub teams to a total of ten. Are women going to be a part of this new cadre?
Look, finding enough guys capable of completing the grueling training cycle is hard enough, but, as the IDF sub fleet grows to five hulls, trebling the IDF sub force is pretty much impossible without a new source of recruits. Which gets us to the image at the right, taken from the Ha'aretz story. The sailor training in the background (working in the IDF's sweet new "land-sub" training facility) is either sporting some unusually long-hair or…the sailor is a woman.
Could the traditionally-all male IDF Sub force be integrating? Read more at NEXTNAVY.COM
The first women selected to serve onboard submarines have been identified. Some questions are worth asking…and they deserve answers. In the interest of transparency, the Navy owes the public – at the very least the sub community – an explanation of how these ladies were chosen for this elite duty. How many competed for selection? And how will future female submarine assignments be made?
USNI Blogger MIDN Jeff Withington recently described the rigorous screening process he completed for selection to nuclear power and the submarine community. Considering that annual nuke power and sub assignments were made last October, was a similar selection process held recently for these female candidates? Was some other process used?
Because the first group of females did not compete for assignment in October, they apparently didn't compete against anyone except themselves. Until we know how many women applied, we won't know how tough (statistically at least) the competition was. In the future, women should compete against for assignment to the submarine community without quotas, on equal footing against men and each other. Certainly the 'right' number of women need to be selected to fill staterooms and not leave a ship's manning unbalanced, but otherwise, women should compete against every other applicant for assignment to this community.
Departing USNA grounds at 0600 this past Tuesday, I interviewed for nuclear submarine duty at Naval Reactors (NR) in Washington DC. The process consists of 2 technical interviews, which tested my skills in calculus, physics, and electrical engineering among other subjects. Following the round of technical interviews, I had a ~5 minute interview with ADM Donald, Director, Naval Reactors.
Arriving at NR at 0700, my group of 20 fellow midshipmen, interviewing for either submarines or surface warfare nuclear option, shuffled into a conference room where we were briefed on the plan of the day. We then had a quick breakfast where I ran into USNI blog reader "BWalthrop" who wished me luck…it's a small world!
Around 0800 the first round of technical interviews started. "Come on in, Mr. Withington. Imagine you and a friend were doing a science experiment…"and I was asked how the velocity of my friend's plane in terms of my car's velocity. Something I don't do too regularly with my friends or as a history major! I was peppered with other questions for the rest of the hour and walked out a little shell-shocked. The second interview went a little better and I was dismissed for lunch.
Then it was time for the interview with the "ADMIRAL" (all caps according to our instructions for the interview). My last name landed me the last interview with the ADMIRAL for the day. We moved to another holding room and one by one we were called out. By the time 3 of us were left, we anxiously paced the room and awaiting the interview and decision.
Then I was called to wait outside his office door; I was getting pretty nervous by this point. An officer opened the door and beckoned me in the room. As soon as I passed the doorframe into the room I began my scripted introduction, "Good afternoon Admiral, I'm MIDN 1/c Jeff Withington from West Chester, Pennsylvania. In high school I participated in debate and cross country," I was sitting in "The Seat" by this point, "while at the Academy I have participated in Masqueraders and Naval Academy Foreign Affairs Conference. I am currently company honor adviser. I am interviewing for submarines." My wait for the first question lasted about .001 sec after I completed my intro: "Tell me about what you do as company honor adviser."
OK, this is good, I thought; I didn't receive the expected and more confrontational "How are you majoring in history and are interested to do nuclear power?" As soon as I finished my answer, he probed for more details about what I exactly did. He then began to ask how I would punish those found to violate our honor concept. More whys followed. "OK, well thank you." And that was it.
I waited outside and a commander in service dress blues came up to me, offered his hand, and said "MIDN Withington, welcome to the program."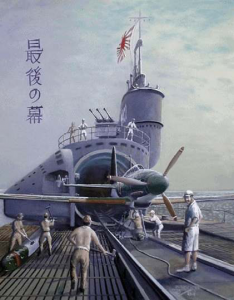 I wasn't aware of Japanese I-400 boats until I received an email a couple days ago with this article, which is available from numerous sources online. I found it coincidental to have read about this not long after Galrahn's Risk Averse Political Policy Requires High End Focus led to a good bit of discussion on defending submarines from air threats.
Airfield Under The Sea is an interesting read for anyone (like me) who did not know the Japanese had actually put submarines to sea carrying aircraft.
Most of the photos and graphics are self-explanatory, but I wish there was a caption giving the date and location of the photograph of a surviving M6A1 Seiron on page 2.