Archive for the 'Syria' Tag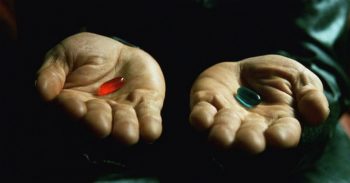 When you've worked on a problem for a long time and cannot make progress in a direction that is in your favor, and the harder you work the more on the problem the more difficult it becomes – then perhaps it is time to look for fresh ideas and perspectives.
There is a good chance that you have identified both the problem and the possible solution incorrectly.
In this case, let's look at Syria and Iraq through Part 1 of an exceptional bit of work by the pseudonymous Cyrus Mahboubian over at WarOnTheRocks. The whole article deserves a thorough reading and covers both Iraq and Syria, but let's just look at the Syria portion.
Why just Syria? Mostly because is aligns well a topic I've covered both here and my homeblog; outside the Kurds (who have no desire to take control of the national government), we are backing the wrong people for the wrong reasons. In a lineup of bad actors, some are less bad for strategic national interests as others, that is just a face. If you must choose – and there is always the option not to – then just make sure you pick for the right reasons. In the case of Syria, that is Assad.
Though the author does not directly address the Russians, we have also been ill-served by our kneejerk reaction that if the Russians support X, then we must oppose X. X, of course, is radical Sunni Islamism in Syria that is threatening Assad's government. ISIS is just one of those groups – but we've already covered this in prior posts. Let's get back to Mahboubian.
The best part of his article? He smashes a lot of talking points about the Shia/Sunni divide in Syria. Agree or disagree, but you have to consider his facts next time someone trots out the usual tropes;
Sunnis are heavily represented at all levels of leadership in Assad's government. The territory it controls at this point in the war and at all points past is majority Sunni. And the Syrian armed forces are still majority Sunni. Alawites may be overrepresented in the security forces, but all that means is that they get to die more than others. It if it is an "Alawite regime," isn't it odd that includes and benefits so many non-Alawites?
…
Some American analysts have accepted the shrill claims of those who purport to represent the Sunni Arab world, such as Saudi Foreign Minister Adel Jubeir. They have accepted the sectarian victimization narrative as articulated by Syrian insurgents and their spokesmen — as if these voices represented the majority of Syrian people or even most Syrian Sunnis. …The Saudis' only appeal to other Arabs is the money they have to offer. The Syrian rebel spokesmen represent only a fraction of Syrian Sunnis. The self-appointed Iraqi Sunni leaders control neither men nor territory. The United States is listening to the wrong Sunnis. When President Obama or Gen. David Petraeus or others repeat the myths of disenfranchisement these voices propagate, they reinforce and legitimize a dangerous sectarian narrative that should instead be countered.

The alternative ideology to the self-proclaimed Islamic State, whether in the Middle East, in Europe's slums, or the former Soviet Union, is not to promote a Sunni identity — what the Bush administration pursued with its mantra of "moderate Sunni allies." Instead, a counter-ideology should promote citizenship and secular states. This is the model that the West helped destroy in Egypt after Gamal Abdel Nasser died and the model it is currently destroying in Syria.
We have all seen the photos of Cairo University as it has regressed through the last few decades, as just an example. Only a trend back towards secularism in the region is in our national interest in this part of the world – if that is even possible. By joining in with the sectarian mindset – are we not just feeding the beast that is after our throat?
In Syria, a majority-Sunni military force exists. It represents the only national institution remaining in a state that does not make nearly as many sectarian distinctions as its opponents seem to think. Yes, I am talking about the Syrian armed forces. The majority of Syria's state employees, government officials, and soldiers are Sunni, even today. The majority of the still-powerful urban capitalist class is Sunni. As someone who has been been interacting with people on every side of the civil war for its entire duration, I have learned that even some of Assad's top security chiefs are Sunni, such as Ali Mamluk, the head of national security who supervises the other security agencies. Colonel Khaled Muhamad, a Sunni from Daraa, is in charge of securing Damascus for the feared Department 40 of the Internal Security. Deeb Zeitun, the head of state security, and Muhamad Rahmun, the head of political security, are both Sunni, as are the head of foreign intelligence, the minister of defense, senior officers in air force intelligence, the minister of interior, the head of the ruling Baath party, the majority of Baath party leaders, and the president of the parliament. The commander of the National Defense Forces (N.D.F.) in Daraa is a Sunni man of Palestinian origin. The commanders of the N.D.F. in Quneitra, Raqqa, and Aleppo are likewise Sunnis. One of the regime's leading anti-ISIL fighters who receives support from all regime security branches is Muhana al Fayad. He leads the large Busaraya tribe between the Derezzor and Hassake areas and is also a member of parliament. Even some pilots dropping barrel bombs on insurgent-held communities are Sunni. Many heads of military intelligence branches are also Sunni.
All may not quite be what many believe in Syria and Iraq.
Poor data feeds bad advice. Bad advice informs bad policy. Bad policy brings about bad results.
I look forward to Part-2.
Yesterday, Richard Fontaine over at WarOnTheRocks provided one of the better summaries I have read about what was floating around in the ether at this year's Munich Security Conference.
As a result of the discussions, a mood of frustration, even somberness, settled on the Munich participants this year. There have been difficult conferences before: in 2003, during the white-hot transatlantic fight over the looming war in Iraq, and in 2007, when Vladimir Putin denounced a "unipolar" world and previewed a more aggressive and anti-Western Russian line. Perhaps Munich 2017 will be sunnier and more hopeful, with many of this year's challenges having faded into mere annoyances. Yet there is a good chance that many of the problems that so bedeviled the transatlantic partners this past weekend will remain on the crowded agenda for time to come.
A good chance? Yes, a very good chance.
He had five major take-aways:
1. Russian confidence.
2. European disarray.
3. Pleas for U.S. leadership.
4. Sense of American irrelevance.
5. Little hope for Syrian peace.
I'll let you read his full post for how he outlines the five, but I think his five are about spot on – mostly because it is what has been groaning out of Europe all year.
You can batch these in to three groupings, though all five are interrelated, but not in the way most people think. We'll get to that in a moment, but for now let's stick in order.
Russian confidence and European disarray: For the entire period I wore the uniform and now over a half a decade since my retirements, people who respect history have been warning the Europeans and Canada that they need to take national defense seriously. In recent history, there have been those who thought they could move the needle from within, only to lash out once their turn on the rowing bench was done (Gen. Craddock, USA and SECDEF Gates just two examples).
Some of the cry had been out of a proper sense of fairness and shared sacrifice, but others like myself did it out of affection knowing that my nation was only an election or two away from the American public not willing to defend those who won't defend themselves.
The Russians are confident as they have seen the Europeans' failure to rise to the occasion after the slow but steady American decoupling from Europe. The Russians are confident because they perceive that they are winning. They respect strength and have contempt for weakness. The only stiffening of spines they have seen recently have been from the Poles and a little more concern from the Americans – but for the balance of Europe? No.
In the diplomatic and informational domains, they have probed with success. In economics, they are the weakest – but with what they respect the most, their military efforts continue to be a plus from them from the eastern borders of Ukraine, Crimea, and even to the point that the once great Royal Navy cannot even defend its coastal waters;
Britain had to rely on the US, Canada, France and Germany aircraft to protect its territorial waters more than 20 times last year, with the Royal Navy's reliance on its Nato allies far greater than previously thought.
…
Defence experts say Russian submarine activity off Britain is returning toward Cold War levels.
Pleas for U.S. leadership & sense of American irrelevance: for almost all of living memory, the Western European nations have lived and prospered under the American military umbrella and have become too used to not carrying their load. Ukraine, Syria, and the migrant crisis is an order of magnitude greater European issue than North American. America isn't irrelevant, it is just that in elections over the past eight years, the American people have decided that they no longer wish to unequally take on the West's burdens, to only then be pilloried, insulted, and blamed for the effort. America decided that we will help others who help themselves – so Europe will have to re-learn how to keep their own house in order and we'll help where we can, if it is in our national interest. Selfish and irresponsible? Not really, just traditional statecraft.
This mood is from both sides of the political spectrum in the USA as well. Where there was once a bi-partisan consensus for American to lead in all significant European security issues – that consensus is long gone. There is now a bi-partisan consensus for just the opposite.
The numbers back up the general vibe. As derived from the CIA factbook, let's review the top-line numbers.

Until these numbers come more in line, there is only so much any elected American official can do to convince the American people that, once again, the American must do what the Europeans can, but won't.
Now let's shift to the last – little hope for Syrian peace: define "peace." Is peace a frozen conflict? No. If nothing else, we have proven that over time. Why is Western Europe at peace right now? Simple. There was a sound military and political defeat of fascism in Western Europe. There were boundaries made and then for the most part there was massive and merciless ethnic cleansing that created relatively ethnically homogeneous nations inside agreed borders. Where there is conflict today is where in places like eastern Estonia, eastern Ukraine, and spots of bother in the Balkans where significant minority groups were left. That is an uncomfortable truth, but a truth nonetheless.
Syria and northern Iraq is the Balkans of the Arab World. If militant Sunni Islam is your greatest enemy, then you have one option in the Game of Thrones-ish war going on now in Syria; let Assad win and play the strongman over a subjugated people, come to some accommodation with the Kurds, and move to destroy ISIS with the Russians before Turkey gets involved. There is really no other realistic option. If we will not back the Russian play, if we cannot offer a better way to end the conflict, then we should just get out of the way. At other earlier points in time, there were perhaps other more attractive options, but 1QCY16, this is where we are.
There are a lot of places where people seemed to believe because we should do something, we will/can do something. To get from "should" to "will/can" there has to be a critical bridging function known as leadership from the POLMIL level.
Shifting to the original failure in the Arab Spring, the Libyan theater of operations; listen to the following from our friend Admiral Stavridis, USN (Ret.)
The clock is ticking for Western powers to intervene militarily against ISIS in Libya — and Canada has a responsibility to join a potential mission there, says NATO's former supreme allied commander.

"If we're going to have an impact in Libya, now is the time to get involved, over the next six months," retired U.S. navy admiral James Stavridis said on CBC News Network's Power & Politics.

"We have to act before the Islamic State becomes even stronger … otherwise we're going to have another massively failed state on the periphery of Europe."
Is he correct? Is this something the international community "should" do? Yes and of course. What is missing then?
Let's go back to the fundamentals. Is there a popular will in Europe to conduct peace enforcement operations in Libya with German, French, Italian, Spanish, Dutch, Polish, and British forces and money? No. Is there a popular will in North America to conduct peace enforcement operations in Libya with Canadian and USA forces and money? No.
Is there leadership in place at the levers of power in Europe and North America that has the desire to bring the popular will to a national will to take action? No.
As such, as much as the theory is sound in early 2016 – as sound as the theory of the invasion of Iraq was in 2003 – will there be any such action in Libya or Syria? No.
As a result, what should one do? Think and plan for consequence management. Wargame Most Likely and Most Dangerous COA and then clearly identify Decision Points for Branch Plans. Do it twice; once with pro-active leaders, one with passive/dithering leaders. If that has not already been done, then we will just have to make it up as we go along when, as our politicians like to say on occasions, we find out about events on the news.
This is the world that was asked for at the end of the last decade, especially in Western Europe. It is what we have. Tomorrow will have to do the best it can with its inheritance.
Russia has saved the world from loose WMD before; in the aftermath of the Soviet Union's dissolution, Russia arranged the Lisbon Protocols with Ukraine, Kazakhstan, and Belarus to systematically destroy or return massive nuclear stockpiles. If only Syria had the stability of post-Soviet chaos. If the Syrian "Lisbon Protocol" fails and the regime collapses, the presence of WMD is a guarantor of intervention, most likely by the US.
The Russian arrangement is not yet official and may be Assad's play for time. The chemical weapons are potentially more powerful against the US than rebels. Likely, a reality causing Secretaries Kerry and Hagel to eschew the term "regime change" is that the danger of Syria's chemical weapons (CW) to the US increases as Assad teeters. Though rightfully loathed, Assad and his men secure their CW and have so far resisted handing party favors to associates.
As the regime crumbles, CW facilities may find themselves overwhelmed or guards shifted to critical fronts, doors open to terrorists or unscrupulous brokers. Though some argue we do not have a dog in Syria's fight, a whole henhouse is under threat if those dogs break loose. There are only three likely solutions if a Russian deal fails:
Political Agreement: If only all parties could agree to a two-part plan to stop murdering one another and share power. Guards stay on post, conflict ends, and world moves on after the noble work of aiding refugees. The rump of Assad's regime keeps its pulse and constant pressure to the switch. Unfortunately, with parties whose non-negotiable point is that the opponent "die", and multiple Al-Qaeda (AQ) militias, this seems nigh impossible.

Russian Military Operations: Russia is a big fan of Syria. Russia has a naval presence in the country and a large portion legitimacy and energy policy invested in the management of the regime. Russia would like to keep Syria's CW from groups connected to their own domestic extremistss. Most cynically, with very public domestic problems, military operations to save the world from CW seem a likely move for President Putin. In the words of Orwell, "War is Peace."

Russia has particular advantages in their contact with Assad's regime. They likely could access exact locations for the regime's CW in a pinch. The world has no high standard for Russian intervention, so a sting operation to grab or destroy the vast stores of CW without any follow-on reconstruction would not be shocking to the global community. This also serves as a guise for direct military support for regime survival.

That said, Russia has managed the Syria narrative well and knows the US could not abide Assad's weapons falling to extremists. Russia has enjoyed the umbrella of security provided by primarily US operations against extremists in the Middle East and likely has no desire to get bogged down or gain unwanted attentions. Russia is still just "a" rather than "the" "Great Satan." It would likely leave the mess to the final and least pleasant option:
American Intervention: In a conflict with too many "thems" and not enough "us's", the fog of Syria's war is thick. Unfortunately, nothing is unclear about the peril of loose CW or the peril of a necessary US military response.

Boots: The number and location of  all weapon sites remains a mystery, requiring resources spent in the search phase of "seek and destroy" operations. The time or scale necessary also removes the critical element of surprise. A lengthy chain of smaller operations warns enemies to secure weapons at un-sanitized sites while they still can. A massive simultaneous operation would strain an already creaking military budget and drop the US fully into the war, leaving the US in control of large swaths of territory and people it could not just leave to extremists.

Strikes: Dead suffocated civilians, lack of verification, and PR for terrorists lies at the end of an aerial campaign. Though the US has invested in weapons that can neutralize chemical weapon stockpiles, most leave a large margin of error or have almost as toxic byproducts. The explicit refusal to consider striking Assad's chemical weapon stockpiles should be evidence enough of the unsavoriness of such an operation.

Unfortunately, loose CW is not an option in a war-torn hellscape crawling with groups who have plotted against US interests and citizens for over two decades.
Though an embarrassing stolen march, the Russian deal is the US's best chance is to avoid Syria. Nonetheless, US policymakers must plan for the worst while stumbling upon the best. The US must accept the real-world possibility of Assad's collapse and subsequent unlocking of Pandora's Chemical Box; many rightly desire to have nothing to do with the conflict, but while we may not be interested in Syria, Syria is very interested in us.
This article was originally posted at CIMSEC.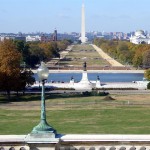 Run your memory back a decade or so ago if you will, especially in the run up to the invasion of Iraq.
Even before 9/11, there was a lot of discussion how as the WWII generation passed on and retired, that fewer and fewer members of Congress had military experience. With each generation, fewer and fewer people served in the military as a percentage of the general population, and you saw a similar drop in those in political power who had even a few years of seeing the world through that lens. When it came to making decisions about war and peace, that lack of experience at the national leadership and policy making levels was not seen as a net good.
While superior ideas, leadership, and vision can come from those who never served one day in uniform – it is always helpful to have a cadre of those who know the practical vice the theoretical working of the military. If they can do both, then even better.
As the build-up and discussions on if we should lead an invasion of Iraq gained steam, when you looked around the Hill, there were a scattering of WWII, Korean War Veterans, as well as a Cold War skirmisher here and there, and even closer in time – a core of Senators, Congressmen and members of the Executive Branch who served in Vietnam.
Experience with actual combat covered the spectrum. Some with quite substantial exposure to combat and sacrifice you could find humble in word, and often in the background providing counsel. On the other end, there were some with limited service who seemed to crow and remind everyone at every chance about their "special" perspective – and would take a peer out in the rush for a camera.
As their experience was varied, so was their advice in quality and quantity. What was generally appreciated, from exceptionally honorable service on left and right such as Senators Inouye (D-HI) and McCain (R-AZ) on down, was that in the Hearing Room and briefing table, there was someone who at least had an understanding of the "So What" and "What Next" when someone gave them the "What."
Some memories fade with time, and the experience in one conflict may not translate well from then to now – but for those being asked to go unto the breach once more – it was reassuring to know that someone knew what they were asking other to do.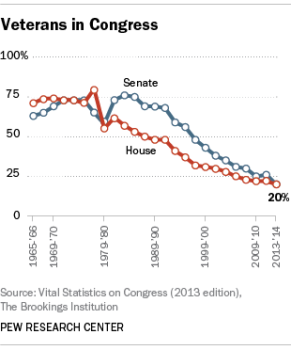 So, here we find ourselves a dozen years in to war – and of this cohort of veterans quite a few have made it in to Congress. Not just the professional politicians who are also Reservists JAGs and Intel Officers (not that there is anything wrong with that); but combat arms personnel who, after their service, decided to serve in another way.
As we look to opening a door to a dark room again, before we step in, to answer the question, "Where do these veterans in Congress stand?", I think we have our answer.
Via TheHill;
The majority of Iraq and Afghanistan veterans serving in Congress are lining up against President Obama's plan for military action in Syria.

Of the 16 veterans of those two conflicts serving in Congress, only GOP Reps. Adam Kinzinger (Ill.) and Tom Cotton (Ark.) have publicly supported the White House's plan.

Three other members — Iraq War veterans and Reps. Brad Wenstrup (R-Ohio, Steve Stivers (R-Ohio) and Mike Coffman (R-Colo.) — are undecided.

A fourth, Scott Perry (R-Pa.), said he hasn't made up his mind either, though he told a town hall this week he wasn't inclined to support a resolution authorizing force.

Ten of the remaining members have announced their opposition to a military strike.
As of Saturday when that article came out, that is 2/10/4, for/against/undecided.
Two of the more vocal opponents are of the President's own party – one from his own state and the other from his adopted state; both Army;
Rep. Tulsi Gabbard of Hawaii bemoaned the carnage in Syria after a chemical weapons attack, which the U.S. says killed hundreds of civilians, including children, last month. However, after participating in public and private sessions on Capitol Hill, she said a U.S. military strike would be a serious mistake.

"As a soldier, I understand that before taking any military action, our nation must have a clear tactical objective, a realistic strategy, the necessary resources to execute that strategy, including the support of the American people, and an exit plan," Gabbard said in a statement. "The proposed military action against Syria fails to meet any of these criteria."

Gabbard, who served near Baghdad for a year and was a medical operations specialist, is a member of the House Foreign Affairs Committee.

Gabbard joins other Democrats from Obama's native state, including Sen. Brian Schatz and Rep. Colleen Hanabusa, in opposing aggressive U.S. military intervention in the Syrian civil war.

Rep. Tammy Duckworth, D-Ill., lost both legs and partial use of an arm in a rocket-propelled grenade attack in Iraq. She has not made a final decision on whether she would vote for a resolution authorizing force, but the freshman lawmaker from Obama's adopted state has serious reservations about any strike.

"It's military families like mine that are the first to bleed when our nation makes this kind of commitment," Duckworth has said.
Seniority means a lot in DC – but so should personal authority, one would hope. Many in DC asked for more military experience in Congress, well they have it in both parties. The Long War Caucus seems to have reached a bi-partisan consensus.
Does it matter?
Five months after the much-dreaded sequestration went into effect, many defense analysts and military officials alike are worried about the negative repercussions of the drastic budget cuts on military readiness. In his latest commentary, the rightwing commentator Alan Caruba declared that "The U.S. military is on life support." Defense Secretary Chuck Hagel also argued in his Statement on Strategic Choices and Management Review (SCMR) that "sequester-level cuts would 'break' some parts of the strategy, no matter how the cuts were made [since] our military options and flexibility will be severely constrained."
To its credit, the SCMR seemed to hint at operational and structural adjustments underway by offering two options—trading "size for high-end capacity" versus trading modernization plans "for a larger force better able to project power." Nevertheless, one important question which went unasked was whether or not the US Armed Forces alone should continue to play GloboCop.
The current geostrategic environment has become fluid and fraught with uncertainties. As Zhang Yunan avers, China as a "moderate revisionist" will not likely replace the United States as the undisputed global champion due to myriad factors. As for the United States, in the aftermath of a decade-long war on terror and the ongoing recession, we can no longer say with certainty that the United States will still retain its unipolar hegemony in the years or decades to come.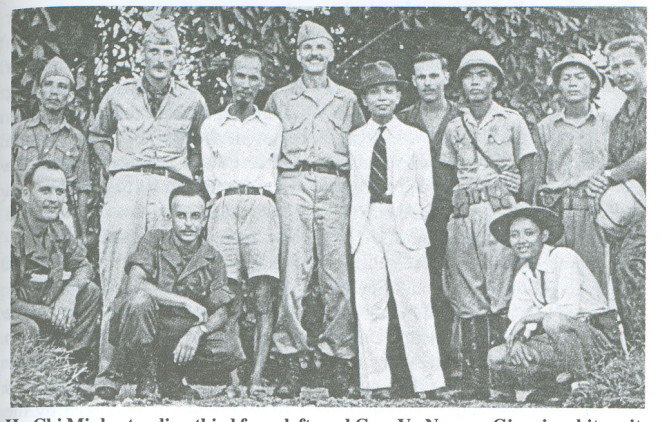 As the U.S. considers directly arming rebels in Syria, it would do well to heed the lessons of history and examine the positive, negative, and almost entirely unpredictable outcomes of such efforts. History is replete with such lessons including not only the obvious parallels to arming of the mujahedeen in Afghanistan but also the original story of U.S. involvement in Vietnam.
In September 1940, the Japanese took control of French Indochina which had, during the Second World War, been governed by the Vichy government in France. To the north was pre-Maoist China, with Chiang Kai-Shek's forces working with the U.S. military. General Claire Chennault's 14th Air Force was based in Kunming, China, along with the area's headquarters for the Office of Strategic Services (OSS.) The head of OSS, Major General William Donovan, was a highly decorated veteran of the first World War. When it came to Indochina, his direction to the base in Kunming was clear: "use anyone who will work with us against the Japanese, but do not become involved in French-Indochinese politics."
Welcome to America's Syria Policy, the China round. Having made the public announcement of support to the rebels, only two feasible policy options remain for the United States; these examples arise from two moments in history, existing together on a razor's edge of success in a smorgasbord of disaster. We either take a page from the Kuomintang-Maoist balance during the invasion by Imperial Japan or from the footnotes of America's opening of China in the 1970′s.
Beyond the Syrian Sub-Plot
To much of the leadership of the Maoists (CCP) and the Kuomintang (KMT), both members of the Second "United Front", the invasion by Japan was merely a precarious backdrop to the continued struggle for the face of China's independent future. In the words of their leadership:
"70 percent self-expansion, 20 percent temporization and 10 percent fighting the Japanese."
-Mao Zedong
"The Japanese are a disease of the skin, the communists are a disease of the heart."
-Chiang Kai Shek
Even while the battle with Japan raged, Chiang-Kai Shek and Mao's soldiers exchanged fire behind the lines of control. The conflict was partially a vessel by which the KMT and CCP collected foreign aid and built local influence/human resources for the final battle between the United Front's membership. The limits of treachery within the Chinese alliance were often what each party felt able to get away with. China's fate, not the rejection of an interloper, was the main prize.
The Syrian civil war has become such a major sub-plot; the two major parties, the Assad regime and the rebellion, are dominated by equally bad options: an extremist authoritarian backed by Hezbollah and Iran, and extremist Islamists backed by Al-Qaeda. Syria is beyond her "Libya Moment" when moderates and technocrats were still strong enough to out-influence extremist elements in stand-up combat with the regime. Like the KMT or CCP, the United States must now concentrate on the survival of what little faction of sanity exists within the war, as opposed to the war itself.