Archive for the 'Taiwan' Tag
While we're focused on Russia and Ukraine, recent events in Asia may have slipped under the radar. Taiwan is considering signing a major free trade agreement with China. Nationalized Chinese companies may soon be able to make major investments in sectors such as banking and transit.
That may seem underwhelming, but in naval literature, when we think of Chinese expansionism, the various Taiwan scenarios dominate the conversation. In the eight articles of the most recent China's Near Seas Combat Capabilities journal published by the Naval War College, "Taiwan," is used 109 times. Are we spending too much time thinking about and planning for a cross-strait conflict?
Taiwan isn't the prime mover for PLAN development. Bryan McGrath and Timothy Walton neatly unpack this in "China's Surface Fleet Trajectory: Implications for the U.S. Navy," predicting the PLAN will continue towards "regionally dominant and globally capable navy in the next decade." They've moved beyond Taiwan. Moreover, "the versatility (and thus utility) of the People's Liberation Army's A2/AD capabilities" is well above what's required to impede US intervention in a cross-strait conflict. If not Taiwan, what then is China's objective?
Trying to predict world events is extremely difficult as noted in a recent post by CDR Salamander. However, some thought experiments can be useful to help us consider the range of possibilities and their likelihoods. Let say at some point, the Communist Party and China, destabilized by internal problems, turn to an outward show of force. Is anyone going to stop them from beating on Vietnam over water rights or access to oil reserves? Doubtful. Would someone intervene in a conflict with Taiwan? Maybe. Probably? Either way, I'd bet that US intervention is much more likely in a China/Taiwan conflict than a China/Vietnam conflict. I think that China would make the same bet.
I'm just using Vietnam to illustrate that Taiwan is not the natural starting point when we broadly consider the use of China's naval power. It's hard to build a fleet to counter all the possibilities of conflict in Asia; perhaps the key, as noted by McGrath and Walton, is "to maximize cooperation with allied and partner states…'penning in' the Chinese fleet."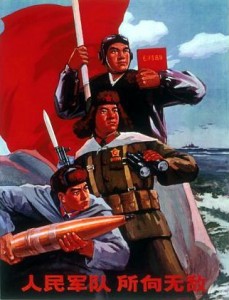 In late 1949, things were looking bleak for Chiang Kai-shek and his Nationalist forces. Two million Nationalists had just fled from the Chinese mainland to Taiwan, and now the Communists looked poised to invade the island. Despite the fact that Communist forces had experience with amphibious operations and that a Communist invasion of Taiwan would likely have been successful, the operation never happened. What was the reason for Taiwan's salvation? According to one source [gated], it was a waterborne parasite: schistosoma japonicum.
Lacking proper landing boats, Communist military leaders knew they would have to rely on junks to ferry soldiers across the Taiwan Strait. However, without access to proper port facilities in Taiwan the junks would not be able to get close enough to shore to disembark their troops directly onto dry land. The Communists' solution was simple: the troops would swim from the junks to the invasion beaches. To prepare for their swim, soldiers of the invasion force were given months of swimming lessons in canals on the mainland.
However, unbeknownst to invasion planners, the canals were infested with schistosoma japonicum parasites. Soldiers started to get sick soon after the lessons began. Eventually, an estimated 30,000 to 50,000 Communist soldiers came down with schistosomiasis and were in no condition to participate in the operation. This represented the core of the invasion force. The outbreak delayed the invasion six months and before the Communists could mount a new operation the Korean War began and American warships positioned themselves in the strait. The window of opportunity had closed.
Source: Kiernan Jr, F. A. 1959. "The blood fluke that saved Formosa." Harpers Magazine: 45–47.
Special thanks to Jonathan Shainin for obtaining a copy of the above Harper's article.
In Asia, America has gotta move away from a long-standing habit of engaging in simple, bilateral force measurements. Asia is a multi-polar place, and America's penchant for strategic over-simplification is going to land the U.S. into serious trouble.
Put bluntly, U.S. Navy-folk need to remember there are a few other countries over on the other side of the Pacific. Some of them are rather formidable. And the U.S. is neglecting them.
So…Let's take a moment to compare some naval forces in the Pacific Basin. Using the official DOD Annual Report to Congress on the Military Power of the PRC 2005 and 2009, it looks like China's Navy is growing. But…when China's rate of growth is compared with other neighbors, that burst of growth over the past five years looks a lot less daunting.
China: Diesel Attack Subs: (2005 vs. 2009): 51 vs. 54 (+3)
USA: Diesel Attack Subs: (2005 vs. 2009): 0 vs. 0 (+0)
Note: Japan commissioned 4 Oyashio-class, 2 Soryu-class SSKs; South Korea commissioned 3 Type 214s from 2005-2010.
China: Nuclear Subs (SSN only, 2005 vs. 2009): 6 vs. 6 (+0)
USA: Nuclear Subs (SSN/SSGN only 2005 vs. 2009): 58 vs. 56/57 (-2/-1)
China: Destroyers (2005 vs. 2009): 21 vs. 27 (+7)
USA: Destroyers (2005 vs. 2009/10): 46 vs. 54/57 (+8/+11)
Note: Japan brought into service 2 Atago-class destroyers, 2 Takanami-class destroyers, and a Hyuga-class "carrier" destroyer; Taiwan put 4 ex-Kidd-class vessels into service; South Korea put 4 KDX-2-class destroyers into service over the past 5 years.
China: Frigates (2005 vs. 2009): 43 vs. 48 (+5)
USA: Frigates (2005 vs. 2009/10): 30 vs. 30/31 (+0/+1)
Note: Regional Frigate-building programs are proceeding apace.
China: Coastal Missile ships: (2005 vs. 2009): 51 vs 70+ (+19 at least)
USA: Nada. Zip.
Interesting. China's small missile ships are allowing China's larger vessels to engage in "blue water" activities, so, while these vessels expand China's "reach", a dependence on small ships may prove a vulnerability. The region needs to know more about the small ship programs hosted by Taiwan, South Korea and Japan. What, by way of smaller vessels, can these navies offer? How good are the region's Air Forces in hunting and destroying smaller craft?
In short, does China's love of small craft contribute to regional stability or not?
Look. China's Navy is still awfully small. And with China not exactly on friendly terms with it's neighbors (who, on the part of Japan and South Korea, are building some very modern navies), the PLA(N) has a lot to do to secure China's maritime borders. It is a little bit of a stretch to think all this new floating hardware is aimed exclusively at the U.S.A.
James Holmes and Toshi Yoshihara of the Jamestown Foundation conducted a recent analysis of Chinese naval goals that's worth reading and considering in full. In short, China appears to have a resurgent interest in the work of Mahan, but Beijing is clearly still digesting the details and trying to square Mahan's theories with their developing strategic goals. Here are the key conclusions:
An Asymmetric Yet Mahanian PLAN

Even if China does interpret Mahan in warlike fashion, it need not construct a navy symmetrical to the U.S. Navy to achieve its maritime goals, such as upholding territorial claims around the Chinese nautical periphery, commanding East Asian seas and skies, and safeguarding distant sea lines of communication. Beijing could accept Mahan's general logic of naval strategy while seeking to command vital sea areas with weaponry and methods quite different from anything Mahan foresaw. If the much-discussed anti-ship ballistic missile pans out, for instance, the PLA could hold U.S. Navy carrier strike groups at a distance. Medium-sized Chinese aircraft carriers could operate freely behind that defensive shield, sparing the PLAN the technical and doctrinal headaches associated with constructing big-deck carriers comparable to the U.S. Navy's Nimitz or Ford classes. Beijing would fulfill its Mahanian goal of local sea control at a modest cost—an eminently sensible approach, and one that Mahan would have applauded. Thus, Western observers should avoid projecting their own assumptions onto Chinese strategic thinkers.

Strategic theory, then, gives Westerners an instrument to track China's maritime rise, complementing more traditional techniques of net assessment. If Chinese scholars and seafarers continue ignoring the cooperative strands of Mahanian thought, mistaking his writings for (or misrepresenting them as) bloody-minded advocacy of naval battle, Chinese strategy will incline toward naval competition and conflict. On the other hand, a China whose leadership fully grasps the logic governing Mahanian theory may prove less contentious.
I, like many current thinkers, am unconvinced that the United States and China must out of necessity become strategic adversaries. Indeed, given the ever-expanding economic interdependency between our two nations, an adversarial relationship would likely benefit neither. However, the ambiguity in the relationship and China's strategic goals remain the key problems. And of course, U.S. naval planning and force structure will and must continue to consider the PLAN a potential threat to access until the ambiguity is resolved.