Archive for the 'Technology' Tag
"It is not the most intellectual of the species that survives; it is not the strongest that survives; but the species that survives is the one that is able to adapt and to adjust best to the changing environment in which it finds itself."

— Attributed to Charles Darwin.
The Rate of Change
We live in exponential times. Does anyone still own an old-fashioned, original iPhone? New products hardly hit the street before they are superseded by something newer and better. Technology seems to change daily, before our eyes. In fact, the rate of technological change is increasing, as the internet, computing power, and insatiable market demand combine to throw the research aperture wide open. In the language of the calculus, a positive second derivative means, simply, that change is accelerating. The long-term success of future defense programs will depend more than ever before on their ability to adapt continuously to this change, rather than our ability to produce exquisite point solutions.
Cutting-edge technology, once the property of governments, and especially defense departments, is now driven increasingly by market demand. Defense requirements are no longer driving the technology train. In fact, in many cases, they are not even a major passenger. A look at National Science Foundation data showing U.S. research & development (R&D) funding by source for the 45-year span between 1963 and 2008 shows that, in the 1960s, government funding dominated R&D as we developed Cold War weapons and chose to go to the moon. In such an environment, the research establishment is responsive to government needs, so integration is relatively straightforward and technology tends to flow from government development to civilian application. Radar, for example, was adapted for microwave cooking, and the Global Positioning System (GPS) changed almost everything we do. By the early 2000s, however, funding roles between industry and government had reversed. This is a good news story for a free-market economy. However, it presents a very different challenge for those who build and maintain complex defense systems, as the military is forced to become the agile adapter.
Build with Change in Mind
In a rapidly changing environment, the long-term viability of programs will depend largely on our ability to infuse evolving technologies in stride, affordably. The image at left shows the Ticonderoga-class cruiser ex-Valley Forge (CG-50) being sunk as a target after just 17½ years in service. This $1B Aegis cruiser was a technological marvel in her day, but she was not built with change in mind. Because it was too costly to backfit the open MK41 Vertical Launch System into the first five ships of her class, they were all decommissioned early—an expensive lesson in adaptability. The U.S. Navy's Aegis cruisers and destroyers are magnificent machines, but it's worth noting that many of the missions they perform today, including land attack and ballistic missile defense, were not on the chalkboard when they were designed in the 1970s to protect carrier battle groups from Soviet airborne saturation attacks.
We need to build systems, especially those concentrated on complex, multi-mission warships, for existing threats as well as those yet to emerge. Combat systems need to be open, modular, and flexible enough to evolve, incorporate the all-but-certain march to autonomy and machine teaming, and keep up with advances in computing and communications that are beyond military developmental control. In fact, current trends suggest the commercial-military gap will widen. Alphabet/Google, for example, consistently reinvests approximately 30% of every dollar of sales back into R&D and capital expenses (CapEX), compared with just 2% – 3.5% for top defense contractors.[1]
Affordability, Autonomy, and the Third Offset
It has been said the United States is losing its technological edge, but technology isn't the primary obstacle. While research in many other countries certainly is improving, the pace of innovation, invention and technology development in the United States is breathtaking, and shows no signs of slowing down. The United States still produces many of the world's most impactful and exciting technologies; however, integrating them into our defense systems and tactics is hard and getting harder.
A close look at the Navy's and Air Force's investment dollars (R&D plus Procurement) compared with force structure, measured in ships and aircraft, shows that in the past, as budgets inevitably cycled up and down, force structure tended to follow. When budgets declined, services financed downturns by reducing force structure and harvesting manpower dollars. When budgets increased, generally, we bought new or improved force structure. This pattern changed in 2003. For the first time, as budgets increased significantly, force structure continued to decline, even as service chiefs maintained they did not have enough assets to satisfy demand. Now, as we again face decreased defense budgets, there is no force structure to mortgage, and the implications for unit cost point to a future we can't afford on the current trajectory. As with the first two "offset" strategies, the recently released Third Offset is driven by affordability, and an economic need to increase capability without increasing expensive capital assets.
There are only two top-level metrics in defense procurement: capability and cost. Every new program seeks to increase capability, reduce cost, or both. Yet, while capability across all services certainly has increased by many measures, so has cost, while quantities continue to shrink. New technologies like autonomy can help increase capability, but only if they can be integrated continuously, affordably, and in stride. The modular mission package approach pioneered by the Littoral Combat Ship program, with its innovative use of networked, unmanned systems, was an important step in the right direction.
With years of effort and millions of dollars invested to start each new Program of Record, it's no wonder the services are reluctant to change programs, or take risk and add cost by infusing new technologies. Our acquisition workforce is professional and dedicated, but they are measured on their ability to deliver programs based on "cost, schedule and performance," and programmatic rudders don't swing easily. How then, can we expect emerging technologies, like autonomy, to develop into a potent element of our force structure, and provide the affordable leap in capability envisioned by Secretary Work's Third Offset strategy?
Force Architecture
Despite general acceptance of unmanned aerial vehicles (UAVs) for airborne Intelligence, Surveillance and Reconnaissance (ISR) as well as airborne tanking missions, our current approach to most autonomous systems has been focused on one experiment at a time. The Navy's X-47B demonstrated that UAVs could operate safely from an aircraft carrier, and even refuel in flight. There were valuable lessons learned but, after $2B, the program has essentially reached a dead end.
Now is the time to develop a future force architecture that will guide an orderly migration to a mix of autonomous and manned systems across all domains and, more importantly, provide the underpinnings for reprogamming funds to make it happen. The Analysis of Alternatives for the Navy's BAMS/P8 Maritime Patrol Aircraft program informed just this kind of tradeoff, producing an optimized, combined purchase of manned and unmanned aircraft. New unmanned systems like DARPA's autonomous "ACTUV" surface vessel, and a family of future underwater vehicles, including the Large Diameter Unmanned Underwater Vehicle, can increase fleet numbers and total capability in the same way. By increasing capacity, they can also help distribute sensors and firepower.
Consistent with the Third Offset strategy, networked, autonomous systems will perform important missions in places larger manned ships can't, or needn't, go. Like Garry Kasparov's centaur chess model, they'll fit into an overall fleet architecture in ways that optimize the whole man-machine team. As autonomous systems become increasingly capable in the future, they will share burdens and shoulder more and more of the warfighting load, while open architecture and modularity will help us pace evolving technology without the need to build new ship classes from scratch.
Summary
The "relevance horizon" for combat capabilities has always been a moving target. This is nothing new, but the pace of technology change is increasing, and is driven by forces that are beyond government control. Future Defense programs must be built with change in mind, to adapt to emerging technologies that evolve faster than today's acquisition cycle.
As long as we continue to approach autonomous systems in isolation, they will be slow to realize their full potential. Now is the time, within the new Force Structure Assessment, to look 10 to 25 years into the future and devise a comprehensive fleet architecture, based on rigorous analysis and modeling, that optimizes the mix between manned and unmanned programs envisioned in the Third Offset strategy, and helps compensate for declining force structure numbers. Like the first two offset strategies, the Third Offset is driven by economic necessity.
Finally, many of the world's brightest minds are still right here in the United States, producing the world's best technologies. Our challenge is to keep those technologies flowing into the hands of our warfighters.
---
[1] Personal communication, James McAleese, McAleese & Associates, 29 January 2016.
Serious students of the US national security enterprise are likely familiar with Dr. Amy Zegart's Flawed by Design. In her 2000 work, she examines the creation of the Joint Chiefs of Staff, Central Intelligence Agency and the National Security Council, concluding that from the start, these organizations never received the appropriate authorities to effectively lead, to ensure our nation's security and fight our nation's wars. Her insights proved prescient in light of the 9/11 attacks and military operations in Afghanistan and Iraq.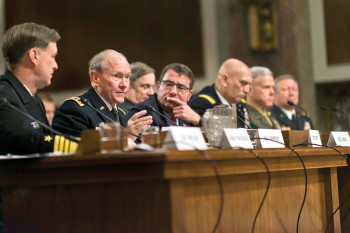 Since the National Security Act created the DoD, JCS, CIA and the Department of the Air Force in 1947, there have been repeated attempts to build using this broken design. Each subsequent reform effort, particularly the Goldwater-Nichols Department of Defense Reform Act of 1986, added to the size and complexity of the Pentagon. Layers upon layers of oversight got added to fix and re-fix the fundamentally flawed concept. The total cost to maintain this leviathan of tens of thousands of staff is enormous and takes scarce resources away from actual warfighting needs. Significant overhead costs are not the only negative impact from this flawed design, as many DoD-wide efforts are simply not effective.
In a recent speech at the American Enterprise Institute, Secretary of the Navy, Ray Mabus provided examples of the DoD's "4th Estate" dysfunctionality. He particularly focused on the growth and operating costs of the Defense Finance and Accounting Services and the Defense Logistics Agency but similar criticisms could be made against most defense organizations.
These organizations were created to efficiently provide common support functions for the military services but, over time, that concept seems to have been lost, as the size and roles of the defense establishment expanded. Today, the military services often have to change their practices to support the defense agencies, instead of the reverse.
Similar to Mr. Mabus's criticism of the 4th Estate, Senator John McCain has been a vocal critic recently of the Defense Acquisition System and has even called for revisiting the sacred cow of Goldwater-Nichols. Sweeping changes to these two broken processes are long overdue.
While the shared interests of Secretary Mabus and Senator McCain are somewhat unusual, some may view them simply as inside-the-beltway political banter. However, DoD's outdated organizational structure has also hampered military operations over the past decade.
My experience highlights the broad impacts from centralized oversight. Having served in both the Navy and Marine Corps for over a decade apiece, I understand naval integration is difficult to achieve; even after 200 years, it is still a work in progress. To think that four services can fully integrate to support the shared-lie of "jointness," to confront and solve fast-evolving crises today, is an expensive fool's errand.
General Stanley McChrystal asserts in his new book Team of Teams, that the "Limiting Factor" in our war against al Qaida was our own management of operations. He experienced first-hand the cumbersome layers of bureaucracy, siloed information sharing and over-centralized decision making, even within his own Special Operations community. My own experience at the MNC-I HQ in 2005 supports his assertions and has made me question the value of joint organizations and processes as well.
Many are familiar with the US Army's seizure of the Baghdad International Airport (BIAP) in the initial run-up to Baghdad in 2003. There was a second, lesser known, battle for BIAP in 2005 – which pitted Marines against the Air Force.
Briefly, the Marines operated in the areas west and south of Baghdad and routinely conducted counter-fire missions through a section of the air space on the same side of BIAP. The Air Force staff at the Combined Air Operations Center wanted to expand the air space control measures above BIAP for safety of flight concerns. This change would prohibit Marines from quickly responding to attacks on ground forces—shooting back, in other words–in the area.
Despite Joint doctrine clearly favoring the ground commander, a joint staff running operations, and even having a neutral Army three star as the Corps Commander, the Air Force refused to support the ground commander's operational needs. Eventually, a few mid-level officers and Staff NCOs worked out a solution, albeit one held together with duct tape and 550 cord, that resolved the coordination issue.
This event occurred nearly 20 years after the passage of Goldwater-Nichols and following significant investments in joint commands, joint doctrine, joint programs and the brainwashing of an entire generation of military officers on the virtues of jointness. Interservice coordination seemed no better than it was in previous military operations. Problems in Iraq were resolved by military professionals working towards common goals, as I'm sure was the practice in every war before the flawed legislation.
For the past 60 years, DoD and Congress have slowly worked towards unification of the military services. In the industrial age, centralization and the emphasis on process efficiency were widely accepted management practices. However, the complex, interconnected future, characterized by ubiquitous data and technological changes occurring rapidly, will require smaller, decentralized and agile organizations to succeed – just the opposite of our current organization design.
Not only is the idea of creating enormous Defense-wide systems, programs and organizations a bad one, it is a dangerous management approach in the information age. The recent OPM data breaches provide crystal-clear evidence of how catastrophic risk increases when we put our all of our eggs in a single basket. We cannot wall-off our stovepipes in single places and rest assured that no one can get in to our information.
Preparing for future conflict, particularly against modern professional militaries, requires more than simply investing in expensive weapon systems. It requires us to have candid conversations about what's not working in DoD – far beyond just the broken acquisition process – and recognize the fundamental design flaws of the Department.
Over the next few years, we have a great opportunity to leverage the work started by Secretary Mabus and Senator McCain. With former naval officers Undersecretary Bob Work and General Dunford holding key positions in the 4th Estate, as well as a new Commandant and CNO both recognized for innovating thinking, and several naval officers on the Hill, we may actually be able to make some meaningful changes in the defense organization which will ensure success in the future. Making significant changes to the entrenched DoD bureaucracy are a longshot indeed, but history has shown that naval officers working together are capable of great things.
Cross-posted by permission from CIMSEC's NextWar Blog
There's been a big uproar lately about innovation in the Navy throughout message boards and the blogosphere – what is innovation, what it's not, and what method Big Navy should be taking to jumpstart innovation among the fleet, if any at all. LT Jon Paris and LT Ben Kohlmann, both of whom are very involved in the conversation, had a great discussion about the topic on CIMSEC's Sea Control Podcast, hosted by LT Matt Hipple. LT Paris followed up with an excellent blog post. While there are some contrasting views, it seems like one thing that's agreed upon is that the deckplate innovation already occurring in the fleet sometimes doesn't make it "up and out" or isn't as publicized as it should be. In that capacity, LT Hipple, and some members from the CNO's Rapid Innovation Cell, offered a challenge to start publishing examples of innovation in the fleet. I've decided to take this up head on in a series of "Innovation Files".
Nearly every command has a "Plan of the Day" (POD) – a widely distributed one-page agenda with at least the current and following days' schedule of events. Depending on the command, certain PODs are very long and many regularly contain dozens of events per day, some at overlapping times. Early on, I noticed a couple glaring inefficiencies particular to my command. First was the process – A yeoman would be specifically assigned to "do the POD" for the day, a duty rotated among the junior yeomen that nobody wanted. This task started by opening the previous day's POD, changing the date, piling through various e-mails and files on the shared drive, and then writing the new daily schedule by hand. After an hour or two, it would get routed up to the ship secretary, personnel officer, admin officer, training officer, operations department, various department heads, command master chief (CMC), and some others before finally getting to the XO. Every position in the chop chain had their own changes and events to add, and it required the yeoman to literally go around the ship looking for each of these people, and then going back and correcting the changes for each correction or addition. It wasn't uncommon to print in excess of 15 POD drafts before the final revision. As you can imagine, POD duties were an all-day event, and since the POD needed to be finalized and signed by the next day, it kept everybody around well into the evening.
After much thought, the XO, personnel officer, and I agreed on a plan to create a public calendar on Microsoft Outlook to streamline the POD process. However, PODs have a very specific format, and Outlook can print nothing close to the format. For example, asterisks had to be next to times if the event was to be announced on the 1MC, events had to be in bold lettering if the CO was attending, and everything had to fit on the page in two neat columns. It wasn't as simple as hand-copying every single event into the old POD format though; the daily schedule constantly changed throughout the day, and there was no process in place to ensure if any late additions or modifications in Outlook were included in the POD. This, along with other human errors, severely complicated the process, and made it essentially as inefficient as the old method. If only there was a better way!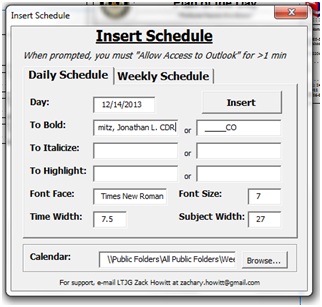 Introduce the automated POD (autoPOD). We decided to devise a macro app on top of Microsoft Publisher, a computer publishing tool, to automatically translate events on Outlook into the same easy POD format everyone was used to seeing. Macros are essentially programs, coded in easy-to-learn VBA (Visual Basic for Applications), that are built on top of application documents (in this case Publisher's and Outlook's) meant to automate tasks within these programs. Because of this attribute, it gets around IT policy requirements, which prohibit the introduction of specific executable programs not pre-approved by SPAWAR. Microsoft Publisher was chosen over Word because it's specifically designed to manipulate documents with multiple dynamic text boxes. Through an appropriate script reference, the app asks the user permission to reach out to any designated public Outlook calendar. Then all the user has to do is click one button, and it automatically inserts the daily schedule into the POD publication – complete with dates, events, headers, etc. The layout is easily manipulated by different codes inputted into the appointment screen on Outlook. For example, for an event to appear "bold", which indicates the CO is attending, an actual Outlook invitation for that appointment is sent to the CO, which is then designated on the user interface with a specific user name.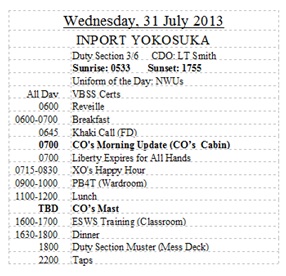 Along with events, the app supports all sorts of informational headers put in by different users through Outlook tags – for example, the operations officer puts in the appropriate command duty officers and duty sections, and the quartermasters put in sunrise and sunset times into Outlook. The app supports time structures displayed as "All Day" or "TBD", and all types of recurring events. Different permissions (ie: read only, add, or modify/delete) can be granted to different users to modify the Outlook Calendar, and the program is set up for an administrator to view when and who is putting in the events, so it's not possible to sneak a last minute evolution for the next day without the XO and CMC knowing.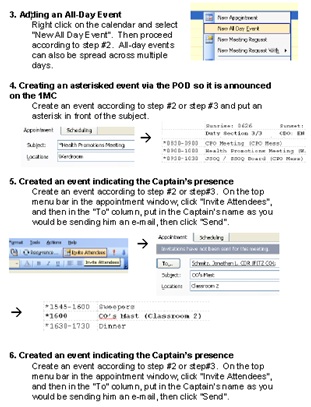 AutoPOD was eventually customized for several other tasks. By request, we built an automated Plan of the Week (POW) 10-day printable outlook on top of Microsoft Excel for the Planning Board for Training (PB4T), which mimics the POD format each day, for planning purposes. Other ships had a weekly or monthly outlook summary with important events listed on the back of their POD, and autoPOD was customized for these commands as well, using the "priority" attribute to determine if the item should be displayed on a weekly summary. We have continuously refined AutoPOD to accommodate every ships' POD format, meaning there will be little, if any, visible change to the Sailor. For example, there are options to modify the font, size, and width for the time and subject columns. Additionally, it's designed to be plug-and-play – all contained in one publisher file – so it can be used immediately and without any complicated installation procedures. Detailed documentation is provided on how to install the program and manipulate the schedule via Outlook.
It is worth noting that the initial concept of autoPOD was not received well in its early stages. For example, the yeomen were used to a certain way of doing things, and didn't want to move over from Word to Publisher. Despite comprehensive training, some department heads and department lead chief petty officers continued to send e-mails to admin with their events, instead of deconflicting and scheduling it themselves in Outlook. However, after much dedication and patience, everyone slowly acclimated. The new system is now second nature, and it's hard to think of how life even functioned in the past.
To date, autoPOD has been distributed to over a dozen ships, across several waterfronts. It has undoubtedly made the POD process less frustrating, and has saved countless manhours and time, from the junior yeoman who can produce a POD in minutes, to the XO who no longer has to micromanage the process. Unfortunately, we recently hit a bump in the road when asked to set up the app on a ship that finished an extensive shipwide IT refresh known as a Consolidated Afloat Networks and Enterprise Services (CANES) installation. At the time, CANES strictly restricted ships from creating and using shared calendars, along with other security settings that prevented the app from working properly. A workaround is in progress, but it illustrates a point that has been brought up in the recent discussions – many Navy policies and procedures are around for valid reasons, but often come at the expense of productivity and innovation. It's essential to collaborate between the fleet and appropriate project managers / designers / policymakers to figure out an optimal mix.
As we stomp our empty Natty Lites flat to make room in the blue-bin, wrap our Costco chicken wings in foil, and enjoy cheap high-speed air travel – it is easy to forget that just outside of living memory, aluminum was considered a precious metal.
According to Jefferson Lab, "Scientists suspected than an unknown metal existed in alum as early as 1787, but they did not have a way to extract it until 1825. Hans Christian Oersted, a Danish chemist, was the first to produce tiny amounts of aluminum. Two years later, Friedrich Wöhler, a German chemist, developed a different way to obtain the metal. By 1845, he was able to produce samples large enough to determine some of aluminum's basic properties. Wöhler's method was improved in 1854 by Henri Étienne Sainte-Claire Deville, a French chemist. Deville's process allowed for the commercial production of aluminum. As a result, the price of the metal dropped from around $1200 per kilogram in 1852 to around $40 per kilogram in 1859. Unfortunately, the metal remained too expensive to be widely used."
…
Although aluminum is the most abundant metal in the earth's crust, it is never found free in nature. All of the earth's aluminum has combined with other elements to form compounds. Two of the most common compounds are alum, such as potassium aluminum sulfate (KAl(SO4)2·12H2O), and aluminum oxide (Al2O3). About 8.2% of the earth's crust is composed of aluminum."

Pure aluminum was so rare at that time it was considered a precious metal. Charles Martin Hall's method of processing the metal ore was to pass an electric current through a non-metallic conductor (molten sodium fluoride compound was used) to separate the very conductive aluminum. In 1889, Charles Martin Hull was awarded U.S. patent #400,666 for his process.

In 1888, together with financier Alfred E. Hunt, Charles Martin Hall founded the Pittsburgh Reduction Company now know as the Aluminum Company of America (ALCOA). By 1914, Charles Martin Hall had brought the cost of aluminum down to 18 cents a pound and it was no longer considered a precious metal.
1914. Sound familiar? The start of WWI.
In roughly the same distance in time as from DESERT STORM to now, Aluminum went from a rarely used metal in the military with only the German Junkers J.I making it to war, to being a strategic commodity ubiquitous in its use from eating utensils to intercontinental bombers.
Were the fathers of economic aluminum Charles Martin Hall, Paul Heroult, and Karl Joseph Bayer thinking about how aluminum would change the way war would be fought? No.
Did the military know right away the way aluminum would transform the strength and performance of established technology? No … but some had an idea.
I thought of the story of aluminum earlier today when another funny sounding word came in my ear; graphene.
Do you know what graphene is? Well, I think you will more and more – just as Teddy Roosevelt's generation started to hear aluminum and bauxite more and more as it slowly transformed their world. Not overnight, but year by year with a quickening as smart minds saw new ways to take advantage of this new advance.
Back to the Navy. What gets a lot of futurists excited as they look for the next kinetic and/or weaponeering leap? That is easy; rail guns, lasers, and particle beam weapons. In our early 21st Century tool box, what is holding these promising technologies back? What is the long pole in the tent that everything else requires to be there? In a word, energy.
Many more cards need to come out of the deck – but if you are interested in the offensive potential of rail guns, and the defensive promise of lasers and particle beam weapons – but are humbled by the very real limitations there are to making them operational – then I offer you the below.
Not revolution, but evolution. Evolution with the possibility of a quickening that 100 years ago the world saw with aluminum. Graphene based super-capacitors? Use the next generation of the DDG-1000 engineering plant? Watch the below if you can or click here, and ponder with me.
Yes, we live in interesting times as our Chinese friends might say – but rejoice dear hearts; the future has potential.