Archive for the 'USNS Comfort' Tag
There have been a number of proposed interventions to address the shortage of psychiatrists for children and adolescents, including telemedicine, the utilization of mental health-trained allied health professionals, and improved mental health diagnostic and therapeutic training of pediatric primary care providers (Becker and Kleinman, 2013). Such proposals have occurred in the context of the significant global burden of mental illness – currently estimated to encompass 7.4% of the global burden of all disease (Murray, et al., 2012).
In a perfect world, a child and adolescent psychiatrist would share the same clinic space as a pediatrician or vise-versa. Such co-location of both pediatricians and psychiatrists would likely improve recognition, diagnosis, treatment and follow-up of patients who have mental health challenges. Far from being a utopian dream, co-location of child and adolescent psychiatrists with pediatricians also is in line with the goals of the patient-centered medical home which seeks to ensure that care is accessible, continuous, comprehensive, family-centered, coordinated, compassionate, and culturally effective. While there are myriad obstacles that prevent the scaling up of such a model, among the biggest hurdles are the lack of psychiatrists (Patel, 2009).
While the United States certainly has a need for more child and adolescent psychiatrists, that need is magnified in many developing countries throughout the world, including our neighbors to the south (Becker & Kleinman, 2013). The need in some countries has been acutely exacerbated by narcoterrorism and its associated increase in the psychological trauma resulting from the extensive loss of life (e.g. El Salvador and Honduras). Although there is a lack of empirically supported models for increasing the provision of mental health services in the developing world, we must act now despite the formidable nature of our challenge (Lewin et al., 2005).
Military Humanitarian Assistance
The U.S. Navy has joined with the Army, Air Force, non-governmental organizations and partner nations under the guidance of U.S. Naval Forces Southern Command/U.S. 4th Fleet for the six-month humanitarian-civil assistance mission Continuing Promise 2015 (CP-15). CP-15 is a deployment to conduct civil-military operations including humanitarian-civil assistance, subject matter expert exchanges, medical, dental, veterinary and engineering support and disaster response to partner nations and to show the United States' continued support and commitment to Central and South America and the Caribbean. The USNS Comfort (T-AH-20) is the designated medical platform and also served as the hospital ship in 2007, 2009 and 2011 CP missions. USNS Comfort visited 11 countries located in Central and South America and in the Caribbean during CP-15.
In recognition of the inextricable link between mental and physical health, psychiatrists, psychologists, and allied health professionals with advanced mental health training are a vital part of this mission. These mental health specialists provide care for the crew in addition to being an integral part of the host nation medical civil assistance programs (MEDCAPS). It is during these MEDCAPS that mental health professional's work alongside pediatricians to provide care to the citizens of the host nation.
MEDCAPS: Medical Boots on the Ground
During the MEDCAPS, which last between eight to 10 days, host-nation residents receive dental, medical, optometric and surgical care, including associated medications, at no cost to the patient. Patient flow at most of the MEDCAPS follows a predictable pattern. Patients are triaged into four groups: adult medicine, pediatrics, optometry, and dental. Most patients see the provider to which they were triaged and return home after being examined and given their prescription. Pediatric referrals to mental health vary including patients noted by caregivers as having symptoms of anxiety, behavioral difficulties, and difficulty with focusing on a given task. After being evaluated, the psychiatrist or psychologist makes recommendations regarding safety, engages them in supportive therapy (when appropriate), and refers the family to the local Ministry of Health (MoH).
Co-Location: Two Examples
In the context of obtaining blood pressure readings, a patient was noted to have healed cut marks across the wrist. Despite the language barrier, the provider asked the patient about the marks and if there was a plan to commit future self-injurious acts. Minutes later, this patient was evaluated by the psychiatrist who was seeing patients in the room next door. This psychiatrist found that the patient had seen a host-nation psychiatrist in the past, was at no current significant risk of self-harm, and ensured that the patient received follow-up by linking the patient to the host-nation MoH.
Other presentations of mental illness have been more subtle. A mother brought her five year-old son to be seen by pediatrician after complaints of chest pain over the past three years. The parent noted that her son seemed to be itching a great deal without any identifiable cause. When the mother was asked whether the child could have some sort of anxiety, she agreed. They were referred to the co-located psychiatrist who was able to obtain a more thorough history. It was discovered that the mother is routinely physically assaulted by the father during his drunken rages. There was no evidence of physical abuse on the child. The psychiatrist referred the family to the host-nation MoH after explaining to mother the link between the physical violence the child is witnessing and the child's symptoms.
Limitations
The range and efficiency of medical services provided in these MEDCAPS rivals or exceeds that of many institutions in the United States. However, there are obvious and significant limitations to this type of medical care which are largely attributable to the lack of continuity. Additionally, the reduced availability and accessibility of mental health services in some areas complicates the referral process. Even more pressing is the need to eliminate the conditions that, in some ways, necessitated the request for MEDCAPS (i.e. extreme poverty, violence, drug trafficking, etc.). 

Conclusion
Mental health care has historically been viewed as something separate from basic health care. However, there is an increasing realization by both national and international bodies that they are indeed inseparable (World Health Organization, 2005). Being able to obtain a referral to a co-located psychiatrist with patient services rendered and a report given to the requesting provider on the same day is the norm during these MEDCAPS. This pattern is repeated for other subspecialty services ranging from dermatological procedures to echocardiograms. While there are obvious and, in some cases, appropriate reasons that this does not occur in every patient encounter, it is the goal to which all institutions providing medical care should strive.
 How the Public Can Help
Those interested in addressing the challenge of providing mental health services internationally can become involved in a number of ways. From the macro level, there is much work that needs to be done determining the efficacy and effectiveness of scalable models for the provision of mental health services. On the micro level, there are opportunities to volunteer your services as a mental health provider on missions like Continuing Promise 2015. Regardless of how people choose to contribute, the important point to remember is that this challenge is solvable and every one can contribute to a solution.
* * *
The views expressed in this article are those of the authors and do not necessarily reflect the official policy or position of the Department of the Navy, Department of Defense, or the U.S. Government.
---
References
Becker, A., and A. Kleinman. "Mental Health and the Global Agenda." New England Journal of Medicine 369, No. 2 (2013): 67-73. doi:10.1056/NEJMra1110827.
Murray, C., T. Vos, R. Lozano, et al. "Disability-Adjusted Life Years (DALYs) for 291 Diseases and Injuries in 21 Regions 1990-2010: A Systemic Analysis for the Global Burden of Disease Study 2010." The Lancet 380, No. 9859 (December, 2012). doi:10.1016/S0140-6736(12)61689-4.
Patel, V. "The Future of Psychiatry in Low- and Middle-Income Countries. Psychological Medicine 11, No. 39 (2009): 1759-1762. doi:10.1017/S0033291709005224.
Lewin, S., J. Dick, P. Pond, et al. "Lay Health Workers in Primary and Community Health Care". Cochrane Database of Systematic Reviews 1, No. 1 (2005). doi:10.1002/14651858.CD004015.pub2.
USNS Comfort returned to Baltimore on Friday after completing their humanitarian mission in Haiti. The hospital ship made a rushed departure from Baltimore on January 16th only days after an earthquake devastated the island nation. It is the weekend, and rather than discuss the number of patients treated or supplies delivered, I think it is appropriate to just take a look at the good work of her crew through the photos of some MCs.


Cmdr. Sam Critides, from Glen Ridge, N.J., a neurosurgeon embarked aboard the Military Sealift Command hospital ship USNS Comfort, speaks with Carl Shapiro, site director of St. Boniface Hospital, as a local crowd observes. Photo by Petty Officer 2nd Class Shannon Warner.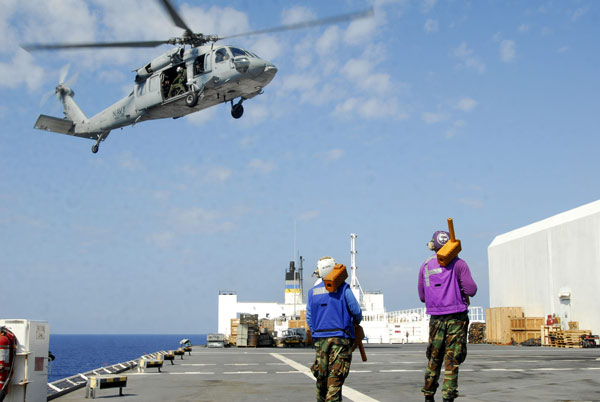 Sailors assigned to Helicopter Sea Combat Squadron 28, embarked aboard the Military Sealift Command hospital ship USNS Comfort, prepare for the landing of an MH-60S Sea Hawk helicopter during an underway replenishment off the coast of Haiti. Photo by Petty Officer 2nd Class Shannon Warner.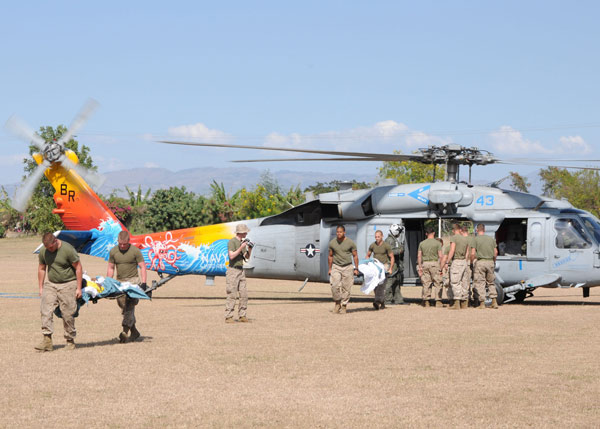 Marines from the 24th Marine Expeditionary Unit transport patients discharged from USNS Comfort (T-AH 20) to an intermediate aftercare facility in Port-au-Prince, Haiti. Photo by Petty Officer 3rd Class Matthew Jackson.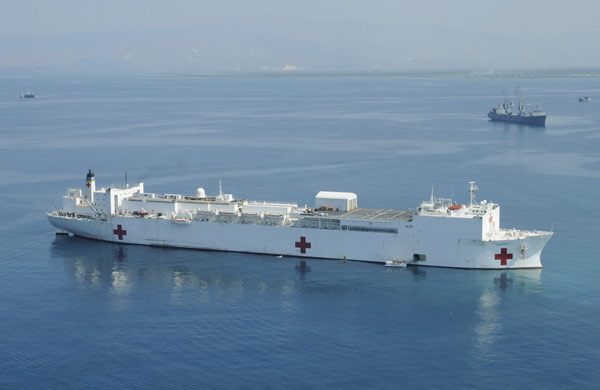 The USNS Comfort as seen from the air Feb. 8 in Port-au-Prince. The last Haitian patient was discharged from the vessel Feb. 27. There were 88,646 patient encounters including primary care, pediatrics, dental, OB/GYN, immunizations, lab work and pharmacy scripts. The highest number of patients aboard the ship were 485, Jan. 29. Photo by Sgt. 1st Class Kelly Jo Bridgwater.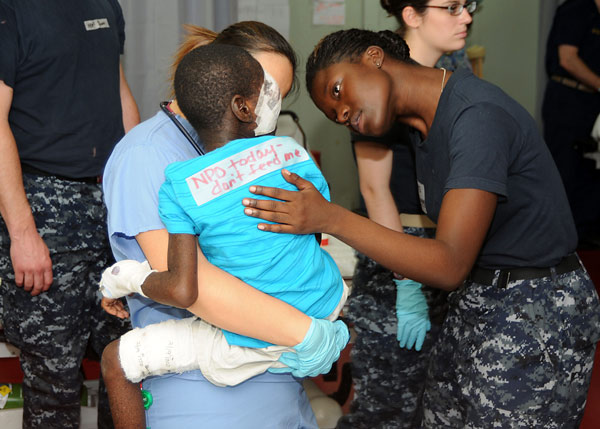 Petty Officer 3rd Class Brittany Saulsberry, from Dallas, Texas, comforts a young boy before he receives medical treatment aboard the Military Sealift Command hospital ship USNS Comfort. The boy was brought aboard for treatment of a cancerous infection in his eye and a variety of other life-threatening conditions. Photo by Petty Officer 3rd Class Matthew Jackson.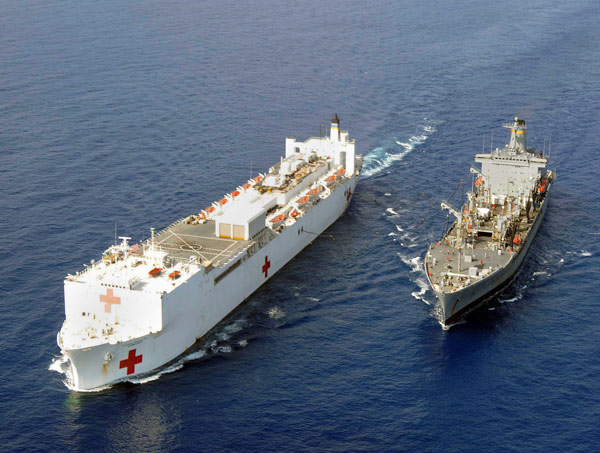 The Military Sealift Command hospital ship USNS Comfort, left, and the Military Sealift Command fleet replenishment oiler USNS Leroy Grumman conduct an underway replenishment in the Caribbean Sea. Photo by Petty Officer 3rd Class Matthew Jackson.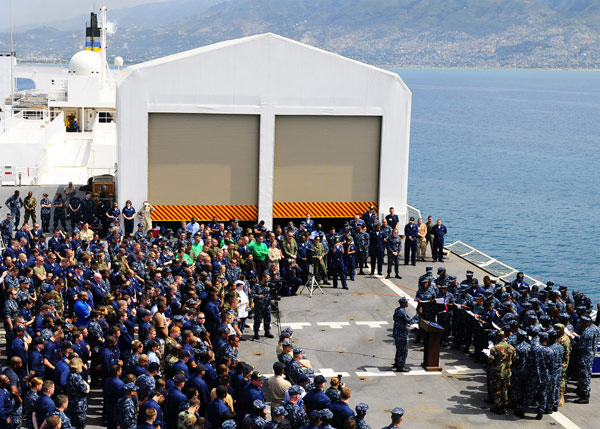 Haitian-American Sailors embarked aboard the Military Sealift Command hospital ship USNS Comfort sing Ayiti Cheri (Haiti My Darling) in Creole during a remembrance ceremony for the people of Haiti. Photo by Petty Officer 2nd Class Edwardo Proano.

The Military Sealift Command hospital ship USNS Comfort arrives at Naval Station Norfolk following a seven-week deployment to the U.S. Southern Command area of responsibility to provide medical care in Haiti as part of Operation Unified Response. Photo by Petty Officer 3rd Class Ryan Steinhour.
Good job USNS Comfort!