Archive for the 'Veterans' Tag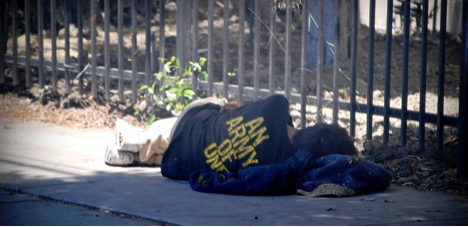 Homelessness is a difficult social issue that faces Americans head-on on a daily basis. Though it can be a complex issue made up of a myriad of different personal stories and unimaginable circumstances, a subset of those affected – homeless veterans – is a particularly painful reality – a reality that must change.
Homelessness is defined in Title 42 of U.S. Code as,
an individual who lacks a fixed, regular, and adequate nighttime residence and an individual who has a primary nighttime residence that is a supervised…shelter, an institution that provides temporary residence for individuals meant to be institutionalized, or a public or private place not designed for, or ordinarily used as, a regular sleeping place for human beings.
Government estimates put the number of homeless Americans as up to 3 million a year, yet many in our society continue to walk with their eyes averted. Members of the House Veterans Affairs Committee attempted to provide amplifying sentiment when they stated, "People don't want to look at the homeless. But they will look at, or think about, or maybe support, dealing with homeless veterans." Was their statement accurate, though? Do people pay more attention to homeless veterans, or was that merely wishful thinking or political side-stepping? Due to the inherently transient nature of those on the streets, not to mention the unwillingness of many to speak about their undesirable lot in life, it is incredibly difficult to take an accurate census of the homeless population. Informed estimates by government and non-profit organizations, though, put the total at nearly 300,000 homeless veterans in our country in a given year. In the 2013 Annual Homeless Assessment Report to Congress, the Department of Housing and Urban Development stated that no less than 60,000 veterans sleep without a roof over their heads on any given night.
Fifty percent of homeless veterans are younger than 50 years old – nearly double the percentage of total veterans between the ages of 18 and 50. A small number of veterans from World War Two and Korea remain on the streets, and the balance span our nation's modern history of uniformed service: from the under-appreciated veterans of Vietnam to the continuously lauded veterans of Operations Iraqi and Enduring Freedom. Young and old, our nation's most noble citizens – those who volunteered to serve their country – are stricken with hardships, hopelessness, and illnesses and live without even the most basic dignities that so many of us take for granted.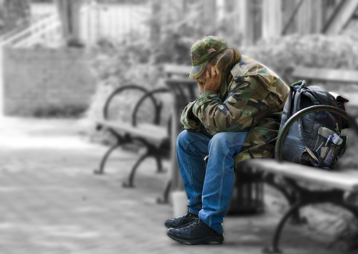 In 2009, President Barack Obama made a much-publicized announcement that kicked off the Department of Veterans Affairs' initiative to end Veteran Homelessness by 2015: "Until we reach a day when not a single veteran sleeps on our nation's streets, our work remains unfinished." According to the National Coalition for Homeless Veterans, he was the first American President to demand an end to this critical, but often overlooked, social problem. Though many saw his pledge as overly ambitious, the VA's initiative has received Congressional support and is progressing smartly. Whether the goal will be met remains to be seen.
Though we as citizens should work towards eradicating homelessness in our country, we as service members, veterans, and part of the extended military family must not tolerate our society's continued habit of looking the other way and ignoring those who served it so honorably. Men and women who served our country – many of them putting their lives on the line – should not be without a roof, and a safe place to lay their heads.
There are a number of ways to get involved and to help our brothers and sisters in arms who are down on their luck. Community-based volunteer organizations and networks provide valuable services ranging from medical care to food and shelter. Donating money, food, clothing, and other life items to shelters is always appreciated, as is dedicating time to serve as a mentor, counselor, or friend to those in need. Organizations like The National Coalition for Homeless Veterans and Veterans Village of San Diego, as well as the Department of Veterans Affairs itself, all pose great opportunities to help make a difference in this fight to leave no man behind. Another important step is raising awareness.
Lieutenant Jackie Perez is a graduate of MIT and a Surface Warfare Officer (Nuclear), having served around the world and in combat operations in the Middle East. She recently transitioned to the Naval Reserve so that she could pursue her dreams of becoming a filmmaker. She now lives in California where she continues her service to our country and works as a civilian in Hollywood. She is socially conscious, volunteers at local organizations, and cares deeply about this issue. In her capacity as a young filmmaker, she is looking to highlight this issue in a short film and link the roles of our veterans to the greater society that we all enjoy.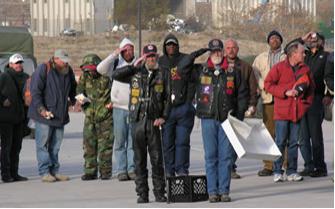 The Music Bed is now running a contest called #projectfilmsupply, which will award generous film-industry support to three aspiring directors in order to bring their inspirational abstracts to life. LT Perez' short-film project, My Fellow American, focuses on the issue of Veteran Homelessness and how it is approached by a society that often chooses to keep its head down instead of engaging our nation's former warriors. The contest, which requires abstracts to be inspirational in nature, will be decided by the Public's online votes (confirmed via email to ensure contest integrity). While we all might say that we want to get involved, LT Perez is doing it. This is an important project that should come to life and if it wins, the director, cast and crew will all be veterans, ensuring this story is told by those who share in the brotherhood of those they seek to support.
It is easy to avert your gaze or to come up with judgements as to why a person may be homeless, but it is much more difficult to recognize the scope of the problem and to take that first step towards making a difference. Please consider getting involved in your local community. Support the work of people like LT Perez with your vote, and remember that it is not in our code to leave our comrades in the field, cold, scared, and wondering if anyone will ever come to their aid.
Sources:
Veterans Village of San Diego
National Coalition for Homeless Veterans
The Invisible Ones
Annual Homeless Assessment Report to Congress
Department of Veterans Affairs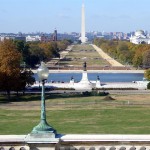 Run your memory back a decade or so ago if you will, especially in the run up to the invasion of Iraq.
Even before 9/11, there was a lot of discussion how as the WWII generation passed on and retired, that fewer and fewer members of Congress had military experience. With each generation, fewer and fewer people served in the military as a percentage of the general population, and you saw a similar drop in those in political power who had even a few years of seeing the world through that lens. When it came to making decisions about war and peace, that lack of experience at the national leadership and policy making levels was not seen as a net good.
While superior ideas, leadership, and vision can come from those who never served one day in uniform – it is always helpful to have a cadre of those who know the practical vice the theoretical working of the military. If they can do both, then even better.
As the build-up and discussions on if we should lead an invasion of Iraq gained steam, when you looked around the Hill, there were a scattering of WWII, Korean War Veterans, as well as a Cold War skirmisher here and there, and even closer in time – a core of Senators, Congressmen and members of the Executive Branch who served in Vietnam.
Experience with actual combat covered the spectrum. Some with quite substantial exposure to combat and sacrifice you could find humble in word, and often in the background providing counsel. On the other end, there were some with limited service who seemed to crow and remind everyone at every chance about their "special" perspective – and would take a peer out in the rush for a camera.
As their experience was varied, so was their advice in quality and quantity. What was generally appreciated, from exceptionally honorable service on left and right such as Senators Inouye (D-HI) and McCain (R-AZ) on down, was that in the Hearing Room and briefing table, there was someone who at least had an understanding of the "So What" and "What Next" when someone gave them the "What."
Some memories fade with time, and the experience in one conflict may not translate well from then to now – but for those being asked to go unto the breach once more – it was reassuring to know that someone knew what they were asking other to do.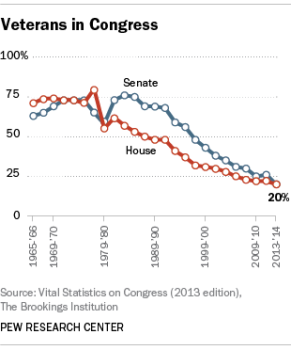 So, here we find ourselves a dozen years in to war – and of this cohort of veterans quite a few have made it in to Congress. Not just the professional politicians who are also Reservists JAGs and Intel Officers (not that there is anything wrong with that); but combat arms personnel who, after their service, decided to serve in another way.
As we look to opening a door to a dark room again, before we step in, to answer the question, "Where do these veterans in Congress stand?", I think we have our answer.
Via TheHill;
The majority of Iraq and Afghanistan veterans serving in Congress are lining up against President Obama's plan for military action in Syria.

Of the 16 veterans of those two conflicts serving in Congress, only GOP Reps. Adam Kinzinger (Ill.) and Tom Cotton (Ark.) have publicly supported the White House's plan.

Three other members — Iraq War veterans and Reps. Brad Wenstrup (R-Ohio, Steve Stivers (R-Ohio) and Mike Coffman (R-Colo.) — are undecided.

A fourth, Scott Perry (R-Pa.), said he hasn't made up his mind either, though he told a town hall this week he wasn't inclined to support a resolution authorizing force.

Ten of the remaining members have announced their opposition to a military strike.
As of Saturday when that article came out, that is 2/10/4, for/against/undecided.
Two of the more vocal opponents are of the President's own party – one from his own state and the other from his adopted state; both Army;
Rep. Tulsi Gabbard of Hawaii bemoaned the carnage in Syria after a chemical weapons attack, which the U.S. says killed hundreds of civilians, including children, last month. However, after participating in public and private sessions on Capitol Hill, she said a U.S. military strike would be a serious mistake.

"As a soldier, I understand that before taking any military action, our nation must have a clear tactical objective, a realistic strategy, the necessary resources to execute that strategy, including the support of the American people, and an exit plan," Gabbard said in a statement. "The proposed military action against Syria fails to meet any of these criteria."

Gabbard, who served near Baghdad for a year and was a medical operations specialist, is a member of the House Foreign Affairs Committee.

Gabbard joins other Democrats from Obama's native state, including Sen. Brian Schatz and Rep. Colleen Hanabusa, in opposing aggressive U.S. military intervention in the Syrian civil war.

Rep. Tammy Duckworth, D-Ill., lost both legs and partial use of an arm in a rocket-propelled grenade attack in Iraq. She has not made a final decision on whether she would vote for a resolution authorizing force, but the freshman lawmaker from Obama's adopted state has serious reservations about any strike.

"It's military families like mine that are the first to bleed when our nation makes this kind of commitment," Duckworth has said.
Seniority means a lot in DC – but so should personal authority, one would hope. Many in DC asked for more military experience in Congress, well they have it in both parties. The Long War Caucus seems to have reached a bi-partisan consensus.
Does it matter?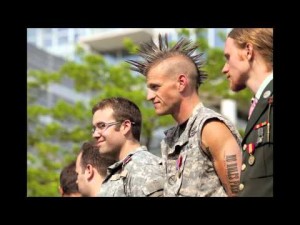 It's ok. It's not just you. You're not alone.
No, I not writing words of encouragement to veterans suffering with PTSD; though they are out there and probably need it. No, I am not writing to veterans who are suicidal; though they are out there and probably need it. No, I am writing to those who are sick of the drumbeat of articles, news stories, or listening to the empathy addict down the street that just won't shut up about how much she cares and only wants to hear things that validate her preconceived notions.
If you are irritated, skeptical, and suspicious of the whole chattering – you're in good company, and history and facts are on your side. Ignore the compassion trolls, it is ok to push back. We are not broken vessels, and those who maliciously imply that we are such things are no better than those who would spit in your face, as their goals are the same – to degrade your status as a equal.
A starting point for any post on this topic has to be B.G. Burkett's book, Stolen Valor : How the Vietnam Generation Was Robbed of Its Heroes and Its History
. There was a pattern set after the Vietnam War that tried to paint veterans as broken vessels. If you have not read Stolen Valor, then go order your copy now. What was done then is being done now – it even looks the same.
Almost a decade ago, a lot of people heard the first few beats of what is now steady and loud. From the murder of Chief Kyle to the kidnapping of children, to the poseurs written about in the homeless articles in your local papers, it is there.
It comes from two sources; one honorable and one malicious. The honorable sources are those who want to help those who serve or have served, but don't know how to. They tend to look for things to be saved, victims to be helped – and using a legitimate case or two of veterans who have transition challenges as a template, start to see all veterans in that template. There are also those who know someone who has real PTSD or has suicidal thought, and then applies the classic logic error of applying the specific to the general (I saw a duck with a green head today; therefor all ducks have green heads). They are well meaning and should be respected for wanting to help, but if they go too far, their compassion can be counterproductive by feeding the other half of the problem; the anti-military malicious.
We all know the type; the only time they have any respect for those in the military is when they can use them to attack the nation and military they were part of. They also are resentful of the respect those in the military are given in civic culture, and want to do whatever they can to bring that respect down; to marginalize the veteran.
If the veteran is a victim; he is to be pitied. If he is to be pitied, then he must be helped by his betters. If he has to be helped by his betters to function in society, then he is not an equally contributing member of society. If he is not an equally contributing member of society, he can be marginalized. If he can be marginalized, he can be dismissed and his input ignored. If he can be marginalized politically and his contribution to public discourse ignored, then he cannot compete in the marketplace of ideas and influence. If he cannot compete, then he has no power.
That attitude manifests itself in strange places now and then. MSNBC talking head Chris Mathews is a case in point. Reflecting on Sen. McCain's (R-AZ) aggressive questioning of Chuck Hagel last week, Matthews reflected on McCain's performance of his Constitutional duties thus;
"Let me start tonight with this — why is John McCain so angry?" Matthews said. "Forty years after the Vietnam POWs came home, the most famous of them is angrier than ever. Why is America — why are we fighting the Vietnam War all over again in the United States Senate? The ticked-off vitriol against Chuck Hagel, what is it about? Is it for show? Is it about something Hagel said in the cloakroom?"

"Is it about the basic unfairness of Vietnam itself, that some went and some didn't?" he continued. "Is it about Lyndon Johnson's inability to either win that war or end it? What is it that burns so deeply in John McCain these days?"

"Well, tonight, we dig into the deep well of resentment burning in John McCain's patriotic heart — a resentment not against the North Vietnamese who imprisoned and tortured him all those years, not against George W. Bush and his political henchmen who tried to stain McCain's reputation back in 2000 — but against a guy who fought against fear and rallied against wounds, just like he did in the same army of America's long nightmare in Vietnam, Chuck Hagel. A nightmare, by the way, whose flashbacks must haunt still the mind and heart of John Sidney McCain. … I'm absolutely convinced we're watching a flashback."
Quod erat demonstrandum. If they will do that to a Senator and once Presidential candidate – what message does that send to other veterans?
Like I mentioned earlier, a book has been written on the topic, so let me just pick one little vibe out of the zeitgeist; veterans suicides. Just googlesearch it; you'll get the idea.
In a great, fact-based reply, let's go to Greg Jaffe's superb article in the Washington Post. He wanders in to a few fever-swamps of the zeitgeist, but is otherwise a solid article if you read closely and critically.
Every day about 22 veterans in the United States kill themselves, a rate that is about 20 percent higher than the Department of Veterans Affairs' 2007 estimate, according to a two-year study by a VA researcher.

The VA study indicates that more than two-thirds of the veterans who commit suicide are 50 or older, suggesting that the increase in veterans' suicides is not primarily driven by those returning from the wars in Iraq and Afghanistan.
Has the war fought as of late been one fought by residents of The Villages? No.
"There is a perception that we have a veterans' suicide epidemic on our hands. I don't think that is true," said Robert Bossarte, an epidemiologist with the VA who did the study. "The rate is going up in the country, and veterans are a part of it." The number of suicides overall in the United States increased by nearly 11 percent between 2007 and 2010, the study says.

As a result, the percentage of veterans who die by suicide has decreased slightly since 1999, even though the total number of veterans who kill themselves has gone up, the study says.
Statistics are tough; the truth is in the details. See if you catch it.
The veterans' suicide rate is about three times the overall national rate, but about the same percentage of male veterans in their 50s kill themselves as do non-veteran men of that age, according to the VA data.
Ok. Females make up ~15% of the military, and for those involved in combat, then males are well in to the 90%. American males kill themselves at a rate four-times that of females. The military heavily skews male. Starting to see where their story starts to get wobbly?
Sooooo….. anyone who has made even a blogger-in-PJs effort will soon see that you cannot compare veterans suicide rates to that of the general population unless you want to skew the numbers for effect.
Are we also controlling for age, race, socio-economic background, etc … all highly significant factors in suicide? No, of course not. That would get in the way of a good story and/or the non-profit that pays a hefty six-figure salary.
In many cases you have read, you have either lazy journalism, advocacy journalism, or the deliberate contribution to the smearing of veterans – something that has been a regular feature for the last 40 years.
Yes, the compassion trolls will get grumpy at you, and the compassion addicts will think you are a cold and heartless sociopath (she will probably whisper to others that your behavior is just a manifestation of your own PTSD), but they are not the problem – only useful idiots to those who are the problem and deserve your push back – the smear merchants.
Is there a problem with PTSD and veteran suicide? Sure there is – but this constant picking at a sensitive spot until you make it worse does not help fix anything. At worst, it plants seeds of ideas in to the nogg'n of the vulnerable who may act. At the least harmful it impacts the ability of veterans to get civilian jobs when they get out. After all, who wants to hire a bunch of traumatized, suicidal, time bombs? Yea, that is a topic for another day.
Until then, let's see serious studies done by serious statisticians – a study that publishes all the data and variables with the regression analysis. Age, sex, race, ethnicity, regional origin, education level, combat exposure … all those and more.
While we wait for that – buy or re-read Stolen Valor – and push back some. It's not just you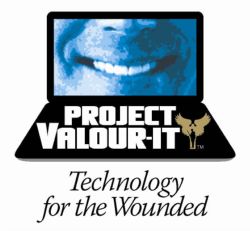 And so it begins…Go Navy! Beat Army!
Do you have a blog or website? You can join our team here: Team Navy. Team Navy is also grateful to have the support of all you Coast Guard Bloggers out there who don't have an official team this year!
Don't have a blog or website? No problem, you can still help us spread the word and get donations through Facebook, Twitter, email and plain old word-of-mouth.
Why help us? Every cent raised goes toward the same cause, Valour-IT from Soldier's Angels, helping those wounded warriors by providing laptops with voice activated software, Nintendo Wiis for therapy and GPS units for those suffering short term memory loss issues from TBI. Reach me at [email protected] if you have questions. We'll be updating with stories and Team progress and you can make a donation here!
Read this superb post at HG's World on Why I Joined the Navy. Which he didn't but he's supporting Team Navy as a tribute to his father and brother. Well done HG!
Update: The Admonition also joins Team Navy, "In honor of my dad who passed away this year, he was a sailor." Nice!