Archive for the 'Vietnam POW' Tag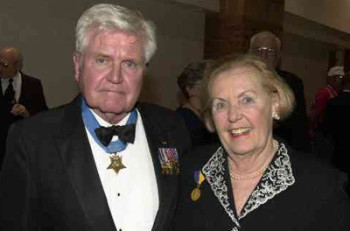 As my father let me know early on in my life, the most important decision a man can make is the woman he marries. It wasn't until I was much older, and well in to my own marriage, that I realized how true his observation was.
While all relationships have their own dynamic, there are some who are a benchmark – a spouse who match the greatness of the man they helped make. They are the scaffold all else was built around.
If someone is about to join another on a journey with a spouse that is serving, Sybil Stockdale is a good benchmark to use.
She has left us to join her husband after a long time away. Via the DailyMailUK;
Sybil Bailey Stockdale, a Navy wife who fought to end the torture of U.S. prisoners of war in Vietnam, has died.

Stockdale's son, Sid Stockdale, said Tuesday that his mother died Oct. 10 at a hospital after suffering from Parkinson's disease. She was 90.

Stockdale is the wife of the late Vice Adm. James Bond Stockdale. She found her calling after her husband's plane was shot down during the Vietnam War in 1965 and he was taken prisoner. The U.S. government at the time discouraged military wives from speaking up about the mistreatment of the prisoners of war, Sid Stockdale said. Nonetheless, Stockdale organized military wives who demanded the U.S. government pressure North Vietnam to abide by the Geneva Convention.

Stockdale helped found the League of American Families of American Prisoners and Missing in Southeast Asia and she served as the organization's first national coordinator.

She appeared on national television, met regularly with then-President Richard Nixon and confronted a North Vietnamese delegation at the Paris Peace Talks. At the same time, she worked closely with the CIA to be able to write secretly encoded letters to her husband, who was tortured by his captors.

The military credited Stockdale with helping secure the safe return of her husband and other POWs in 1973.

James Stockdale, then a commander, disfigured himself so he could not be used in Vietnamese propaganda films — an action for which he received the Medal of Honor in 1976, according to the Navy Times.

Sen. John McCain, a naval aviator, was a fellow POW in the Hanoi Hilton with Stockdale's husband.

"Sybil's selfless service and sacrifice fighting for American prisoners of war, those missing in action, and many who are still unaccounted for has left an indelible mark on this nation that will never be forgotten" McCain said in a statement to the newspaper.
To know the full background on what this incredible woman did in a challenging time, I highly recommend you get a copy of the book, In Love and War: The Story of a Family's Ordeal and Sacrifice During the Vietnam Years
;
"I think the book's message was to recognize that there's a place and time and need to be loyal and recognize the military is a unique institution with a big job to do, but then at the end of the day, it's very important if you feel as though you need to speak up, then you should do so. I think it's a fantastic message," he said.

Her papers and memoirs from the Vietnam era, written in long hand on yellow legal pads, today are kept at the Hoover library.

Until the end, she continued to meet at her home monthly in Coronado with the wives of POWs and those missing in action.
…
A memorial service will be held for Stockdale in Coronado and she will be buried beside her husband on the grounds of the U.S. Naval Academy in Annapolis, Maryland.
We all benefited for her love and passion for her husband, her Navy, and her nation.
His nickname was Jackie Fe. I immediately thought of the chemical symbol for iron. Isn't it FE? Indeed it is. Despite Captain Fellowes's penchant for off-color humor and his flirtatious personality, his DNA was pure strength. He was a big, strapping man — looked like a football player to me. Along with his fellow prisoners, Fellowes endured unimaginable physical and emotional tests in North Vietnam. But he survived and returned home to his family and his career. When he retired, he wasn't entirely sure what he would do with the rest of his life. But his wife made it clear that it wasn't going to happen at home. "She asked me, 'What are you doing at home?' I said, 'I live here.' She said, 'Not during the day.'" What struck me about Jack Fellowes was his self-deprecating, dry humor — a trait that can mask depression or a lack of self esteem. But not with him. He truly loved to watch people laugh and he loved nothing more than sharing a good joke and seeing his audience's reaction (I think he missed his calling as a stand-up comedian). His sense of humor probably aided his survival in captivity. Many of the POWs said that a positive outlook and maintaining hope in the midst of tremendous adversity made the difference between life and death.
But he also had a serious side to him — one that kept him focused during his POW experience and one that helped him rebuild his relationships with his family when he returned home. It wasn't easy. He left a wife and four children at home. After 6 1/2 years away, he had to reestablish himself as a husband and a father, when his family's household had functioned for years without him. He had to be patient, kind, gentle and tolerant — especially with his sons. When he returned home, they were almost all in their teenage years — tough enough for a dad who has been around to parent. They eventually warmed up to him again, but it wasn't easy. (Many of the POWs' kids tell similar readjustment stories.) I always thought it was a tremendous testament to the total manhood of this group of men: they fought, they suffered in silence in North Vietnam, they honorably returned home and quietly rebuilt their lives — as servicemen, as husbands, as fathers, as sons, and as civic neighbors. They didn't wallow in victimhood or demand special treatment. They continued to serve. Rest in peace, Jackie Fe. I'll miss you…and your jokes.