Archive for the 'Vietnam War' Tag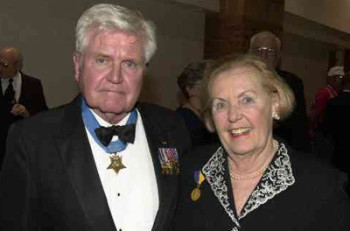 As my father let me know early on in my life, the most important decision a man can make is the woman he marries. It wasn't until I was much older, and well in to my own marriage, that I realized how true his observation was.
While all relationships have their own dynamic, there are some who are a benchmark – a spouse who match the greatness of the man they helped make. They are the scaffold all else was built around.
If someone is about to join another on a journey with a spouse that is serving, Sybil Stockdale is a good benchmark to use.
She has left us to join her husband after a long time away. Via the DailyMailUK;
Sybil Bailey Stockdale, a Navy wife who fought to end the torture of U.S. prisoners of war in Vietnam, has died.

Stockdale's son, Sid Stockdale, said Tuesday that his mother died Oct. 10 at a hospital after suffering from Parkinson's disease. She was 90.

Stockdale is the wife of the late Vice Adm. James Bond Stockdale. She found her calling after her husband's plane was shot down during the Vietnam War in 1965 and he was taken prisoner. The U.S. government at the time discouraged military wives from speaking up about the mistreatment of the prisoners of war, Sid Stockdale said. Nonetheless, Stockdale organized military wives who demanded the U.S. government pressure North Vietnam to abide by the Geneva Convention.

Stockdale helped found the League of American Families of American Prisoners and Missing in Southeast Asia and she served as the organization's first national coordinator.

She appeared on national television, met regularly with then-President Richard Nixon and confronted a North Vietnamese delegation at the Paris Peace Talks. At the same time, she worked closely with the CIA to be able to write secretly encoded letters to her husband, who was tortured by his captors.

The military credited Stockdale with helping secure the safe return of her husband and other POWs in 1973.

James Stockdale, then a commander, disfigured himself so he could not be used in Vietnamese propaganda films — an action for which he received the Medal of Honor in 1976, according to the Navy Times.

Sen. John McCain, a naval aviator, was a fellow POW in the Hanoi Hilton with Stockdale's husband.

"Sybil's selfless service and sacrifice fighting for American prisoners of war, those missing in action, and many who are still unaccounted for has left an indelible mark on this nation that will never be forgotten" McCain said in a statement to the newspaper.
To know the full background on what this incredible woman did in a challenging time, I highly recommend you get a copy of the book, In Love and War: The Story of a Family's Ordeal and Sacrifice During the Vietnam Years
;
"I think the book's message was to recognize that there's a place and time and need to be loyal and recognize the military is a unique institution with a big job to do, but then at the end of the day, it's very important if you feel as though you need to speak up, then you should do so. I think it's a fantastic message," he said.

Her papers and memoirs from the Vietnam era, written in long hand on yellow legal pads, today are kept at the Hoover library.

Until the end, she continued to meet at her home monthly in Coronado with the wives of POWs and those missing in action.
…
A memorial service will be held for Stockdale in Coronado and she will be buried beside her husband on the grounds of the U.S. Naval Academy in Annapolis, Maryland.
We all benefited for her love and passion for her husband, her Navy, and her nation.
I encourage you to spend forty-eight minutes of your day listening to author Karl Marlantes talk about war. Many of you are already familiar with his work. For those who are not, here is a short bio: Marlantes is a Yale graduate and Rhodes Scholar. After a year at Oxford, he left, joined the Marines, and was then in some of the worst fighting of the
Vietnam War. He was awarded the Navy Cross for assaulting a hilltop bunker occupied by the NVA. Here is a part of his citation:
"While continuing to function effectively in his primary billet, First Lieutenant Marlantes skillfully combined and reorganized the remaining members of two platoons, and on 6 March initiated an aggressive assault up a hill, the top of which was controlled by a hostile unit occupying well-fortified bunkers. Under First Lieutenant Marlantes' dynamic leadership, the attack gained momentum which carried it up the slope and through several enemy emplacements before the surprised North Vietnamese force was able to muster determined resistance. Delivering a heavy volume of fire, the enemy temporarily pinned down the friendly unit. First Lieutenant Marlantes, completely disregarding his own safety, charged across the fire-swept terrain to storm four bunkers in succession, completely destroying them. While thus engaged, he was seriously wounded, but steadfastly refusing medical attention, continued to lead his men until the objective was secured, a perimeter defense established, and all other casualties medically evacuated."
Years later, he wrote Matterhorn — a fictional account of his experiences as a platoon leader in Vietnam. I read his second book, What It Is Like to Go To War, while deployed in 2011. After reading it, I handed my copy to our senior chaplain. As a chaplain that spent considerable time with Marines in Iraq, and seeing some of the worst combat of Operation Iraqi Freedom, I thought he would get something out of it. Two days later he came up to me and asked me if he could keep my copy. He ended up buying me a replacement copy when we pulled into Singapore. It not only spoke to the power of his book, but it was a reminder that books can make an incredible gift.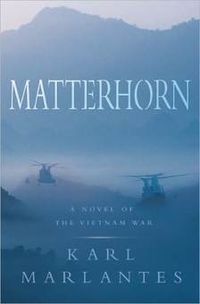 Recently, Marlantes came to the US Naval War College to speak to the students about war, ethics, his work, and many other topics. He was funny, insightful, and refreshingly honest. One of my friends, when leaving the auditorium, said, "That was one of the best Q&A's I've heard this year." Marlantes touches on some pertinent yet divisive topics that many of us are debating today: Should there be a draft? How do veterans assimilate back into society? Is it too easy for policy makers to use the military? And many others.
Take some time — watch it.
General Joseph Dunford, the International Security Assistance Force (ISAF) commander, has recently told the New York Times that America's "presence post-2014 is necessary for the gains we have made to date to be sustainable." His reasoning was that although the Afghan National Security Forces (ANSF) are bearing the brunt of fighting, "at the end of 2014, [they] won't be completely independent" operationally and logistically.
Patricia Smith's family considers military service part of the duty of being a U.S. citizen. And no one in her family hesitates to serve. Her father survived the Bataan Death March. Her son serves in the National Guard and has been deployed more than once overseas. Her grandfather and uncles served. And her brother, Peter Gerry, was killed in Vietnam. He was 18. He is one of 48 men (boys, really) from the small city of Quincy, Massachusetts, who died during the Vietnam conflict. Families with multiple generations who have served in uniform are not unusual in Quincy, a town with a population of 90,000. What is unusual is how they keep the memories of their service and sacrifice alive.
Every spring, the city comes together to rename a square, park or monument after one of its own that was killed in Vietnam. Since 2005, they have been renaming sites in the city after their native sons – a few every year. In addition, a 40-foot clock tower next to the Marina that overlooks the nearby metropolis of Boston holds a plaque that is engraved with all 48 KIA names. During this same spring ritual, the community of Quincy revisits the Vietnam Memorial Clock Tower at Marina Bay for a closing ceremony after the individual dedication events.
Why now? Why has this city and its citizens dedicated so much of itself to shine a spotlight on war victims more than 40 years later?
To answer this question, you must go back to 1987, to the dedication of the clock tower at the Marina in Quincy. It was built and dedicated to Quincy boys killed in Vietnam and a few Quincy Marines – Tom Bolinder, Ed Murphy, and Larry Norton, all of whom played a critical role in getting the clock tower built and in hosting annual ceremonies to remember Quincy's Vietnam KIA. Technically a suburb of Boston, Quincy might as well be a thousand miles away from its neighboring urban center with a strong liberal political tradition. With more in common in demographics, values and politics to small Midwestern towns, Quincy, the birthplace of John Adams and John Quincy Adams, has a long tradition of sending its sons (and, now, daughters) to war when our country has asked, beginning with the Revolutionary War. This small group of dedicated Quincy Marine Vietnam veterans led the charge to pay tribute annually to Quincy's Vietnam KIA long before the rest of the country recognized that Vietnam veterans never got the welcome home they deserved. Every year since 1987, Quincy natives have organized, staged and hosted these commemoration ceremonies. Rain or shine, this small group of local veterans, often numbering only 20 or so, held an annual memorial ceremony, reading the names of each of the 48 lost in Vietnam. For many of the families, it was the first time their loss had been publicly and ceremonially commemorated.
But, in 2005, Bob Brudno's one-man mission changed the entire dynamic of the annual event. A native of Quincy and a Navy veteran, Brudno's family was – like most Quincy families – intent on serving. Brudno served as a Navy surface warfare officer. His oldest brother, Alan, became an Air Force fighter pilot and was shot down over North Vietnam on October 18, 1965. He was held in captivity for seven and a half years, one of the longest-held POWs in Vietnam. Tragically, Alan Brudno committed suicide just four months after his release in 1973.
The crusade to give meaning to Alan Brudno's life began the day Alan was shot down and caught national attention when Bob Brudno finally won his battle to get his brother's name added to the Vietnam Wall in Washington, D.C. in 2004. Until then, his efforts had been thwarted by some who thought that the way he died somehow made his name less worthy. Bob convinced them otherwise.
Alan's name wasn't on Quincy's memorial either. In 2005 Quincy's veterans were determined to change that and added his name in the only space left available … at the top. Hundreds came to that ceremony.
Bob now readily admits that the tribute his small hometown of Quincy paid to his brother has done more to heal him and his family than any other effort. "My brother's death symbolized the tragic failure of our country to welcome home and properly care for all Vietnam veterans," he explains. "After more than seven years in captivity, my brother was severely wounded by the enemy; you just couldn't see the blood. The stigma associated with the psychological wounds of combat was too great for him to ask for help. Even though he tried to commit suicide less than a week after he returned – he was in such pain, he didn't get the help all of our servicemen get today."
When challenged by Bob Brudno to pay tribute to all of Quincy's Vietnam KIAs in the same way Alan Brudno was honored, the city and its community advocates rose to the occasion. Since then, they honor two or three Quincy Vietnam KIA every year with these customized, individual events. So far, they have dedicated monuments to more than a dozen Quincy Vietnam KIAs – with an ultimate goal of recognizing all 48. Honorees, families and guests are whisked around the city for two days with police escorts and city leaders that underwrite the cost of meals and local transportation for the tribute ceremonies. Speakers have included General Joseph Dunford, Assistant Commandant of the Marine Corps, author Joe Galloway, author and Marine Bing West, and former POW Orson Swindle.
In April of this year, Quincy dedicated three more squares to three more of its KIAs: Robert Vasconcellos, George Fell, and Ralph Willard. This year, George Fell's nephew used his leave from his yearlong deployment to Afghanistan to attend his uncle's tribute ceremony in Quincy. Corporal John Fell, USMC, said he "wanted to be here to support my family." Like many men in Quincy, he "always wanted to be in the military."
Which takes us back to Peter Garry, killed in action July 29, 1969. His family was overwhelmed by the attention when the city of Quincy announced they were going to name a square in Quincy after him and hold a public ceremony just for him – honoring his life and his sacrifice for his country. "My family was so proud of Quincy for not only remembering my brother Peter in 2009 – 40 years after his death, but also remembering all of the men on the Wall in Quincy," Pat Smith remarked. "The families of these men are so appreciative to the city of Quincy."
The annual event has now achieved such a high profile that politicians vie for the honor to speak. Indeed, this year, both state and federal representatives made podium appearances. For the 25th anniversary of the dedication of the Clock Tower in April 2012, Vietnam veteran, former Army Captain and Medal of Honor Recipient Paul Bucha is confirmed to be the keynote speaker.
What is it about small towns like Quincy that make the difference? Big cities, big companies and big non-profits spend a lot of money and a lot of political capital to "honor" veterans – both old and young, but they don't hold a candle to the small city of Quincy. Suffice it to say that Quincy has proven that our country has the ability to heal war wounds like no other entity. The homespun, hand-crafted, and personal approach to the tributes Quincy hosts is the key. Corporate and government sponsorship makes little impact. Veteran-to-veteran touch and the involvement of multiple generations and facets of the community – students, elders, local government officials, local businesses – make the difference. Perhaps Quincy should export their annual event and show small towns around the country how to do it…right. Perhaps the Department of Veterans Affairs could assist in this effort and provide a guide – based on the Quincy template – for recognizing and paying tribute to our Vietnam veterans and KIA – one at a time, until they are all recognized. Vietnam veterans, more than any other veteran community, need to know we value their service and sacrifice.
As Bob Brudno once said, this event will do more to lengthen the lives of Vietnam veterans than the pills and the counselors. The city of Quincy dispenses the medicine these aging veterans have always needed – the welcome home and the personal "thank you for your service" that they never got before.
Hurry up America, before our Vietnam veterans lose faith.
For more on past and upcoming ceremonies, go to the Quincy Veterans web site.