Archive for the 'world war II' Tag
"The Battle of Anzio shows both the agony of command decisions and the heroism of men who carry them out."
—Gen. William H. Simpson (U.S. Army, Ret.)
Those who do not remember the past are condemned to repeat it. These words, spoken by the philosopher George Santayana, have enduring truth. Though daily operations claim much attention in a dynamic Europe-Africa theater, it is important to revisit the battles of the past, to contemplate the critical decisions made by military commanders, and reflect on the will of those who fought these battles. With Baltic Operations (BALTOPS) 2016, the premier Baltic maritime exercise that will feature amphibious landings in Finland, Sweden, and Poland, just around the corner, the staff ride was especially fitting as we applied the lessons learned from Anzio to our final exercise PLANORD.
There is no substitute for walking the beachhead like those who came before us. More than 50 members of my U.S. 6th Fleet staff and I conducted a Staff Ride in early May of Anzio and the battle fought there during World War II, code-named Operation Shingle. We visited X-ray beach and the Sicily-Rome Cemetery, incorporating stories of bravery along the way.
Anzio native Alfredo Rinaldi is a living history of the standoff at the beachhead in Anzio and was the cornerstone of this staff ride. The only way to understand these battles is to step in the shoes of those that have gone before—and hear directly about what they experienced. And Alfredo gave us that essence in a truly touching way.
In 1944, Alfredo was an adventurous soul, a 16-year-old with an insatiable desire to live all that life had to offer. To him, in the thralls of a German occupation, war was a playground, an open door for new experiences. Alfredo Rinaldi and the many residents of the Italian seaside town of Anzio were relocated to Rome when it became obvious that the shorelines were going to become battlegrounds. Alfredo became sort of a transient in Rome, a teenage wanderlust hoping to see action and aimlessly roaming the cobbled streets of Rome in search of it. He was lucky to avoid the ranks of the German Army, apparently because he was young and scrawny; his brother had been drafted into the Wehrmacht, but he deserted and was hiding somewhere in Italy. And then the news came in that the Americans [and British too] had landed at Anzio.
With the Allied Italy campaign at a standstill, Allied Forces struggling to gain ground up the Boot, an amphibious operation—Operation Shingle—was hatched to land behind enemy lines. On Jan. 22, 1944, at an H-hour of 0200, a combination of U.S. Army, British Army, and British Special Forces came across a 15-mile stretch of beach between Anzio and Nettuno.
As the reports flooded the hopeful Roman populace, vibrant with excitement that liberation was at their doorstep, Alfredo chose to start marching toward Anzio, a 20-kilometer journey roiled with barbed wire, snipers and German booby traps. He left in the early morning and arrived late that night, somehow steering clear of German munition dropped from above and well-laid land mines. Alfredo's first contact with Allied Forces was with an African American U.S. army soldier who said, "What in the world are you doing here kid?," and ultimately gave Alfredo a ride to Anzio in his jeep. Alfredo told us that until this point in his life, he did not realize that America included "people of color" and that this man had changed his life forever . . . Along the way, Alfredo saw his family's abandoned house, unscathed despite the wreckage from the German air bombing campaign, elevating his mystical belief in America and its forces even more.
Alfredo ended up introducing himself to a group of soldiers, an infantry company, and instantly befriended them. Without any formal paperwork or agreement, he was essentially enlisted. The soldiers told him it was unsafe to for him to go back to Rome, and he preferred to stay anyway. And so he became their translator and their 'mascot,' a cheerful soul in a grim and beaten war.
Alfredo retells his story of those days on the beach in great detail. He remembers crouching in what where manmade fox holes as shells from "Anzio Annie," the German 218-ton railway gun, pounded the beach. He describes hearing the whistling sound of the big rounds as they screeched by his makeshift bunker.
Alfredo was most likely the only Italian patriot embedded in an American unit, but he was not the only one from a fractured Europe to join the ranks for the Allies. Gunnar Erik Mettala was a Finnish-born U.S. Army combat engineer with the 345th Engineer General Service Regiment and the grandfather of my Deputy N6 Cmdr. Erik Pittman. Gunnar left Finland for the United States just before Joseph Stalin's Soviet Union invaded Finland in what was then known as the Winter War in 1939. He would join the U.S. army shortly after immigrating, enlisting in 1941, around the age of 23.
Gunnar landed on Anzio the second day of Operation Shingle landing with the 36th Combat Engineers and alongside the 45th Infantry Division. From the landing until the German counter attack on Feb.11, Gunnar's Treadway Company was engaged in repairs near the port. He would later pass on to his son, who passed on to Erik: "Every day the German Luftwaffe would strafe and bomb the port; every day we'd rebuild and resurface the docks and the roads leading to the docks. Such was the tit-for-tat, hold-your-ground fighting that was the essence of a long period of entrenchment at Anzio."
Gunnar was wounded after taking machine gun fire to his thighs, as he and others of his company were pushed to the front lines to defend the Allies extended perimeter from German counter attack. He recovered and would serve out the rest of the war in Allied Forces Headquarters in Naples as a staff judge advocate—ironically in the same place his grandson would serve 70 years later…
Despite the attrition faced by Treadway Company and a handful of other companies on the front lines during the initial German counter attack, four months passed with neither side giving or getting an inch. An Allied breakthrough occurred on May 23, 1944, in an operation known as Operation Diadem. While a combination of forces from Britain, Canada, Poland, and the U.S. broke through the Gustav Line, the United States' VI Corps, controlled by 5th Army, took advantage of a reeling German force to race somewhat unfettered to Rome.
Meanwhile, our man Alfredo traveled with his unit, returning to his exiled home of Rome to raucous cheers from fellow Italians. Alfredo lived a storybook life from there, transitioning from military service to become a driver/caretaker at the American cemetery in Nettuno, constructed to honor those who paid the ultimate sacrifice in the Italian campaign. From there, he drove buses for ten years, then opened up a photography business with his son, and ended up returning to the Sicily-Rome American Cemetery as an official photographer, where he met then President George H.W. Bush during the cemetery's annual Memorial Day commemoration.
Alfredo, now 88 and retired, continues to come every Memorial Day to the commemoration at the Sicily-Rome American Cemetery at Nettuno. And this is where I first met him and became enchanted with his story, just as those Army men were enchanted with him in 1944. Alfredo still has that spark in his eye and spring in his step.
Walking through the cemetery—either on Memorial Day or just a beautiful spring day in southern Italy as was the case for our staff ride—one is reminded of the sacrifices made on behalf of freedom. The cemetery sits in the zone of advance of the U.S. 3rd Infantry Division as part of Operation Shingle. The perfectly cut lawn now dotted with headstones sits beneath a mountaintop – the same perched position that allowed the Germans to hold so tightly to position with their counter attacks.
There are nearly 7,861 Americans memorialized in the Nettuno cemetery, a majority from the landings on Sicily, Salerno, and Anzio.
During our time at the cemetery, my deputy Executive Assistant, U.S. Marine Corps Capt. Tony Bates had the privilege of reading the citation of Sgt. Sylvester Antolak, who heroically stormed a German machine gun nest on day two of the Anzio invasion, racing into enemy fire despite warning from his own troops. His heroics allowed the Allies to secure a perimeter and save countless others.
Tony is sixty years removed from these men but is a living hero in his own right. He was an advisor team leader for the Afghan National Army serving in Sangin district of Helmand Province, Afghanistan in 2011 working to equip Afghan forces to defend their homeland from the Taliban. Much of the work was patrolling and clearing neighborhoods of the Taliban, while working to build trust from communal leaders. From their Forward Operating Base in Sangin, they would often experience Taliban machine gun fire but withstood multiple ambushes through determination and combat skill. Improvised explosive devices were a common tactic used by the Taliban in this time as Marines and Afghan troops would set off IEDs while conducting routine patrols or even in the vicinity of where kids were playing, as it was common for children to lay parts and pieces of the IEDs. Tony's unit discovered the maker of these IEDs in a remote village in Sangin and sought to apprehend him. During that mission, Tony stepped on an IED, which resulted in serious injury and his left leg being amputated below the knee. Tony was awarded the U.S. Navy and Marine Corps Commendation Medal with Valor device for combat action and Purple Heart for his resolve in leading those Afghan forces, and he continues to serve with the utmost pride and honor.
We started the staff ride at X-ray beach and finished at with lunch at a restaurant that sits beside the beach, a picturesque spot where the waves ever-so-calmly splash over the rocks and sand. Standing there, looking out on the beach of Anzio with Alfredo brings so many thoughts to mind. You imagine each Soldier coming across the beach, uncertain if they'd immediately take enemy fire or if death lay over the horizon.
For my friend Alfredo, he considers himself—and rightly so—a U.S. Army World War II veteran. His patriotism is remarkable for someone that doesn't claim any official nationality to America. As we part ways, he extends a sentimental, "God bless America." We in America have come to make this saying cliché but I can tell that Alfredo truly means it, a reflection of the appreciation that he and thousands of other Italians expressed as they were liberated from Fascist and Nazi hands.
The courage of those that took up the call for freedom on the beach of Anzio, and so many other beaches across Europe and the Pacific, should never be forgotten. So many, like Sgt. Antolak paid the ultimate sacrifice, and for this, we must continue to pay homage to their legacy of heroism. As we always do, this Memorial Day, we remember . . .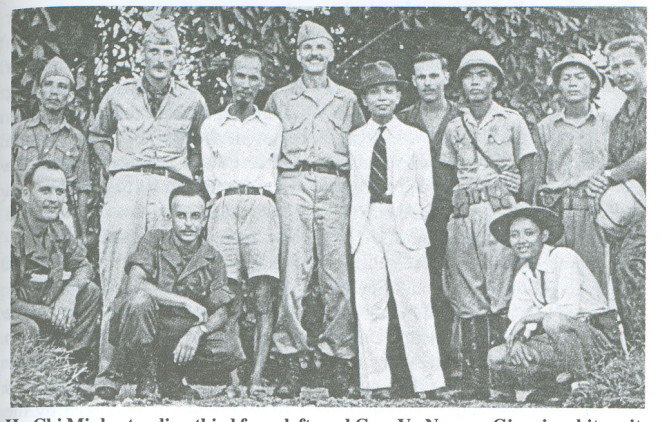 As the U.S. considers directly arming rebels in Syria, it would do well to heed the lessons of history and examine the positive, negative, and almost entirely unpredictable outcomes of such efforts. History is replete with such lessons including not only the obvious parallels to arming of the mujahedeen in Afghanistan but also the original story of U.S. involvement in Vietnam.
In September 1940, the Japanese took control of French Indochina which had, during the Second World War, been governed by the Vichy government in France. To the north was pre-Maoist China, with Chiang Kai-Shek's forces working with the U.S. military. General Claire Chennault's 14th Air Force was based in Kunming, China, along with the area's headquarters for the Office of Strategic Services (OSS.) The head of OSS, Major General William Donovan, was a highly decorated veteran of the first World War. When it came to Indochina, his direction to the base in Kunming was clear: "use anyone who will work with us against the Japanese, but do not become involved in French-Indochinese politics."
He didn't set out to make history. Joining the Navy just seemed like a good way out of the racist South. But fate and circumstance deposited Lanier Phillips on the frigid coast of Newfoundland when his ship, USS Truxtun (DD-229), ran aground in a vicious storm in 1942. As one of few African-American crewmembers, he was the only one of his fellow mess attendants to abandon ship. They were afraid to go ashore for fear of being lynched. But Phillips took his chances and jumped aboard a life boat. Beached at the base of terrifying cliffs that looked impossible to breach, Phillips and 45 other survivors had no choice but to wait for rescue or die of hypothermia.
Much to this desperate group's dismay, a team of enterprising Newfoundlanders from the small village of St. Lawrence repelled down the cliffs, hauled the men up and proceeded to nurse them back to health – including Phillips. In working to wash and warm up the men, the villagers were convinced the oil that coated the shipwrecked survivors had seeped into Phillips' skin. Wounded, frozen and helpless, Phillips was terrified to identify himself as a black man, but he had no choice.
Despite having never seen a black person, they treated him just as well as the other surviving crewmembers. Indeed, the Newfoundlanders treated him like family: giving him their beds in which to recuperate, feeding him like a child and personally nursing him back to health. They gave him the best care they knew how to give. "Not only did they save my life," Phillips said, "they gave me a sense of value I had never had before." As he described the experience, being treated as an equal encouraged him to start acting like an equal. He returned home, vowing to challenge the Navy's prejudice and to return the kindness he had experienced in Newfoundland.
From that point forward, he was emboldened and determined to be in the vanguard of the civil rights movement. He wanted to challenge himself and to resist the professional barriers that were in front of him. He became the first African-American Navy sonar technician – despite his lack of higher education. He marched with Dr. King. He worked on the ALVIN deep-water submersible team and with the pioneer of undersea exploration, Jacques Cousteau, on the development of deep sea lamp technology.
And he made good on his promise to the villagers in Newfoundland. He started a scholarship program for the residents and built a playground for the town's families. Until his health started to deteriorate, he traveled extensively to tell his story and spread the word about the good and kind people of St. Lawrence, Newfoundland. He is their de facto ambassador. "Whatever I can do for St. Lawrence is not enough. They changed my entire philosophy on life." I'm sure he changed theirs, too.
On September 15 in Washington, D.C., the United States Navy Memorial will honor Lanier Phillips with the Lone Sailor Award, along with entertainer Bill Cosby and former Washington Redskin and Dallas Cowboy Eddie LeBaron. Cosby served in the Navy and LeBaron served in the Marine Corps. Learn more about the Award, the honorees and the Awards Ceremony at
www.navymemorial.org
and
www.navytv.org
.
We're always told that life is short and we should appreciate each and every day we have on this earth. But, sometimes we are reminded that a lifetime can be very long, and that the daily stresses of our lives today will eventually fade into a distant memory. Spending some time at retirement home, especially one that cares for veterans, reinforces that lesson.
The Armed Forces Retirement Home is a pastoral oasis nestled in the heart of urban D.C. It has a storied past that dates back to 1851, when it was established as the "U.S. Military Asylum" in what was then a rural area of Washington, D.C. Among its historic buildings is a cottage that was used by President Lincoln as a summer getaway. But some of the best stories at the Home come from its residents. This week, the oldest one celebrated his 105th birthday. Navy Chief Steward Lorenzo Senires, who was born on August 10, 1905, was joined at a ceremony attended by his sons, grandchildren and Master Chief Petty Officer of the Navy Rick West, as well as a team of Seabees who were on hand to dedicate a ship's anchor they recently planted on the grounds of the Home. Lauding this Navy veteran's longevity, the story of his life was recounted by David Watkins, director of the Home's Washington campus. A Philippine immigrant who came to the U.S. as a stowaway on a cruise ship, Senires was hired by an American housewife to be a "houseboy" for her. Her husband, a naval officer, was either overtly or obliquely influential because Senires enlisted in the Navy in 1926. He failed his first medical entrance exam because he did not weigh at least 100 pounds.
Senires served under Adm. John McCain on USS Nitro (AE-2) 1932-33 and says that he voted for Senator McCain for president because he had so much respect for his grandfather. He also served on USS Indianapolis (CA-35) before Pearl Harbor and lost many shipmates when the ship was sunk several years later. He was later assigned as a steward to a naval officer in Washington, D.C., and remained there for the majority of World War II. Senires obviously made a strong professional impression during this stint, as his son Dave Senires recalls his dad telling him that he later spent some time working for President Truman, fishing with him on the presidential yacht Sequoia and at Truman's "Little White House" in Key West.
For those of us who have lived for less than a century, centenarians like Senires give us some perspective on our own lives. Think about how much change he has seen in his life: World War I and World War II, Pearl Harbor and 9-11, the advent of flight, computers, changes in race relations, the women's movement, rock 'n' roll – the list is endless. What does it feel like to look back on a century of living? Senires is a bit hard of hearing now, but seems to have most of his faculties and certainly has retained his sense of humor – something many elderly people say is the key to surviving old age. When his son asked him what he wanted for his birthday, he answered unequivocally that he wanted a young woman and his driver's license.
I visited Norway last summer and was struck by the unanimous kindness of every single Norwegian I met. It was truly remarkable that every stranger on the street, behind the counter and in the next seat was friendly, helpful and politely deferential to me and my fellow traveling companions. It was amazing. So it was not surprising to me to read a true story about a Norwegian resistance fighter in World War II who was saved from capture and certain death – solely by the kindness of Norwegian strangers.
Norwegian exile Jan Baalsrud volunteered for a military mission in World War II that had only a small chance of success. And all 12 of the men who volunteered with him knew that failure meant a certain death. They were tasked with sailing from northern England to Nazi-occupied Norway to train resistance fighters and stage resistance operations in-country – behind enemy lines. The most challenging and dangerous part of the operation was the landing. Unfortunately, their cover as fishermen was blown and they were ambushed by the Nazis. Jan was the only survivor and his harrowing tale of surviving, foiling the Nazis and crossing to neutral territory in Sweden on foot is the stuff of legends. But, his story is all true.
Despite being shot at and chased by a small army of Nazis, he evaded capture on the coast by enlisting the help of some village children who stumbled onto his worn out body. Amazingly, the children and their family took him in and revived him – much to their own peril. This family was the first of many who risked their lives to save his and to ensure his safe crossing to Sweden. Each of several families would patch him up, stuff provisions in his pockets and send him on his way – until he became incapacitated and had to be carried.
Frostbitten and snowblind by an avalanche, he literally stumbled into a house of Norwegians who happened to be friendly to the resistance movement. This family hid him in a remote cabin and then physically carried him on a gurney up a mountain to be passed off to another group of resistance fighters who lived in the village on the other side of the mountain plateau. Through a variety of circumstances, he was forced to remain on the plateau for more than a month, while the weather improved and an adequate team could be assembled to transport the crippled Jan to Sweden. His stories of self-amputation in order to prevent gangrene from killing him, abating his hunger and warding off severe depression during this period of isolation in the wintry tundra are unfathomable. But, his survival could never have happened without the good Samaritans and Norwegian "neighbors" he encountered on his journey. It reminded me of the Underground Railroad in our own country, although I wonder if the risk to the Railroad hosts was as high as it was during World War II. Resistance fighters who were discovered by the Nazis were swiftly sent to concentration camps, tortured and killed. After meeting so many Norwegians from a variety of backgrounds last summer, I am not surprised by their daring attempt to save him and transport him to safety.
We Die Alone was first published in 1955 by a World War II veteran who ran a spy ring, David Howarth. A prolific writer of more than two dozen books, he died in 1991. The book was reprinted in 1999 with an introduction by Stephen Ambrose, which undoubtedly gave the book a bit more notoriety and reintroduced this unbelievable story of pluck, determination and survival to a new audience. But why isn't Jan Baalsrud's survival story more well known?
Welcome to the Naval Institute blog
Sixty-five years later and with emotions still raw, Wilbur Wright fights to maintain control as he recalls his personal experience on board the USS Ogala at Pearl Harbor the day after the Japanese attack: