Archive for the 'WWII' Tag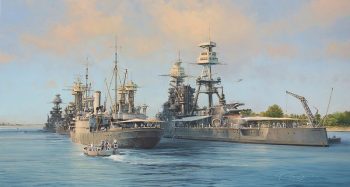 So much is written about the Japanese attack on Pearl Harbor that I don't think much more could be added here this year.
Instead, let's use the power of color to bring to the front one of the most important lessons of this attack. This isn't ancient history that is best looked at in the abstract. On the fading edge of living memory, yes, but still every bit of why we were caught flat footed applies to what we do today.
Perhaps part of the problem is that we see it in grainy black and white photographs and a few bits of video. It seems a long time ago, an "other."
From false assumptions, habits worn in peace, and the natural belief that bad things only happen to other people in other places – it is all there.
As such, I find this collection of color video from that day and the world it took place in to be helpful, if for no other reason than to recall that their world is our world. What happened to them, with other players and with a slightly different set, could very well happen again.
One of the many great joys of a billet at USNA is the ability to reconnect with former professors and professional mentors. As someone who graduated 5 years ago, I am fortunate enough to see many of them still on the Yard.
I want to share with you a conversation I had with someone whom I really didn't know during my time here. If you attended USNA anytime from 1991 onwards you may have seen him around. He's likely barked "Strike!" at you during Plebe Summer's introduction to martial arts or has evaluated your ability to perform a wrist lock during a PE course. He may have even coached some of you in gymnastics.
If you didn't go to USNA, you'll still find his story fascinating and revealing about two nations' abilities to heal following history's most destructive, fearsome war.
Sho Fukushima was born in Hiroshima, Japan in September 10, 1946, a little over a year after the bomb was dropped on the city. His family ended up in Hiroshima after the war during which his father was an officer in the Imperial Japanese Army in Pusan, Korea. With the war's end, the Japanese were expelled from Korea, and his parents hopped on a freighter bound for Japan. Sho's parents had heard "a new type of bomb had wiped out everything" in Hiroshima and it was rumored that nothing could grow there for the next 70 years.
"I asked them why did they really come back to Hiroshima, where there was nothing. It was because our relatives were there."
He, his four siblings, mother and father lived in a "wooden structure, with a metal roof." There were no real buildings yet.
His kindergarten teacher passed away from a bomb-related illness. His 1st grade teacher, who had facial scars from glass shards from the blast, died from leukemia. He lost an aunt, uncle and 5-6 cousins to the bomb. On that day his grandmother was 20-30 miles outside the city and saw a "bright, white flash" followed by the mushroom cloud. A search of the city the next day by the surviving family members revealed those in downtown had simply "evaporated."
Hunger was a central feature of childhood. "We just didn't have enough food to eat," Sho explained, "so all four kids had to learn to share." The staple dish was rice mixed with wheat or sweet potatoes, and was considered an adulteration–"not white rice."
Growing up in Hiroshima, he remembers playing with one of his "best friends," the "shadow man" of the city's bank. "Mom had a couple of bottles," artifacts crystallized by the blast. "She told me if I could break that thing she would give me a 100 yen. Even with hammers and throwing it against the rocks, I couldn't break that thing. It became a family joke."
During our talk I tried to imagine growing up with such stark, ever-present reminders of war and death. I asked Sho if all of this seemed normal. "It was totally normal. I didn't know any other life," he responded. There were parts of Sho's childhood that seemed normal. "The ocean was my playground. I had a little fishing pole and starting fishing. I loved to fish. Besides that, I remember playing with my brothers and sisters. My older sister was an avid reader so at least once a month we would get a new book." Yet, Sho was quick to point out that fishing also served to supplement their food.
Meanwhile, his father, despaired with losing the war and escaping death. A graduate of a professional military academy, all of his classmates had died in the South Pacific while he served in the national guard in Korea. "How would you feel about cheating death?" Sho asked me. "He was the strongest military guy before the war, but after he lost the war and he lost his classmates…he lost a kind of spirit," as he struggled with the thought of suicide.
Sho's gymnastics talents led the University of Washington to recruit him. Hearing about the promises of America from his grandfather, who had lived in Seattle and San Francisco, Sho jumped at the opportunity.
The son of a IJA officer, Sho found himself staying in the home of a Pearl Harbor survivor, Jack, who offered to sponsor him. "My father asked him to take care of me, and my American father promised he would. He did everything like a father was supposed to. The families stayed in touch, hosting one another in Japan and the US.
I was most struck by Sho telling his father of his job offer at the Naval Academy. Sho had maintained a green card, but with the job offer his father suggested something more. "Such an honor," his father told him, "that you can get a job like this at the Academy. You have to show them your commitment." His father meant applying for American citizenship. "That's him–Japanese military guy," Sho explained.
In October, Sho will retire after nearly 25 years at the Academy. As a child, his mom would take him once a year to see US Army doctors, who would give him a cookie and check him for radiation related illnesses. He plans to search for his medical records at the University of Maryland, which archived many records of Japanese patients affected by the bombs.
"I always dreamed of being a bridge between the US and Japan," Sho mused towards the end of our talk. I think he has done just that.
Battleships ceded their primacy to aircraft in WWII, but they still played an important role. Today's object comes from one of the more unusual ship to ship engagements during the war, that between the USS Massachusetts (BB-59) and the French battleship Jean Bart, in Casablanca as part of Operation Torch.
As WWII raged, supply convoys from the United States and Canada faced off with the German U-boat "wolfpacks" throughout the Atlantic Ocean. Although the Wolfpacks nearly crippled the allied war effort early in 1941 and 1942, eventually the Allies were able to turn the tide, culminating in the devastation inflicted inflicted on the German submarine squadrons in 1943. May 1943 became known to the Germans as "Black May." Today's object was captured from a German submarine by American sailors one year later in a daring boarding of a sinking u-boat.
The development of wireless communication in the late 19th and early 20th centuries was quickly followed by the development of encrytpion for coded transmissions. The ability of the US to decipher these coded transmissions played an essential role in helping the US and her allies to victory in World War II. Today, we discuss an iconic World War II enryption tool, the German Enigma Machine.
With the battle fleet damaged at Pearl Harbor, carrier-based aircraft became the US Pacific Fleet's main weapon. A small group of veteran naval aviation pioneers led the US carriers against the Japanese Imperial Navy, including Admiral Marc Mitscher, to whom our object today belonged.
The tension created by prolonged naval build-ups during the first part of the 20th century finally ignited into all-out naval conflict in the Pacific in 1941. The Japanese struck first at Pearl Harbor, with their carrier-based aircraft heavily damaging the anchored US battleships of the Pacific Fleet, and thus bringing the aircraft carrier to the front lines of the conflict.
From the 1890s until World War II, the Navy witnessed tremendous technological development. Wooden ships ceased to exist. The airplane was invented and became mainstream, and submarines entered broad use world-wide. During this same period and with the same rapidity, the Navy (and the rest of the world's navies like Japan) adopted wireless communication, completely changing the way navies fought battles and coordinated movements. Wireless technology directly impacted the course of all future conflicts, particularly WWII, with interceptions of German and Japanese communications leading to key Allied victories. To this day, wireless communication technology continues to develop and change at incredible speed.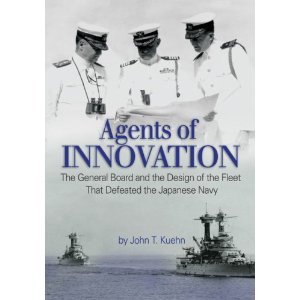 If you look to the performance of the US Navy in World War II – the ships that made victory happen came out of the shipbuilding programs of the 1920s and 1930s. At a time with no computers or modern communication equipment – and working through naval treaty limitations as well as the financial challenges of the Great Depression – we saw incredible innovation and steadily improving ship designs. Why?
A lot of the credit is given to something the Navy had then, but does not have now; The General Board.
What was The General Board, what did it do, and is the Navy today suffering for the lack of one?
Join fellow USNI Bloggers CDR Salamander and EagleOne this Sunday, 10 JUL at 5-6pm EST to discuss the issue and more for the full hour with CDR John T. Kuehn, USN (Ret.), PhD – author of the USNI Press book, Agents of Innovation, and and earlier Sterling book Eyewitness Pacific Theater with Dennis Giangreco.
If you can't join us live, you can always listen to the archive at the link, or subscribe to the free podcast on iTunes.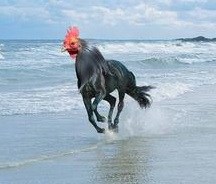 Tomorrow night, Wednesday, September 15, 2010, at the National Building Museum in Washington, DC, the United States Navy Memorial is having the 2010 Lone Sailor Awards Dinner.
A couple of days ago on Midrats, fellow USNIBlog'r EagleOne and I had on two of the honorees as guests; Eddie LaBaron and Lanier Phillips.
Though known as four-time Pro-Bowler, quarterback for the Washington Redskins in the 1950s, Tom Landry's first quarterback in Dallas, and Don Meredith's mentor; he was also a USMC Lieutenant in the Korean Conflict; decorated with the Purple Heart and awarded the Bronze Star.
We spent the first half hour of the show discussing the Korean War, Marines, and professional football – along the way weaving in some well grounded ideas on the nature of leadership.
Our guest for the second half of the hour, Lanier Phillips, was a trailblazer for all Sailors. In October of 1941, at the age of eighteen, Lanier joined the Navy. He was a survivor of the February of 1942 sinking of the USS TRUXTUN (DD-229). He was not just any Sailor though, he later took a step with confidence like he did during the shipwreck that put him in an raft – he asked to be treated as an equal and was the first black Navy sailor to become a sonar technician.
An impressive man and Sailor – we had a chance to talk about everything from life on a WWII era destroyer, the arch of how our Navy has dealt with race over the last 70 years – challenges that still exist, and some bright thoughts for the future.
It's fine if you couldn't join us live – you can always reach the archives at blogtalkradio – or set yourself to get the podcast on iTunes.
« Older Entries