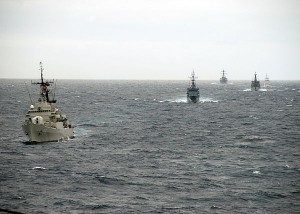 As I observed the news last week, the most interesting news in my opinion came out Thursday when the Associated Press ran an article discussing US political goals to get an United Nations Security Council resolution to hunt down pirates on land in Somalia. According to the AP article, "The resolution proposes that all nations and regional groups cooperating with Somalia's government in the fight against piracy and armed robbery 'may take all necessary measures ashore in Somalia.'"
That is interesting, because Reuters ran an article on Friday suggesting that Somalia would back the US plan to hunt pirates on land. I think it is fair to say that Somalia has been an unofficial front on "The Long War" for awhile now, unless we have been shooting Tomahawks into Somalia for no good reason. Unlikely. For the most part the activities in Somalia have been covert to date, SOF and CIA in nature, and not a conventional military operation. Should the UN pass a resolution authorizing US military action against pirates on the ground in Somalia, I think we can officially remove the "unofficial" label regarding Somalia as a front in the global war effort, even if this front isn't against the extremists targets the other fronts focus on. Indeed, by definition, when we send military forces into a foreign country, is it inaccurate to suggest we are essentially going to war?
I think that creates an interesting dynamic to the Somali piracy issue, because apparently the activities of these pirates can create a situation where our nation commits ground forces in a war. I think everyone understands that piracy is best solved on land, not at sea, and yet the US Navy hasn't really even tried to solve the pirate problem off Somalia at sea. Here is my issue, I agree for the most part with the camp best represented by Commander John Patch, U.S. Navy (Retired) in the December issue of Proceedings that piracy is at best, trivial in context, and based on any realistic cost estimate it is virtually impossible to figure out how piracy off Somalia costs more than around $200 million annually, adding insurance costs and all. With that said, I find it particularly frustrating that the US Navy is being outflanked tactically and humiliated politically by the savy tactics of a bunch of Somalian fisherman still early in a new career change. If these guys can outflank us at will on the seas, we are in for a world of trouble in the future when trained professionals do it with larger strategic ends in mind.
The US Navy's maritime strategy prints in both bold and italics for emphasis a mission statement: We believe that preventing wars is as important as winning wars. Yea? Well I'm not sure I believe that is true, because actions don't match words.
To be candid, the policy of the United States has been to ignore Somali piracy and view it as a nuisance, which in fairness is probably the best word to describe the problem. However, we are now seeking a political mandate by the UN Security Council to exercise military options that can be realistically described as war. Understanding that the solution to Somali piracy is on land, is our national effort to get this political mandate by the UN for land forces action represent a failure of US Maritime Strategy in that we are clearly failing in our stated objective to prevent a war? Is the resolution actually a means to an end of winning the war against Somali piracy, therefore not a failure to prevent a war but success towards winning war? I'm looking at Somali piracy as an observer, noting that the economic impact is insignificant at best, will not reach the cost level of any military activity taken on the ground in Somalia anytime soon, and noting the EU Atalanta Operation is already more expensive than the actual economic impact globally for the entire year to date. I'm also observing a political process unfolding that leads our nation to yet another front for ground forces.
With this in mind, I have a question…
If we weren't being flanked tactically at sea by a bunch of fisherman who recently changed careers, would we be seeking a political mandate for war in the United Nations? Wouldn't the ability to make a significant tactical level impact against Somali piracy at sea be a way to align our national strategy of dealing with this problem with the Navy's own maritime strategy, and thus emphasize the part of the strategy that suggests "preventing wars is as important as winning wars?" It seems to me the problem isn't piracy per se, rather the problem is that the US Navy is being outflanked by fisherman because our force structure has significant gaps that prevent the Navy from being effective in applying its own strategy.
Have I driven off the road with my line of thought? If not, then put in blunt terms, force structure decisions specific to our surface combatant capabilities is as of right now the enabler of failure for the United States Navy in executing its own maritime strategy.
The US Navy has Carrier Strike Groups to establish forward deployed aviation capabilities to meet just about any challenge outside major war operations that requires military power from the air. The US Navy has Expeditionary Strike Groups to establish forward deployed ground force capabilities to meet just about any challenge that requires a kick down the door entry force into another country.
So why is it the US Navy surface strike group lacks the capability to establish forward deployed sea surface capabilities to dominate the sea against the 21st century fishing profession of Somalia? Seems to me we have identified the place to start regarding where to fill the gaps in our naval capabilities, because as Julian Corbett makes clear, the natural state of the sea is contested, and it is up to Naval forces to be present and take command of the sea. It is time to organize a surface strike group model with the capabilities to take command of the contested sea.
Continued tomorrow.

Posted by
galrahn
in
Foreign Policy
,
Maritime Security