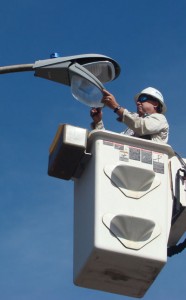 With the lights going out all over the Pentagon, the Navy's quest to get the most from every volt is in high gear. Big Navy wants everything possible shut down–and the message is clear: if your command, your installation or your department save enough, rewards will follow. Pressure to conserve will only increase if SECDEF Gates, as expected, moves forward on energy conservation and hires a DOD Energy Czar.
But before earnest Commanders start trying to power-down everything, we need to know more. What, exactly, are we conserving? How thorough has our analysis of savings actually been? Could turning certain things off be, in the longer run, more costly?
My sense is that our analysis of energy savings vs. say, the deferred cost of maintenance or the simple cycling wear 'n tear on certain systems hasn't been very thorough.
A tidbit from Captain Bruce Lindsey's article in the January '09 Proceedings, "Recapitalizing Too Early," pushes that point, and unintentionally suggests that fuel conservation, at times, comes with a cost:
"An asset that is cycled more often fails before a similar asset that runs at a steady state for a time period exceeding the MTBF [mean time between failure] limit. For instance, a ship of the LPD-4 class that operates its boilers for six straight months has a lower MTBF rate than an LPD-4 that is constantly bringing its boilers up and down as it completes training exercises…"
And, in a photo caption:
"During operation Enduring Freedom, the Dragonfires of Sea Control Squadron (VS) 29 achieved the highest mission rate ever reached by S-3 aircraft–and double that of any other Navy aircraft. It did this with the second least expensive maintenance costs of any aircraft in the airwing by not completely shutting down the aircraft's avionics and engines between sorties."
These are practices that would make the average energy-reduction-czar throw a fit. Of course, it's all well and good to save energy–and reducing energy consumption is a simple way to cut expenses. And, with the military enjoying the dubious distinction of being the largest energy consumer in the Federal Government, there's plenty of savings to be had.
But, aside from encouraging Navy-wide compliance with basic, well-documented energy efficiency guidelines, the DOD Energy czar needs to help operators distinguish between smart conservation and…well, simple waste. Somebody needs to sit down and crunch the numbers–did the fuel burned to keep the S-3 aircraft running offset the maintenance savings? What's the fuel cost of aggressive maintenance?
We simply don't have a good handle on those numbers quite yet, and we need to. That's one big reason why DOD needs an energy czar. Let's save, but let's also be smart about saving…

Posted by
Defense Springboard
in
Aviation
,
Navy