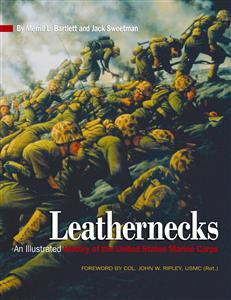 I recently had the opportunity to e-interview Jack Sweetman, co-author of Leathernecks: An Illustrated History of the U.S. Marine Corps:
What inspired you two to write Leathernecks and why is it more than just an illustrated history of our U.S. Marine Corps?
We were inspired to write the book because we are fascinated by the history of the Marine Corps and we believed we could present that history in a distinctive way. There have been a goodly number of histories and illustrated histories of the Corps; we planned to combine the best features of both. Leathernecks is the result: a large-format volume in which copious illustrations, lots in color and many seldom seen, are complemented by a well-researched, warts-and-all narrative by two trained historians, one a career Marine who served two tours in Vietnam and the other a civilian academic who was once a company commander in the U.S. Army. Leatherneck's text totals 150,000 words, more than that of many books without illustrations. If the pictures were pulled, Leathernecks would remain a substantial volume. As is, it's a two-for-one: a striking pictorial and a solid history.

What makes Leathernecks different from other histories of our U.S. Marine Corps?

First, the fact, noted above, that Leathernecks combines the virtues of a coffee-table book and a serious history. Secondly, that it is balanced, both chronologically and topically; that is, between the eighteenth/nineteenth and twentieth/twenty-first centuries, and between operational and institutional history. Thirdly, it does some things other histories haven't. To cite a single example, the chapter on the Civil War integrates the experiences of the U.S. Marine Corps and the Confederate States Marine Corps, the latter of which was led largely by former U.S. Marines; no other history has taken that approach. We also furnish cameos of individuals who made exceptional contributions to the history of the Corps: Chesty Puller, Tony Waller, Howlin' Mad Smith, Smedley Butler, Archie Vandegrift, and others. Finally, Leathernecks brings the history of the Corps from FOB Rhino through the march on Baghdad and the battles of Fallujah up to the success of the Surge.

Why should readers rush out and purchase their own copy of Leathernecks?

Because, if those readers have any interest in the Marine Corps in particular or military history in general, they will enjoy it. Leathernecks will also provide or enhance an understanding of the often stormy evolution of the Corps into one of the world's premier fighting forces–if not, as Colonel John Ripley observed in his foreword, the premier fighting force. The history of U.S. Marine Corps is one of the greatest military success stories of all time.

Can you describe some of the rare photographs and artwork used in Leathernecks?

With so many such illustrations, it's hard to single out a few, but I believe readers will be especially struck by six selections from the works of Kerr Eby, a civilian war artist who served with the Marines from Guadalcanal through Tarawa. He was simply great. We also have some images made by two great combat photographers, David Douglas Duncan and Larry Burrows, the second of whom lost his life in Southeast Asia in 1971. Many of the photographs of the Iraq War are making their first appearance between hard covers, but so is a marvelous, early nineteenth-century oil portrait of Major Robert Wainwright, whose bloodless suppression of a prison riot made him the hero of one of the inspirational stories in a McGuffey's Reader. Similarly, the book includes a number of illustrations, such as a contemporary miniature of Major Samuel Nicholas, the Corps' first commandant, that had been published in black-and-white but never before in color. There are also thirty-one maps, placed with the actions to which they relate, to assist the reader in following the events described.

Anything else you would like to add?

A few days ago a young friend told me that he was wading through a recent history that shall remain nameless. I advised him never to wade through a book, history or otherwise. Life is too short. Books intended to be read voluntarily should be entertaining as well as informative. Leathernecks was designed to belong to that category.
Many thanks to Jack Sweetman for taking the time to tell us more about Leathernecks – a keeper for sure!

Posted by
Jim Dolbow
in
Books
Tags:
meet the author