This is PFC Chance Phelps.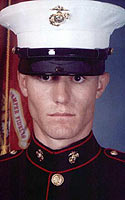 The blog Blackfive originally posted and then published (in the book The Blog Of War) the essay Taking Chance in 2004. They have followed the amazing response to LTC Strobl's heartfelt piece over the years, and today have letters from the corpsman who was there when PFC Chance Phelps was killed in action and the Marine general who was with them in that battle.
You owe it to yourself to read the original 2004 essay if you haven't already.

Posted by
Chap
in
Marine Corps