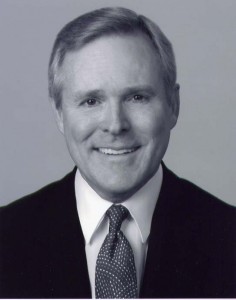 It's only been 48 hours and, clearly, somebody out there doesn't like SECNAV nominee Ray Mabus.
Airing dirty laundry is, sadly, a tradition for high-level appointees. But given how orchestrated anti-nominee media campaigns can be, is this New York Times piece a first salvo in a messy nomination drama?
In 1998, as Mr. Mabus and his wife, Julie (now Julie Hines), sought to work out their marital problems, he surreptitiously recorded a meeting the couple had with the Rev. Jerry McBride, a mutual friend.

Mr. Mabus had told Mr. McBride in advance that he had been advised by a lawyer to tape the conversation, according to court records. Neither man mentioned the recording to Ms. Hines. During the session, she admitted having an affair and told her husband, "I will hate you till the day I die, and I will tell my children."

An expert psychiatric witness for Mr. Mabus referred to Ms. Hines's recorded comments as evidence that he should get legal custody of the couple's two daughters. The judge in the case awarded legal custody to Mr. Mabus and split physical custody between him and Ms. Hines.

After the ruling, Ms. Hines, who expressed regret for her comments, sued Mr. McBride, his church and the Episcopal Diocese of Mississippi, alleging malpractice and fraud. She did not sue Mr. Mabus, who broke no laws by recording the meeting.
Rather than spend time bewailing reporter decency or judging the nominee's actions, I'm simply resigned to having this stuff trickle out. These days, that's the way it is.
Are the nominee's personal foibles and hiccups materiel to the job he or she is to take?
It's tough for nominees right now. With more and more data out in the public domain, blemish-free nominees are near-impossible to find. But, still, the general public seems to value "perfect" nominees far higher than "appropriate" ones.
At some point this process will hit an equilibrium, where the general public will realize that nobody is perfect, and, perhaps, allow the Senate to make the confirmation process an experience that–while grueling, intrusive and frighteningly thorough–leaves nominees far stronger than they were at the beginning.
It will be a long time in coming. In the meantime, (if you'll allow me to bend an old saying) Governor Mabus and the Obama Administration went into the kitchen, and are OK with the heat. So far.
After all, Mabus has only been a nominee for 48 hours…

Posted by
Defense Springboard
in
Navy