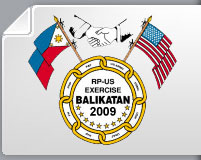 Exercise Balikatan '09 is a joint bilateral exercise between the United States and Philippines which officially started 16 April 2009 and runs through 30 April 2009. Exercise Balikatan 2009 is the 25th in the Balikatan series. 'Balikatan' is a Tagalog term which means "shoulder to shoulder."
USNI Blog recently joined Andrew Lubin in a DOD Bloggers Roundtable with  Brig. Gen. Ronald Bailey, USMC, Deputy Commanding General, III Marine Expeditionary Force; Commanding General of 3rd Marine Expeditionary Brigade, and U.S. Director of Balikatan '09.
There are three events that U.S. and Armed Forces of the Philippines (AFP) personnel will be participating in during the exercise. According to BG Bailey, "Our first one is the humanitarian and civic assistance projects. The second is a scenario-based staff exercise that we'll run from Manila with the joint force management headquarters, Philippines. And the final one involves field training activities in the Central Luzon and the Cavite province."
Full transcript here.
Balikatan '09 Website here.
My thanks to BG Bailey for taking time out of his busy schedule to talk to us bloggers. It was great to learn about how the U.S. is winning lots of hearts and minds in the Philippines.

Posted by
Jim Dolbow
in
Soft Power