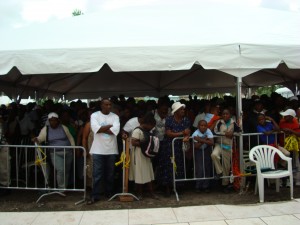 Gotta keep this one quick. I would guess that over 1000 Antiguans have lined up for patient care today. The services offered here include: dental, optometry, general medicine, pediatrics, prescriptions, and women's health.
While observing the optometry department, I heard that one patient had lined up at 2100 the night before for a 2-minute eye exam.
The patient care inside the Multi-cultural Center is inter-agency cooperation and NGO coordination at its best. No stove pipes. Teamwork everywhere I look.
Keep up the good work COMFORT.
More later…

Posted by
Jim Dolbow
in
Soft Power
Tags:
CP 09