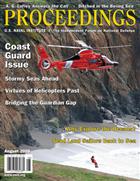 What do you get somoene who is 219 and is supposed to have everything?
An article in Proceedings that lays out some hard facts with a suggested remedy. Yes, my friends, a Proceedings article that is bold with no pale or pastel colors.
I joined forces with CAPT Jim Howe, USCG-Ret, to co-write an article for the August 2009 Coast Guard edition of Proceedings entitled, "Heavy Weather Ahead for the Coast Guard." Brief excerpt follows:
Competing priorities and shrinking budgets threaten to swamp the service.

The U.S. Coast Guard faces a stark and troubled future. If our nation's fifth and smallest military service was a cutter it would be listing severely, crippled by decades of undercapitalization, a lack of political support, an overwhelming workload, and the five words most feared by any Guardian: "the curse of can-do." In the face of an impending budget meltdown, the Coast Guard must confront severe challenges that threaten its performance and long-term viability, as it comports with the realities of the post-9/11 environment. Will it remain the world's best Coast Guard or will it proceed down the path of Britain's Royal Navy, becoming a shadow of its former self?
The rest of the article can be viewed here (free).
Happy Birthday everyone!!!

Posted by
Jim Dolbow
in
Coast Guard