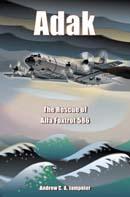 It was 31 years ago today that AF 586 (a P-3 Orion flying a sensitive mission in the north Pacific) was forced to ditch into the empty, mountainous seas off the Aleutian Islands. What follows is an amazing rescue that could only be written by a P-3 pilot like Andrew Jampoler.
Could you provide a short synopsis of Adak: The Rescue of Alfa Foxtrot 586?
AF 586, a nearly-new Navy P-3 "Orion" from Patrol Squadron 9's detachment at Naval Station Adak, Alaska, took off the morning of October 26, 1978, for a nine hour special mission flight off Soviet Kamchatka. Some six hours later the aircraft was down in the North Pacific, midway between the Soviet Union and Attu (the last American outpost in the Aleutian Islands) with fourteen of its fifteen men afloat in two rafts and their plane commander lost at sea.
"Adak" is the story of that mission, the crew, and their ordeal, and the astonishing and successful effort that brought ten men home alive.
Who are some of the heroes of Adak?
LCDR Jerry Grigsby's superb airmanship put the big aircraft into stormy waters intact on three engines. LT(JG) Matt Gibbon's cool preparations for the ditching while AF 586 limped toward Shemya with recurrent fires in the No. 1 nacelle made the crew's escape from the aircraft possible. The ditching triggered a determined SAR operation which, at one time, had planes from the Air Force, the Navy, and the Coast Guard in the air at the same time–together with some Soviet Air Force observers.
Soon after midnight three men of the crew were dead from exposure. The others in the rafts were in extremis, too.
Can you tell us a little bit about the inter-agency cooperation that was involved in the rescue?
Fast and close overnight cooperation between the Departments of Defense and State, and Washington and Moscow, remarkable at the height of the Cold War, diverted a Soviet fishing trawler to the scene early on October 27th, and it was this ship–the only vessel near enough to help in time–that saved the living. The survivors were returned to US custody a week later.
What are some of the lessons learned that are applicable to today's aviators?
AF 586 proved to maritime patrol aircrews flying over northern waters that survival was possible under almost unimaginably harsh conditions.
Who should read Adak: The Rescue of Alfa Foxtrot 586?
Anyone who flies (or has flow) over open water would enjoy this adventure story, described by "The Wall Street Journal" as "an adventure story to rival the best you've ever read."

Posted by
Jim Dolbow
in
Books
Tags:
meet the author