Pistol Packing Airdales Score 17 to 0 Victory in Marshall Island Air Battle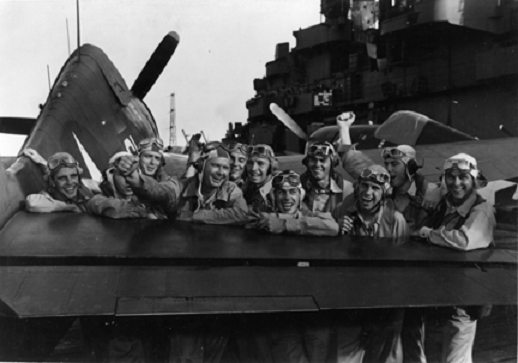 On November 23, 1943, twelve Navy Pilots flying HELLCAT fighters from a new first-line carrier in the Marshall Islands area intercepted 20 to 24 Jap Zeroes heading for Tarawa. The Japanese were out to aid their hard-pressed garrison on Tarawa, then under a withering attack by U.S. Marines and Navy carrier task forces. But they never arrived. In a swift and vicious action, the Navy HELLCAT flier shot down 17 zeroes and probably got 3 more without losing a man.
This perfect score was further highlighted by the feat of Lt. (jg) Eugene B. Hanks of Gibbs, Ohio. In this, his first encounter with the enemy, the young Navy flier shot down five Zeroes, and thereby became an ace, in less than five minutes. Lt. Commander Paul D. Buie, USN, of Nashville, Georgia, the squadron commander, led the fight.
Better men than the enemy – Jubilant after their smashing 17 to 0 victory, the pistol-packin Airdales grin across the tail surface of a HELLCAT on the USS Lexington's deck.
Photo Credit: From the US Naval Institute's Edward Steichen Collection

Posted by
admin
in
Aviation
,
From our Archive
,
History
,
Navy