At the Battle of Surigao Strait, five of the battle ships "crossing the T" on the Japanese force had been sunk or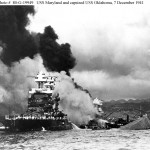 damaged at Pearl Harbor.
A look back at one heck of a salvage operation here.
So, Bluto was partially right, wasn't he?
Bluto: Over? Did you say "over"? Nothing is over until we decide it is! Was it over when the Germans bombed Pearl Harbor? Hell no!

Posted by
Mark Tempest
in
History
,
Navy