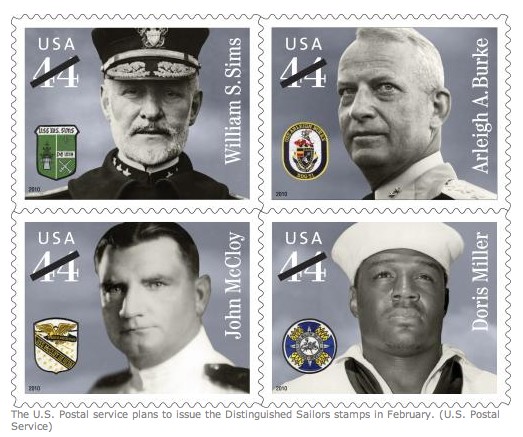 …. until FEB.
In February, the U.S. Postal Service plans to release a booklet of stamps featuring four U.S. sailors.

Here's a look at the honorees:

William S. Sims (1858 — 1936) commanded U.S. naval forces in European waters during World War I when he helped shape the Navy into a modern fighting force.

Arleigh A. Burke (1901 — 1996) was one of the top destroyer squadron commanders of World War II. After his death, he was hailed as a "sailor's sailor" who was "relentless in combat, resourceful in command and revered by his crews."

John McCloy (1876 –1945) won two Medals of Honor for separate acts of heroism, a rare feat. McCloy retired from the Navy in 1928 after a 30-year career.

Doris Miller (1919 — 1943) was the first African-American hero of World War II for his actions at Pearl Harbor on Dec. 7, 1941.
Sims for all my Valentine's Day cards!

Posted by
CDRSalamander
in
Navy