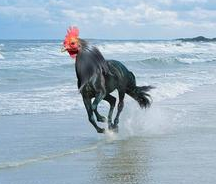 For you football fans who missed the live broadcast of Midrats, you can catch the archive of Episode 4: The Suede Boot Navy here.
Fellow USNIBlog contributer EagleOne and I spent the first half hour discussing the lessons so far in Haiti from a maritime perspective, with regular commenter Leesea adding his thoughts as well.
For the second half of the hour we had two great guests to discuss the experiences of "the other Navy" – armed, ashore, and providing critical support for the Long War.
Regular in the Navy Blogosphere, our "Yeoman in the 'Stan" AKA "Battle Yeoman" calls in from Bagram, Afghanistan and joined us for two segments. We also had CDR Charlie Malone, former Commanding Officer of Navy Provisional Detainee Battalion FIVE, Camp Bucca, Iraq – he led the best keeping an eye on the worst.
One programming note – your host had some technical difficulty, so the first minute is dead air – push through that and the show is off and running. Give it a listen.

Posted by
CDRSalamander
in
Navy
,
Podcasts
Tags:
Afghanistan
,
Iraq
,
Midrats