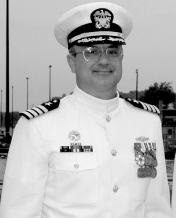 For those who like to watch the fields our seed-corn grows in; after a very rough year, there is an opportunity again at Annapolis.
Via our friend Philip Ewing at Navy Times,
Capt. Robert Clark, now commodore of Submarine Squadron 4 at Naval Submarine Base New London, Conn., is scheduled to become the Naval Academy's next commandant of midshipmen — known around the Yard as the "Dant" — in the coming weeks, according to an academy announcement.
Yes …. more bubbleheads … but here is what caught my eye.
Clark is an alumnus of the Naval Academy and the Naval Academy Preparatory School in Newport, R.I.
Here is the opportunity.
NAPS is supposed to be … chartered to be … and is at its very best when it focuses on taking our best enlisted personnel who show the best in leadership capabilities but need some work on academic skills – and prepares them to succeed at the U.S. Naval Academy and on to the Navy or Marine Corps. Ditto those young men and women out of High School who are right on the cusp, but need that extra push.
It does not serve the Navy or the taxpayer well when, as we have seen of late, NAPS is used to promote D1 football potential or someone's source-DNA distribution graph fetish.
Having a NAPS grad as 'Dant is very good news – even if he is a nuke…..
We have some other important leadership faces coming as well.
The Naval Academy's new top enlisted sailor, Command Master Chief (SW) Jon Taylor, who is coming from the amphibious command ship Mount Whitney. He will relieve Command Master Chief (AW/SW) Evelyn Banks, who is moving to Naval Sea Systems Command.

The new command chaplain, the Rev. (Capt.) Michael Parisi, who is relieving the Rev. (Capt.) Peter McGeory.
Springtime is always a time for optimism. I wish Captains Clark and Parisi along with CMDCM Taylor the best of luck in an exceptionally important job.
If I may be so bold as to offer two simple words to focus on: core competency.

Posted by
CDRSalamander
in
Navy
,
Training & Education