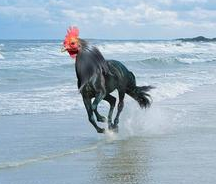 So, what are you doing Saturday for lunch? Well, you are spending it with fellow USNI Blogger EagleOne and me from 11-1200, of course!
A special Midrats this week – early-lunchtime tomorrow, Saturday from 11-1200, live from the Navy Memorial in Washington DC.
We are there to help kick off the Blessing of the Fleets. From the Navy Memorial Website;
Passed down through generations of sailors, fishermen, merchant mariners and navies around the world, the centuries-old "Blessing of the Fleets" ceremony is intended to safeguard fishing crews and ships from the danger of the seas through a traditional blessing given by a clergyman at the water's edge.

As a tribute to our nation's rich maritime heritage and the men and women who have contributed to its growth and success, the United States Navy Memorial hosts its annual Blessing of the Fleets ceremony each spring. The event is free and open to the public and is an official event of the National Cherry Blossom Festival.

At the United States Navy Memorial, the ceremony's highlight occurs when Sailors from the U.S. Navy's Ceremonial Guard proceed across the Memorial Plaza's "Granite Sea" to pour water from the Seven Seas and the Great Lakes into the surrounding fountains "charging" them to life and ushering in the spring season.
We have three great guests lined up;
– Rear Admiral Edward K. Walker, Jr., USN (Ret.), President and Chief Executive Officer, United States Navy Memorial Foundation.
– Rear Admiral Michael J. Lyden, USN, Commander, Naval Supply Systems Command and Chief of Supply Corps.
– Documentarian Brian J. Kelly , Executive Producer of Discovery Channel's "At Sea."
Join us live, or if you are too busy looking at cherry blossoms, catch it on the blogtalkradio archive or via iTunes.
If you are in DC, you owe it to yourself to stop by the Navy Memorial on Saturday – the day is full of events,
11:00 a.m.-12:00 p.m. Live broadcast of the Blog Talk Radio program "Midrats," featuring military bloggers Cdr. Salamander and Eagle One
12:30 p.m. Ribbon-cutting ceremony for the new exhibit Supporting the Force: Navy Supply in Action—Ready for Sea, Ready Ashore
1:00 p.m. Blessing of the Fleets Ceremony on the Plaza with the Navy Band, the Navy's Ceremonial Guard and the Chief of the Supply Corps
2:00 p.m. Serving of Navy bean soup served by the White House Mess
2:20 p.m. Screening of the new film "A Day in the Life of a Suppo"
3:00 p.m. Screening of Episode 1 of HBO's new series "The Pacific"
4:00 p.m. Screening of the Discovery Channel's film about Navy operations today "At Sea"

Posted by
CDRSalamander
in
Podcasts
Tags:
Midrats