I made it!
Via the North Face.
Without. Oxygen.
This is the sixth in a series posts dispatched from the slopes of Mt. Everest
Teammates,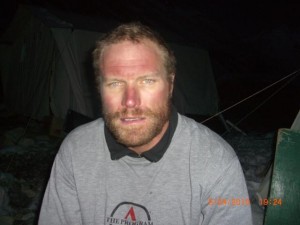 I just returned to Everest Base Camp (BC) after the most challenging 8 days of my life. I am unshaven, extremely dirty, feeling the initial effects of frostbite, starving and physically and mentally exhausted (See Photo "Return to Everest BC")… but at 4:19 AM on Sunday May 23rd, after a 10 hour climb from Camp 3 (See Photo "Hike to Camp 3"), Kaji and I watched the sun rise over Tibet from the summit of Mt. Everest.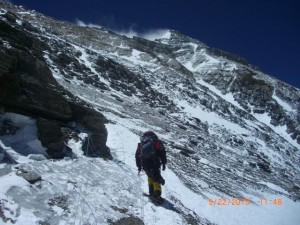 Words can not convey the beauty of that particular sunrise or the feeling of accomplishment and joy of having attained the summit with my teammate, Kaji. I am thankful that I prepared properly and that we had (and made the most of) our opportunity for success.
Heck, I'm so hungry I'm willing to eat broiled Yak… or raw… (See Photo: "Kap eats Yak")
Due to a camera malfunction on the summit (read "my $300 camera froze as soon as I pulled it from my down suit), I have to wait for Kaji to have his summit photos developed (read "Kaji's circa 1980 camera that cost $12 worked well") before sharing. However, all photos and a recap of the final 8 days of climbing will be part of my corporate presentation on "Leadership and Overcoming Adversity" and will also be made available to all 2010- 2011 Program clients.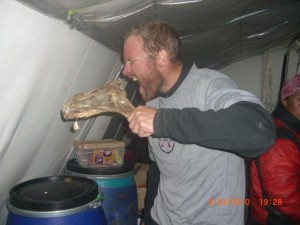 I can not tell you how much I appreciate all of your support throughout this journey and Bryant, The Program Staff and I look forward to seeing and working with all of you in the upcoming year. 
Regards,
Eric
"You never know what is 'enough,' until you know what is more than enough" – William Blake, The Marriage of Heaven and Hell.
Ironman.com explains the why behind Eric's grueling climbs and competetions:
"My mother always told me if you want to change something," he says, "then get yourself to the position where you can change it."
There will be one constant for Kapitulik. He'll continue racing Ironman triathlons, partially because The Few, The Proud . . . they like testing themselves physically. Once a Marine, always a Marine, Kapitulik will enter the Marine Corps Reserves upon being discharged. But Kapitulik's Ironman dedication goes far deeper than any personal challenge.
He must preserve the memories of those seven military men who died under his command in a frightening helicopter crash off San Diego on Dec. 9, 1999. Kapitulik and 10 others were the lucky ones. They survived the crash. Between them, the seven men who died left behind six children. Since the accident, Kapitulik has raced four Ironman races, each time raising money toward a college education fund for the six youths.
"This has become his mission," says Kapitulik's long-time girlfriend, Melissa Marinaccio. "His top priority is to make sure those families are taken care of, never lonely and never wanting for things. He talks about them just about every day." 
******
It was a reconnaissance-training mission, the final evaluation check-off before Kapitulik and his command departed a month later for the Persian Gulf. Marines and Navy SEALs were to descend a rope, land aboard a ship and simulate a takeover. Thirty seconds before the helicopter was to begin hovering over the ship, Kapitulik, as he always did, glanced outside a window, gauging the helicopter's arrival.
"It seemed like the ship was coming into view pretty fast," he says.
The opening where the men were to repel onto the ship, which was already open, is called the "hell hole." Later, some of the surviving Marines said they sensed the helicopter was flying lower than usual. "The down force of the blades was causing water to spray up into the helicopter," Kapitulik says.
Still, he didn't think disaster loomed. He had safely flown similar missions at least 15 times.
"You just have faith nothing's going to happen," he says.
Seconds later, the helicopter crashed into the side of the ship's steel netting. The 18 men inside the helicopter were thrown forward. When the pilot applied power to the engines, trying to lift the chopper, the helicopter spun round and round like a fan because the wheels were stuck in the ship's steel netting. More
Fifth Dispatch – Preparing for the Final Assault
Fourth Dispatch – Toughness is a Relative Term
Third Dispatch – Nec Aspera Terrent
Second Dispatach – The Avalanche

Posted by
Eric Kapitulik
in
Marine Corps
,
Travel
Tags:
Mount Everest