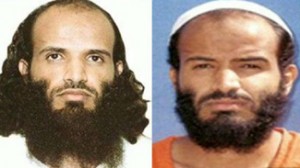 If American lives weren't being risked and sometimes lost in this struggle, such would have the makings of a Peter Sellers comedy. This from the Associated Press:
RIYADH, Saudi Arabia — Saudi Arabia says a former Guantanamo detainee who went through its militant rehabilitation program and then rejoined al-Qaida in Yemen has turned himself in to authorities.

An Interior Ministry statement said Friday that Jabir Jubran al-Fayfi contacted Saudi authorities from Yemen to express his regret and readiness to surrender. Yemeni authorities arranged for his return.

Al-Fayfi was released from Guantanamo in 2006.

He rejoined al-Qaida in Yemen, where the terror network's local offshoot is attacking Western targets and Yemeni security forces and leaders. The offshoot also claimed responsibility for the failed attempt to bomb a Detroit-bound airliner in December.
The catch-and-release program on the battlefields of Iraq and Afghanistan is a dangerous farce. Mind-boggling, in fact. Exceeded only by the idea that terror suspects captured as illegal combatants in combat with US forces should be granted full rights and privileges of Prisoners of War.
Which is exceeded exponentially by the notion that such suspects should be tried in US courtrooms, giving them the full Constitutional rights that any US citizen has in a court of law. More, in many way, than did the three SEALS who stood trial for allegedly punching a detainee.
Fight to win, defeat the enemy.

Posted by
UltimaRatioReg
in
Foreign Policy