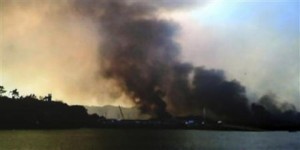 This from RTE this morning:
North Korea has fired dozens of shells at a South Korean border island, killing two soldiers and injuring several more.

South Korean troops based on Yeonpyeong island fired back and the military was put on top alert, the defence ministry said.

YTN television said the South has scrambled air force jets, after what appeared to be one of the most serious border incidents since the 1950-53 war.

The ministry also said 15 marines on the island have been injured, five of them seriously. Three civilians were also hurt.

A resident of the island near the tense Yellow Sea border told YTN that some 50 shells landed and dozens of houses were damaged.

South Korean President Lee Myung-Bak has held an emergency security meeting, a presidential spokesman said.

'He is now in an underground war room to discuss possible responses with ministers of related agencies and national security advisers … we are closely watching the situation,' the spokesman said.

President Lee urged the officials to 'handle it (the situation) well to prevent further escalation,' the spokesman said.

South Korea has warned the North that it would 'sternly retaliate' to any further provocations and said the attack was a clear violation of an armistice between the two countries.
Read the rest here.
Very interesting was the comments from China on Reuters' coverage of the story.
China, the impoverished North's only powerful ally, was careful to avoid taking sides, calling on both Koreas to "do more to contribute to peace."

"China hopes that the relevant parties will do more to contribute to peace and stability in the region … it is imperative now to resume the six-party talks," a spokesman for the Chinese Foreign Ministry, Hong Lei, told reporters.
The point has been made previously that North Korea is what it is because its neighbor to the north sees value in a hostile, anti-American North Korea.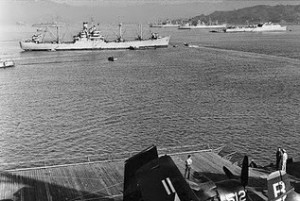 If the peninsula explodes into war, and the United States is going to aid its ally, we are going to have to project power into the very den of the Dragon. For that you need a Navy. A Navy willing to fight, and willing to bleed, and willing to stay. And the ability to transfer significant combat power ashore quickly. Because it ain't happenin' by air.
Stay tuned.
**************************
A most provocative question from STRATFOR:
What is it that South Korea is afraid of in the North? North Korea gives an American a guided tour of a uranium enrichment facility, then fires across the NLL a couple of days after the news breaks. The South does not respond. It seems that South Korea is afraid of either real power or real weakness in the North, but we do not know which.
Read more: Is North Korea Moving Another 'Red Line'? | STRATFOR
*************************
Two updates:
A statement from President Obama that we would defend South Korea, though he declined to discuss military options.
And acknowledgment by the Republic of Korea that their artillery fire did indeed impact North Korean positions.
"Seoul responded by unleashing its own barrage from K-9 155mm self-propelled howitzers* and scrambling fighter jets. Two South Korean marines were killed in the shelling that also injured 15 troops and three civilians. Officials in Seoul said there could be considerable North Korean casualties."
*The K-9 Thunder is a self-propelled 155mm howitzer based extensively on the venerable M109 family of US SP howitzers. The K-9 has a 52-caliber tube and can fire 6 rpm of the 155mm HE/BB K307 projectiles out to 40.6km.
***********************
USS George Washington (CVN-73) has put to sea en route to the West Sea from Japan. Her CVBG will conduct "joint exercises" with the ROK Navy, according to reports.

Posted by
UltimaRatioReg
in
Air Force
,
Army
,
Aviation
,
Coast Guard
,
Foreign Policy
,
History
,
Marine Corps
,
Maritime Security
,
Navy