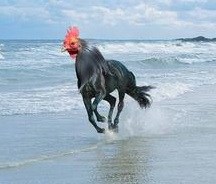 We all know about the ground services "Strategic Corporal (E4)," but in the sea services – what is the role of the mid-grade Non Commissioned Officer?
Are you interested what our front line leaders – our First and Second Class Officers are thinking?
Fellow USNIBlogg'r EagleOne and I spent a full hour talking to three of our nation's best. Get a fresh cup of coffee and enjoy a visit with our guests; we start with fellow USNIBlogg'r Yeoman Second Class (Surface Warfare) H. Lucien Gauthier III, USN, and then round it off with Aviation Electronics Technician First Class (Aviation Warfare) Charles H. Berlemann Jr, USN, and Machinery Technician First Class Tony Turner, USCG.
A returning guest to Midrats, YN2(SW) Gauthier has only been in the Navy since 2006, but sure made the most of it. He just returned from a 1-year IA from his first ship, having served the last year in both Bagram and Kandahar Airfields. In December he will detach from his current command USS SAN ANTONIO (LPD-17), and report to SHAPE after the holidays, for his first shore tour. A place, I might add, where you will find another USNIBlogg'r – Admiral Stavridis.
Moving to the air side, AT1(AW) Berlmann joined the Navy in June 1998 and joined the USS ENTERPRISE (CVN-65) from May 1999 until 2003, primarily assigned to the fire control shop in AIMD working on F-14, F-18, and S-3 radar suites.
His follow-on tours included VAQ-130 from 2004 until 2008, completing three deployments (do the math), and is now at VAQ-135 getting ready for the EF-18G to get up and running.
Not to forget our sister service, we finish up the show with MK1 Turner. MK1 joined the Coast Guard in the summer of 1998. He is currently assigned to the United States Coast Guard Cutter Escanaba home ported in Boston, MA. His previous units include Coast Guard Station Rockland, ME, Cutter Campbell and Integrated Support Command New Orleans, LA.
Click here to listen to the show. For previous shows, you can always reach the archives at blogtalkradio – or set yourself to get the podcast on iTunes.

Posted by
CDRSalamander
in
Podcasts
Tags:
Midrats