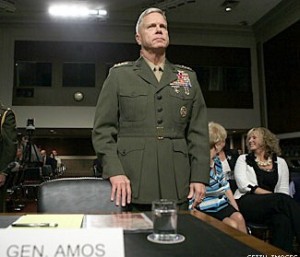 Already the articles have started, singling out those whose honest professional opinion was against the repeal of DADT. Long-time Washington Post columnist Richard Cohen has written a column demanding the relief of General James F. Amos, Commandant of the Marine Corps, because of his honestly-held professional military opinions advising against repeal of DADT.
A great many of the opinions expressed here and elsewhere cautioning against repeal of DADT revolved around concerns of the rampant DoD over-compensatory political correctness which has been the hallmark of response to special interest pressure from without. Such concerns were lightly brushed off as unlikely, or dismissed as paranoia of homophobic, bigoted, hateful service members whose fitness to serve was almost always questioned.
Except that now, a major newspaper has begun the effort to remove from senior leadership positions those they deem somehow politically untrustworthy. General Amos must read now in the written press an open question of his fitness to lead Marines, published dutifully by WAPO. What other GOFO will be similarly targeted? Will those who provided input honestly and forthrightly be punished for doing so? How many views are "on the record", as Cohen puts it, making them susceptible to subtle but real retribution? (In case anyone doubts broad-sweep retribution occurs within DoD, one needs only to recall Tailhook and the damage done to the innocent as well as the guilty, at the behest of political special interests.) Some of Cohen's words are below, sandwiched between accusations of lack of leadership and a brusque dismissal of effects on unit cohesion being a chimera used as an excuse for dissenting opinions:
They know he has not an iota of sympathy for what might be their difficulties or any tolerance for their lifestyle. If I were gay, I would not want to work for the man – or serve under him. He is one step short of being a bigot.
One could dismiss the Cohen column almost out of hand as expressing an extreme take on an emotional issue. Perhaps it should be. It has the flavor of a tin-clad dictatorship, where decisions are followed by purges of opposition simply for being opposition. However, it would be far easier to dismiss if the words Cohen used were not so strikingly similar in tone and intent as those uttered by Admiral Mike Mullen, Chairman of the Joint Chiefs of Staff, a few weeks back:
In the end, if there is either policy direction that someone in uniform disagrees with…and you feel so strongly about it — you know, the answer is not advocacy; it is in fact to vote with your feet.
General Amos, like General Conway before him, disapproved of the repeal of DADT, and stated well-reasoned professional arguments in doing so. Neither expressed his personal views on the matter, but rather only shared their views as professional Marines whose comments were regarding readiness and combat efficiency. Admiral Mullen was not so prudent.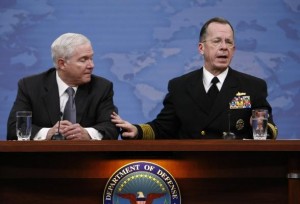 I would hate to think that Admiral Mullen is in agreement in the least with Richard Cohen, but he has publicly spoken words that indicate otherwise. Because if he is in agreement, even a little, then he is questioning if General Amos, like General Conway before him, can be trusted to lead Marines. General Conway, like General Amos, is a supreme warrior. I have served under General Conway's leadership in combat, and would do so under the leadership of General Amos. If, in Admiral Mullen's mind, he believes even in the slightest that these two warriors are not fit to lead Marines, then Admiral Mullen knows nothing about leading Marines.
Admiral Mullen has been extremely outspoken regarding his personal beliefs on this political issue. Now would be a very prudent time to use that same mouth to be just as loud and outspoken in stating that such a call for the heads of the dissenters as Richard Cohen has made will not be tolerated nor condoned. He has the bully pulpit. If he cannot find his voice to do so, it is he who should step down, as he is not worthy of the trust of those whom it is his job to lead.
***************************************************
4 January 2011-
None other than James Webb summarized it nicely:
When leadership fails, sometimes a fundamental shift overtakes a unit, or a military service, or a nation, that is so profound that it can change an entire ethos. Most often it occurs gradually, not because of decisions taken by senior leaders so much as from their inaction, an acquiescence to insistent, incremental pressures generated from the outside.
Acquiescence all around. Insistent, incremental pressures cost the United States Navy a successful and talented Captain today, and much more of it has to do with the leadership failure I note above and that Jim Webb addresses than it does any four year old video.

Posted by
UltimaRatioReg
in
Air Force
,
Army
,
Coast Guard
,
Homeland Security
,
Marine Corps
,
Navy