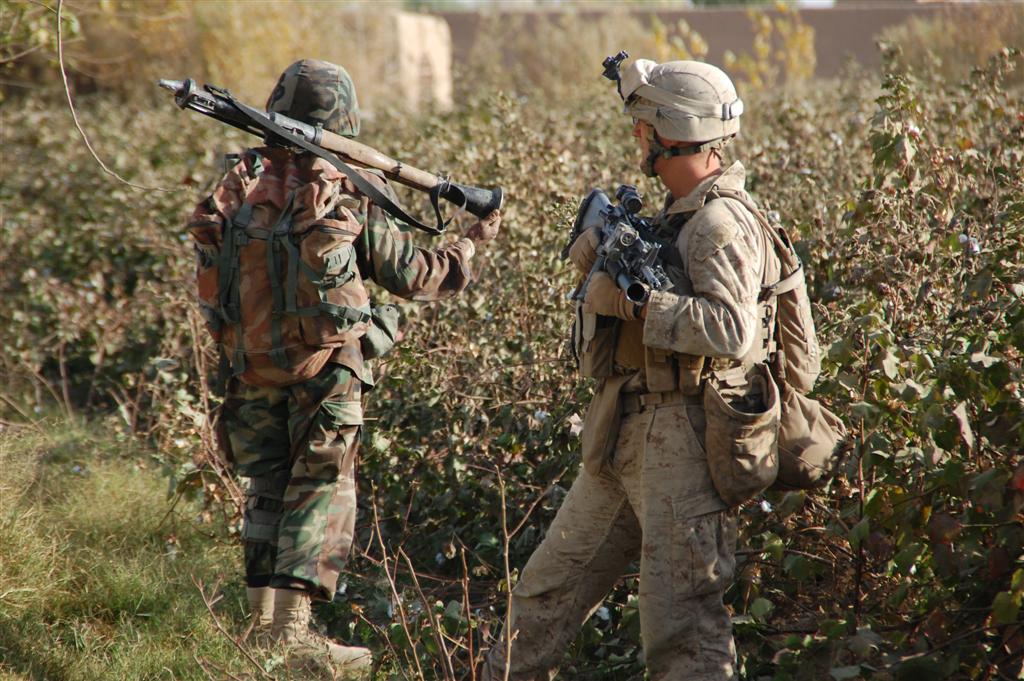 The U.S. and its NATO allies will spend US$11.6 billion on training and equipping Afghan security forces in 2011. When only a few years ago U.S. defense supplemental spending authorizations exceeded a hundred billion dollars, it is all too easy to skim right over that sort of figure. But putting that number in context, $11.6 billion was almost exactly Afghanistan's entire Gross Domestic Product in 2008 ($11.76 billion according to the World Bank). The U.S. and NATO are creating an Afghan security apparatus that is estimated to cost $6 billion per year, a figure that exceeds annual U.S. Foreign Military Financing to Israel and Egypt combined – not to mention being far in excess of the Afghan government's annual revenue.
This raises an interesting question about the strategy and grand strategy that guides our choices. Nine years ago, as Central Intelligence Agency operatives, U.S. Special Operations Forces, Marines and Soldiers were invading Afghanistan, how would we have viewed the proposition that in 2011:
We would have nearly 100,000 American troops waging a protracted counterinsurgency in the country?
We would have, combined with allied forces, some 30,000 more foreign troops in the country than the Soviets did at the height of their disastrous occupation (approaching 150,000 vs. less than 120,000)?
We would seek to create an indigenous security force that costs more than twice as much as the country's GDP in 2001 to maintain and sustain annually (not even counting the cost of building and equipping it in the first place)?
And how will we perceive these historical facts in 2021?
In 2001, it was not only easy to declare a Global War on Terrorism – for the entirety of American national power to be directed at a tactic and an extremist ideology held by a precious few — it was essential, at least momentarily. Our intelligence on al Qaeda was so poor that there was immense concern about follow-on attacks involving chemical, biological, radiological or nuclear weapons. But given the post-Cold War security environment of the 1990s, declaring a Global War on Terrorism was also too easy. After all, the idea of 'the end of history' still held some sway. Post-Soviet Russia was a mess and what remained of conventional Russian combat power was bogged down in Chechnya. Japan and Southeast Asia were in economic crisis. We were eyeing China warily after the EP-3 incident in April, but we were not nearly as concerned about the military power commanded by Beijing as we have since become.
And al Qaeda had just killed Americans. In our uncertainty about the threat, we were deeply concerned that they might kill many more. But the profound, longstanding geopolitical foundations of American security remained unaltered. Al Qaeda at its worst did not and does not represent an existential threat to the United States and the American way of life. Yet in the sense of profound geopolitical security that we inherited from the 1990s, it was easy to re-orient American national power towards terrorism wholesale in a way that came to dominate not only operational but also strategic and grand strategic thinking. And as conditions on the battlefield deteriorated first in Iraq and then Afghanistan, more and more bandwidth and resources were directed at corrective actions in these two theaters.
As the last nine years have shown all too clearly, there are limits to even what the world's sole superpower can achieve. So our actions must entail choice. We prioritized Iraq over Afghanistan, but we remained committed to both. From the perspective of 2010, where the U.S. finds itself in 2011 seems largely necessary and unavoidable – a product of exigencies of the moment where practical questions of reshaping the battlefield are paramount – and certainly far more important than the historical question of how we got there in the first place.
But the resources expended in Iraq and Afghanistan have an opportunity cost: money, resources and bandwidth that cannot, for example, be allocated to efforts and operations in Yemen against al Qaeda in the Arabian Peninsula (which is behind lower-level but active attacks on the homeland, whereas the old al Qaeda apex leadership is struggling to maintain even ideological relevance) or in Northwest Africa against al Qaeda in the Islamic Maghreb. We are, after all, fighting a transnational phenomenon, not a geographically fixed one, even though we continue to explain the war in Afghanistan to the American public in terms of the old al Qaeda core that is neither in Afghanistan nor a physical threat.
And this goes beyond opportunity costs: the scale and scope of our operations in Afghanistan have in many ways directly contributed to the weakening of the Pakistani state over the last nine years, when a strong Pakistani state is a far more critical American national interest than anything we might achieve in Afghanistan. Indeed, a strong Pakistan remains of pivotal importance in managing Afghanistan in the long run and denying al Qaeda, its franchises and other transnational extremists from taking sanctuary there.
Meanwhile, in the last nine years, Russia has resurged and consolidated control over much of its periphery, the military capabilities of the Chinese People's Liberation Army, -Navy and -Air Force improved significantly and continue to improve, Chinese hackers continually probe our information technology systems and Iranian power has become the defining issue for much of the Middle East. While there have certainly been tactical failures along the way, this new geopolitical reality is a failure of strategy – and grand strategy. And as we all know, tactics and operations are to be guided by and consistent with strategic objectives.
The question I think this raises may not be inconsistent with many of the recent posts and commentary here at the USNI's blog, where there seems to have been something of a recurring theme about the Navy's senior leadership, whether it is the reaction to the breaking of the CAPT Honors story or a 30-year shipbuilding plan that no one seems to take seriously anymore. Perhaps this goes a step further? Is the current state of global U.S. military operations the product of tactical and operational needs run amok, unguided and unconstrained by larger, longer-term strategic and grand strategic thinking and choices? Has the U.S. military lost the ability, as an institution, to think and act strategically? And has the Executive Branch lost the ability to think as well as guide and constrain the military in accordance with long-term grand strategy?

Posted by
nhughes
in
Army
,
Foreign Policy
,
Marine Corps