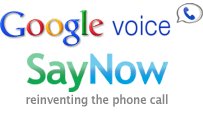 The relative decline of the United States in the 21st century is a popular topic, but I would argue as long as nerds from Google can do stuff like this over a weekend fueled by American products like red bull and candy bars, perhaps the same American ingenuity that fueled the United States through World War II is still alive and well today.
Like many people we've been glued to the news unfolding in Egypt and thinking of what we could do to help people on the ground. Over the weekend we came up with the idea of a speak-to-tweet service—the ability for anyone to tweet using just a voice connection.

We worked with a small team of engineers from Twitter, Google and SayNow, a company we acquired last week, to make this idea a reality. It's already live and anyone can tweet by simply leaving a voicemail on one of these international phone numbers (+16504194196 or +390662207294 or +97316199855) and the service will instantly tweet the message using the hashtag #egypt. No Internet connection is required. People can listen to the messages by dialing the same phone numbers or going to twitter.com/speak2tweet.

We hope that this will go some way to helping people in Egypt stay connected at this very difficult time. Our thoughts are with everyone there.

Posted by Ujjwal Singh, CoFounder of SayNow and AbdelKarim Mardini, Product Manager, Middle East & North Africa
We must think clearly about what we are seeing here, even if it is not popular to do so. Obviously America is a techno-centric culture, so it is easy to see how this type of technology would immediately be appealing to modern, young Americans and as it becomes more well known in Egypt – likely appealing to them as well. I originally learned about this technology from an American sailor who was organizing volunteers on Twitter to act as interpreters (and having success btw) for this service. Due primarily to the viral nature of social media and by leveraging the global popularity of Google, it is only a matter of time until the youth in Egypt become aware of the technology available.
How does it work? Well, someone inside Egypt calls one of the numbers listed, leaves a message, and the message gets recorded and Tweeted to this Twitter feed where a recording of the voice mail is made available to everyone to listen. The retweets by others in the feed are interpretations of the feed into English from a specific voice recording. This is a very clever technology intended to directly circumvent the Egyptian government policies that are attempting to reduce information access. Is there impact associated with the technology? Surely not yet, but the tech itself is less than 24 hours old and most people unlikely realize what they have. The options are many, and for me, I'll admit the first time I listened to a few messages on SayNow's website I was immediately reminded of the BBC radio broadcasts to the Maquis in 1944 France…
If we are going to give serious analysis to what is happening here, we must examine the complicated issues responsibly and ask the difficult questions.
What do we make of an American corporation (Google was ranked #102 by Fortune in 2010) basically declaring war on the government policies of a strategic partner of the United States by inventing a new technology and offering free services to the political opposition of the Egyptian government? Whether one agrees or disagrees with what Google is doing – when you remove the morality element of Google's action that can easily impact ones opinion – we are left with a few American corporations actively supporting a revolution as a free service against the current government of a strategic partner of the United States.
Think about that for a second…
Google is waging war leveraging bandwidth as a weapon. Think about how silly our international treaties governing broadcast communications look when a handful of companies like Google, SayNow, and Twitter can turn a single node like a cell phone into a voice broadcast to the entire globe as a weekend project. Make no mistake, bandwidth is most definitely a weapon, and the DoD needs to be thinking carefully about how this weapon might be used against our enemies. For example, North Korea would likely see broad access to bandwidth as a very dangerous weapon worth going kinetic over, meaning carefully considered rules of engagement for bandwidth as a weapon are necessary when bandwidth is used as a weapon.
That thought should trouble those who give serious geopolitical strategic thought to the issue, because in most cases a corporation like Google can use the bandwidth of the entire internet more effectively than an organization like the DoD can use the bandwidth of their entire network, and yet, somehow I doubt corporations carefully consider the rules of engagement when using bandwidth as a weapon.
At some level, one might describe this as the Wikileaks issue in reverse. Wikileaks leverages bandwidth and cloud technology to insure continuous access to information in support of broadcasting government information to the entire world. Google and partners are leveraging cell phone technologies to insure continuous access to information in support of broadcasting anti-government information to the entire world. The United States government has not, in my opinion, handled Wikileaks very well. When one considers the geopolitical ramifications, not to mention the strategic ramifications, of American technology corporations like Google and Twitter waging a private war on the government of Egypt – one might begin to ask what this box looks like in 5 years that good ole' Pandora is opening?
Is what Google, SayNow, and Twitter doing wrong or illegal? Is it the harmless stuff of weekend armchair warriors? On one hand I readily admit to being very proud that a bunch of American nerds would come up with a clever piece of technology to support a democratic movement against a dictatorship, and on the other hand I know I am seeing modern methods of non-state cyber warfare applied towards a political purpose against a state – leveraging the cyber medium where warfare is often difficult to identify or visualize until it is far too late. Bandwidth is a powerful weapon, and while it is unclear how powerful Speak-to-Tweet is or will ever be, it is important for us to note it here as a sort of genesis, or prototype capability in the development of bandwidth technologies that can and almost certainly will be used in future 21st century state and non-state level information warfare.

Posted by
galrahn
in
Cyber
,
Innovation