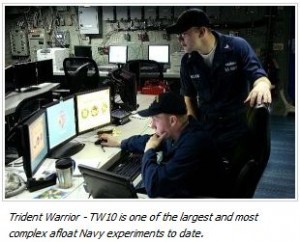 One of the more interesting comments that kept coming up in both plenary and side-bar discussions last week at AFCEA/USNI West 2011 was a concern that the USN simply does not do enough experimentation. The reasons why are many, but here are two that came up the most; one materiel and one psychological.
1. Our Fleet is too small. Our OPTEMPO and internal churn gives us too few platforms to experiment with. While we have a few examples out there, we don't have the "white space" on the scheduler's XLS to put into putting ideas into the Fleet and "see what they can do with it."
I understand that perspective and think that does have a lot to do with it, but I don't think that explains the whole problem.
2. We Demonstrate, We Don't Experiment. There is a distinct difference between a demonstration and an experiment. Demonstrations have as a goal "success." There is very little risk involved. Success and a green up arrow on the PPT is the expected outcome. The downside is that something that is known and mature also tends to be by its nature to have little risk and little new, novel, or or hmmmmmmable.
An experiment though has failure as an option – and in many cases a failure is just as good as a success, as with failures you learn and can refine. With new concepts experimented on proven platforms, you isolate technology risk such that if the experiment shows promise, the path to demonstration then deployment is short. Also, a splendid idea once experimented properly could turn out to such an unworkable concept that it is halted before more effort is wasted trying to operationalize it. You also avoid embracing the happy-talk and rosy-scenario so much that you put too much experimentation in new platforms – spiking technology risk – and as a result making ships that do too little for too much money. Huge aggregated developmental costs – little operational use.
"Experiment – Demonstrate – Deploy." Much better than "Deploy – Cancel – Replace – Fix – Feed Money – Spin – Deal With It "
Using what we learned in PSYCH101, I think our apparent bias against experimentation is easy to trace to it's source. We are soaked in a culture that encourages happy-talk and self-esteem based intellectual fluffery. Look how we write out FITREPS. Look how the "Every Child Gets A Trophy" mentality has turned the NAM into simply an item on the PCS out-processing checklist.
We are very bad at both giving or taking anything less than perfect. Every Sailor is above average, every system must be transformational. Every program, concept, or process must be sold as, "Never before has .…. "
What is a possible secondary effect of this lack of experimentation? Simple; as stated earlier – compounded technology risk in our programs.
New and immature systems almost always have growing pains. These pains cause timelines to shift to the right and for costs to increase. If you pack too much in one platform, the natural challenges with new systems compound. They compound. One delay costs another which then drives up costs downstream – rinse, repeat.
How do we re-invigorate experimentation? Well, we aren't going to have a larger fleet, so we have to address the intellectual bias against experimentation. That will take leadership that supports creating a climate that can see failure as part of learning how to win. Culture. Money too – but money follows priorities. Leadership sets priorities.
"We failed, but this is what we learned" should be rewarded and not seen as a waste. Not having everything on a stop-light chart would help too.
Do we experiment enough or not? Do the numbers back up this recurring theme – or is this just a feeling people have? In a climate of shrinking budgets – how much do we protect experimentation?

Posted by
CDRSalamander
in
Innovation
,
Navy