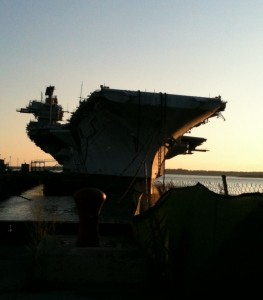 Ex-USS Saratoga (CV-60) sits alone now, at Pier 1 at Naval Station Newport, Rhode Island. Her sister, the more famous Forrestal (CV-59) has been towed to Philadelphia, and likely the scrapyard. A similar fate probably awaits Sara, as the immense cost of preparation and upkeep for museum ships is too formidable for most, particularly a ship as large as she. Yet, even as she rises and falls with the cold tide, Saratoga retains a regal majesty that only the breakers will be able to erase.
USS Saratoga was once an engineering marvel beyond compare, and when commissioned in 1956 dwarfed her older sisters of the Essex class, and even the late-war Midways. The second of the four Forrestal-class "supercarriers", her class would set the standard for American carrier design that remains with us to this day. Displacing more than 76,000 tons fully loaded, she could make 34 knots, and handle nearly one hundred aircraft. The photo below shows her alongside Essex, CV-9, and the difference in size is striking, despite fewer than a dozen years between designs.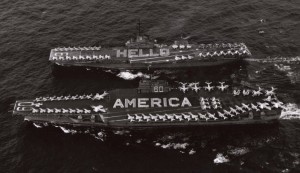 Saratoga spent most of her career in the Atlantic and Mediterranean, and her hospital spaces treated wounded from USS Liberty (AGTR-5) in 1967. Sara did make her way to Yankee Station in May of 1972, where she would support combat operations in Vietnam until January, 1973. Throughout the 1970s and 80s, Saratoga projected American power into the Atlantic and Eastern Mediterranean, where she often found herself facing off with units of the Soviet fleet, and maintained the edgy peace of the Cold War. In 1990, Sara headed to the Persian Gulf, where her aircraft flew in support of Desert Shield and Desert Storm.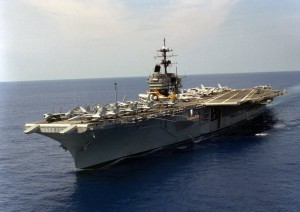 Even toward the end of her life, after 38 years in commission, she remained one of the most powerful and sophisticated warships afloat, but had been surpassed by her newer nuclear sisters. On 30 September 1994, Saratoga was decommissioned and struck from the Navy list. Since then, her hulk has been towed to its present location from Philadelphia, losing her tophamper, and having been extensively stripped as a parts source for units still in commission.
Yet, weather-beaten and forlorn as she is now, some 55 years after her commissioning and nearly 17 years after her crews lowered her ensign for the final time, ex-Saratoga still hints at the power which once roared from her decks. Though she will be gone soon, she is worth remembering for what she was in the prime of her service career.

Posted by
UltimaRatioReg
in
Aviation
,
Foreign Policy
,
Hard Power
,
History
,
Maritime Security
,
Navy