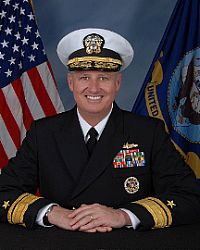 Word came earlier this week to the US Merchant Marine Academy community of the reassignment of the Academy's Superintendent, RADM Greene, who is himself an Academy graduate. See the announcement below.
Of more interest is just why the Secretary of Transportation, Ray LaHood, would go and reassign the good Admiral a year after appointing him to the position, a position that has lately appeared to become a revolving door. (See the Sec. Trans. praise of RADM Greene here) Take this clarification issued by the Alumni Association:
Important Message Clarification – In response to the feedback we have received from the "Important Message" released at 1300 EST regarding the Superintendent, I want to make it very clear that this is not a positive situation. The Superintendent has been "reassigned." This is not Admiral Greene's decision. The Dean is now the Interim Superintendent.

We are as deeply concerned about this turn of events as you are. As of now we only have the information that is in the previous release. I would like to answer all your questions but at this time that is just not possible. Thank you for your understanding and I hope this clears up any confusion.

Capt. James F. Tobin '77
President
USMMA Alumni Association & Foundation, Inc. – USMMA Alumni Association
It is now a couple days later and there is still little to no further explanation as to what has happened. I met the Admiral last December and he seemed like the perfect person for the job. Which makes me wonder, perhaps this Administration didn't appreciate that. Really, was the need at the National Defense University so great that it was better to once again open up the Superintendent's position at King's Point. In that Admiral Greene didn't even have the opportunity to decline and remain in his current position? Was their no other suitable candidate and if that is the case, just where did he intend to find a new superintendent?
In addition, warning comes that the budget ax is going to start swinging in DC. No word yet on where it will strike, but compared to the other service academies, the USMMA is in a somewhat exposed position. It will need a strong leader to defend the school's contribution to the US. As an alumnus, I hope that a replacement as strong as RADM Greene can be found quickly.
—————————
Important Announcement – Secretary Ray LaHood announced on Tuesday the appointment of Rear Admiral Philip H. Greene, Jr. (KP '78) to be the Department of Transportation Chair at the National Defense University in Washington, D.C.

Rear Admiral Greene served with distinction as Superintendent, United States Merchant Marine Academy since August 30, 2010. A native of Southern California, Admiral Greene, was our third Kings Point Graduate to serve as Superintendent.

Rear Admiral Philip H. Greene, Jr. (KP '78), has been named the 2011 Alumnus of the Year by the USMMA Alumni Association and Foundation. This prestigious annual award will be presented at the Homecoming Alumni Awards Dinner on Thursday evening, October 13th, in the Melville Hall Officers' Club.

Prior to his appointment as Superintendent at Kings Point, Admiral Greene was Director, Navy Irregular Warfare. Prior to this assignment Greene was commander, Combined Joint Task Force-Horn of Africa where he led operations to build regional security capacity and counter extremism in the Horn/East Africa. He also served in Naples, Italy, as director for Policy, Resources & Strategy, U.S. Naval Forces Europe/Africa (February 2008 to February 2009).

Previously he commanded Destroyer Squadron 31 from November 2002 to May 2004, where he served as sea combat commander for the Abraham Lincoln Strike Group during Operation Iraqi Freedom. Other sea duty commanding officer assignments include the Spruance class destroyer, USS Fletcher (DD 992) from March 1996 to November 1997; and the patrol missile hydrofoil, USS Taurus (PHM 3) from July 1989 to June 1991.

Significant shore assignments include duty as chief of staff to commander, Naval Surface Forces; and chief, North East Asia/China Division, the Joint Staff/Political-Military directorate (J5). In addition, Greene has served tours at the U.S. Naval Academy; the Secretary of the Navy's Office for Legislative Affairs; and the Bureau of Naval Personnel.

Greene is a 1994 graduate of the National War College (M.S. National Security Strategy) and a 1985 graduate of the Naval Postgraduate School (M.S. Information Systems). In addition, he holds a Merchant Marine license as Master (oceans, any gross tonnage).

Greene has received various service and unit awards. His personal decorations include the Navy Distinguished Service Medal, Defense Superior Service Medal, Legion of Merit, Bronze Star, Meritorious Service Medal, and Navy and Marine Corps Commendation Medal.

On behalf of the entire KP Alumni, we thank RADM Greene for his extraordinary efforts, dedication and leadership provided under very challenging circumstances. We also thank Admiral Greene's wife, Debby Greene, for her grace and dignity, and the valued work and contributions made to the Academy.

We wish Godspeed to our fellow Alumnus! – USMMA Alumni Association
PREVIOUS:
RADM Philip Greene '78 Named 11th USMMA Superintendent – August 2010

Posted by
FFry
in
History
,
Merchant Marine
Tags:
Fred
,
Merchant Marine
,
USMMA