Archive for October, 2011
Today, 5pm Eastern U.S. a discussion on the early lessons to be learned from the NATO experience in Libya with Sal from
CDR Salamander
,
Eagle1
and Dr.Robbin Laird:
Dr. Robbin Laird is co-founder of Second Line of Defense. He is a Washington and Paris based defense consultant and has worked with all of the US services on various strategic issues. His most recent books are the Re-Norming of Air Power and 21st Century Air Capabilities.
In addition to his books, Dr. Laird's works include: The Libyan Operation: Rethinking the Space Contribution in Rapid Response Operations, The Libyan Operation: Comparing the French and USMC Experiences and at AOL Defense French Libya Lessons Learned: Better Targeting, Flexible ROEs, Limits to Armed UAVs, for starters.
Join us 5pm Sunday 16 October at the link you'll find at the Midrats on BlogTalkRadio home page here. You if can't make the show, you can download it from the Midrats BTR home page or from iTunes.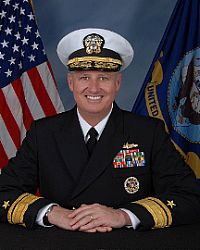 Word came earlier this week to the US Merchant Marine Academy community of the reassignment of the Academy's Superintendent, RADM Greene, who is himself an Academy graduate. See the announcement below.
Of more interest is just why the Secretary of Transportation, Ray LaHood, would go and reassign the good Admiral a year after appointing him to the position, a position that has lately appeared to become a revolving door. (See the Sec. Trans. praise of RADM Greene here) Take this clarification issued by the Alumni Association:
Important Message Clarification – In response to the feedback we have received from the "Important Message" released at 1300 EST regarding the Superintendent, I want to make it very clear that this is not a positive situation. The Superintendent has been "reassigned." This is not Admiral Greene's decision. The Dean is now the Interim Superintendent.

We are as deeply concerned about this turn of events as you are. As of now we only have the information that is in the previous release. I would like to answer all your questions but at this time that is just not possible. Thank you for your understanding and I hope this clears up any confusion.

Capt. James F. Tobin '77
President
USMMA Alumni Association & Foundation, Inc. – USMMA Alumni Association
It is now a couple days later and there is still little to no further explanation as to what has happened. I met the Admiral last December and he seemed like the perfect person for the job. Which makes me wonder, perhaps this Administration didn't appreciate that. Really, was the need at the National Defense University so great that it was better to once again open up the Superintendent's position at King's Point. In that Admiral Greene didn't even have the opportunity to decline and remain in his current position? Was their no other suitable candidate and if that is the case, just where did he intend to find a new superintendent?
In addition, warning comes that the budget ax is going to start swinging in DC. No word yet on where it will strike, but compared to the other service academies, the USMMA is in a somewhat exposed position. It will need a strong leader to defend the school's contribution to the US. As an alumnus, I hope that a replacement as strong as RADM Greene can be found quickly.
—————————
Important Announcement – Secretary Ray LaHood announced on Tuesday the appointment of Rear Admiral Philip H. Greene, Jr. (KP '78) to be the Department of Transportation Chair at the National Defense University in Washington, D.C.

Rear Admiral Greene served with distinction as Superintendent, United States Merchant Marine Academy since August 30, 2010. A native of Southern California, Admiral Greene, was our third Kings Point Graduate to serve as Superintendent.

Rear Admiral Philip H. Greene, Jr. (KP '78), has been named the 2011 Alumnus of the Year by the USMMA Alumni Association and Foundation. This prestigious annual award will be presented at the Homecoming Alumni Awards Dinner on Thursday evening, October 13th, in the Melville Hall Officers' Club.

Prior to his appointment as Superintendent at Kings Point, Admiral Greene was Director, Navy Irregular Warfare. Prior to this assignment Greene was commander, Combined Joint Task Force-Horn of Africa where he led operations to build regional security capacity and counter extremism in the Horn/East Africa. He also served in Naples, Italy, as director for Policy, Resources & Strategy, U.S. Naval Forces Europe/Africa (February 2008 to February 2009).

Previously he commanded Destroyer Squadron 31 from November 2002 to May 2004, where he served as sea combat commander for the Abraham Lincoln Strike Group during Operation Iraqi Freedom. Other sea duty commanding officer assignments include the Spruance class destroyer, USS Fletcher (DD 992) from March 1996 to November 1997; and the patrol missile hydrofoil, USS Taurus (PHM 3) from July 1989 to June 1991.

Significant shore assignments include duty as chief of staff to commander, Naval Surface Forces; and chief, North East Asia/China Division, the Joint Staff/Political-Military directorate (J5). In addition, Greene has served tours at the U.S. Naval Academy; the Secretary of the Navy's Office for Legislative Affairs; and the Bureau of Naval Personnel.

Greene is a 1994 graduate of the National War College (M.S. National Security Strategy) and a 1985 graduate of the Naval Postgraduate School (M.S. Information Systems). In addition, he holds a Merchant Marine license as Master (oceans, any gross tonnage).

Greene has received various service and unit awards. His personal decorations include the Navy Distinguished Service Medal, Defense Superior Service Medal, Legion of Merit, Bronze Star, Meritorious Service Medal, and Navy and Marine Corps Commendation Medal.

On behalf of the entire KP Alumni, we thank RADM Greene for his extraordinary efforts, dedication and leadership provided under very challenging circumstances. We also thank Admiral Greene's wife, Debby Greene, for her grace and dignity, and the valued work and contributions made to the Academy.

We wish Godspeed to our fellow Alumnus! – USMMA Alumni Association
PREVIOUS:
RADM Philip Greene '78 Named 11th USMMA Superintendent – August 2010
As the Independent Forum of the Sea Services – also celebrating our birthday this week – we are proud to be a part of the narrative that has helped shape our United States Navy's rich history and way forward. Since 1873 – Taking the Dare.
The Naval Institute celebrates the 236 Years of the United States Navy and welcomes the new CNO Admiral Jonathan W. Greenert. Here are his Sailing Directions:
Warfighting First: Be ready to fight and win today, while building the ability to win tomorrow
Operate Forward: Provide offshore options to deter, influence and win in an era of uncertainty
Be Ready: Harness the teamwork, talent and imagination of our diverse force to be ready to fight and responsibly employ our resources
The CNO, MCPON, and SECNAV message:
And let us not forget the birthday of the U.S. Naval Academy.
With that, we offer you a piece from our archive; a celebration of the future and knowledge through discourse.
NAVAL EDUCATION. By Commander A. T. Mahan, U. S. Navy.
Let me suggest, for those who missed it live, listening to this discussion of the U.S. role in Afghanistan after 10 years of war – you can find it at
Episode 92 Afghanistan – to what end at what price? 10/09 by Midrats | Blog Talk Radio
or on the Midrats iTunes page. Here's the blurb Sal wrote to advertise the show:
Over a decade in to the war in Afghanistan and over three years in to the surge of forces – have we reached the point of diminishing returns? Is the present AFG government stable enough to accept a transition? Is the present withdrawl timetable right, wrong, or just right?

Join co-hosts "Sal" from the blog "CDR Salamander" and "EagleOne" from "EagleSpeak" to discuss the past, present, and future of the AFG campaign for the full hour will their guest Michael Barrett, co-founder of Diligent Innovations, a Washington consulting firm, former Navy Intelligence Officer and director of strategy for the Homeland Security Council under President George W. Bush.
The opinion piece we discuss during the show, "Afghan Half Measures Are Costing Full Lives," can be found at Defense News here.
You may not agree with what you read or hear, but it is worth having a conversation about.
Lest We Forget -Taking the Dare
From Proceedings Magazine – October 2011 Vol. 137/10/1,304
By Lieutenant Commander Thomas J. Cutler, U.S. Navy (Retired)
At the end of the Civil War, the U.S. Navy was one of the largest in the world and, with its ironclads and advancements in ordnance and engineering, was on the cutting edge of technology. But within five years the number of ships had fallen from 700 to a mere 52, accompanied by nearly consequent technological retardation. The distractions of postwar reconstruction and westward expansion were among the chief causes, but for those who understood that the United States was, and always had been, a maritime nation, this decline was unacceptable.
Within the Navy itself, a promotion system based on seniority alone brought stagnation to the officer corps, with many gray-haired lieutenants despairing of advancement. While most officers accepted their lot, employing the age-old sailor's grumble as their only offensive weapon, a radical few were unwilling to be so passive, choosing instead to invoke the same determined spirit that had made "Don't Give Up the Ship" a credo for their culture.
In the early twilight of 9 October 1873, the sounds of leather boots on cobblestones converged on one of the U.S. Naval Academy's academic halls. Fifteen naval officers, ranging in rank from lieutenant to rear admiral, had come to "organize a Society of the Officers of the Navy for the purpose of discussing matters of professional interest." Many of these men had known the "dangers of the sea and the violence of the enemy"—indeed, Rear Admiral John L. Worden had commanded the USS Monitor in her historic battle with the CSS Virginia, and Commander S. Dana Greene had been his executive officer. Now, armed with quills rather than swords, they were exhibiting a different kind of courage, risking not their lives but their livelihoods as they prepared do battle the complacency and conservatism of those in power during this discouraging and damaging era. A century earlier, John Adams challenged his fellow Americans to "dare to read, think, speak, and write" and these 15 were heeding that call.
No one is quite certain who first proposed the idea, but Commodore Foxhall Parker—who had fought on the Union side during the Civil War, while his brother had served as Superintendent of the Confederate States Naval Academy—chaired the organizing committee. He was aided by Lieutenant Charles Belknap and encouraged by Worden, who was then Naval Academy superintendent. The others who attended that inaugural meeting included a pay inspector, a chief engineer, a medical officer, two commanders, five lieutenant commanders, a lieutenant, and a Marine captain.
They chose the name United States Naval Institute, and within a year, one of their published papers had influenced congressional legislation to support state-sponsored Merchant Marine training, one of the early steps that eventually brought America out of its maritime doldrums.
An idea conceived in extremis did not ebb once the crisis had passed, and today the Naval Institute continues its mission of supporting the sea services in its own unique manner, still on the grounds of the Naval Academy, although now in a hall named for Captain Edward L. Beach (and his father), who once described the Institute as like "no other organ in any of the armed services of any nation" because it "jealously guards its editorial independence," providing "a forum for free dissemination and discussion of ideas."
We owe much to those initial 15 and even more to the many who have dared to follow in their wake: reading, thinking, speaking, and writing for 138 years . . . and counting.
The superb Neptunus Lex has a very revealing piece over at his place. Complete with his usual witty, cogent, brilliant commentary. Seems a teacher in the San Francisco school system voiced his opposition to the Blue Angels in the SF Chronicle. His reasons are quite telling, and his is an opinion that is all too close to the norm among those who educate our children, both in secondary and higher education.

Of late, the phrase "Civil-Military Divide" has been the topic of much discussion and publication. Varying theories and opinions for this "divide" are offered and bandied about. However, I would suggest that the Civil-Military Divide is in great measure a result of things like THIS and similar events. Four and a half decades of such a viewpoint being front and center in many of our nation's classrooms. It is a viewpoint that embraces the moral relativism that says those fighting for freedom are no better than those who fight to oppress. That war, in all its forms, is composed of not soldiers but terrorists, who murder without conscience both innocent non-combatant and enemy soldier alike. The above bumper sticker is visible on a number of cars belonging to professors at the nearby Ivy League college, as well as those who teach at all levels of public school. To assert that such opinion does not color what is presented in the classroom, and how it is presented, is to be willfully blind to the realities of human nature.
Here in my small town some years ago I was a bit disturbed to see American soldiers on a mural in a High School classroom portrayed as SS Stormtroopers. When I asked the teacher what the purpose of such a display was, I was informed that he encouraged "self-expression". I suspect strongly that neither he nor his students knew very much about the symbolism being "expressed", nor why it was so egregiously offensive and inappropriate.
There is no breaching the divide between those who espouse such a philosophy as the writer of the Chronicle column, or the drivers whose cars are festooned with the bumper sticker, or the teacher who allows such a display in the classroom of a public school, and those who serve in our Armed Forces. Such cannot be reconciled. The great irony of a society that has been so safe for so long is that the absurdity of such a viewpoint as expressed by those people is never laid bare, but instead is allowed to perpetuate and gain legitimacy. The author of the Chronicle piece goes on to assert the following:
I was sitting in a seminar on the Holocaust at the University of San Francisco, completely mesmerized by the personal testimony of William Lowenberg, a Holocaust survivor now recently deceased. As he closed his incredible presentation, reminding us of how important it is to investigate and teach about the past, the Blue Angels flew over Lone Mountain, interrupting with their own thunderous narrative. I wondered what associations such sounds from the sky had in Lowenberg's mind. I could not fathom the gravity.
Were Mr. Lowenberg still with us, he might have been asked if the roar of the Packard-Merlin engines of the American Mustangs that signaled the defeat of Nazi Germany, and his liberation, indeed his salvation, was quite so offensive to his ears as is the roar of the Blue Angels to our teacher in San Francisco. And whether he considered the strong young men in olive drab uniforms who fought their way across Europe to free him, to have been terrorists. Not surprising that it never occurred to Mr. Hill to make the connection.
A common shortcoming of those who mistake knowledge for wisdom.
Whether we can afford it or not certainly remains an open question. But trials aboard the USS Wasp of the F-35B (BF-02) have begun. (You'll have to forgive Lockheed the rock music and video montage.)
Newer Entries »