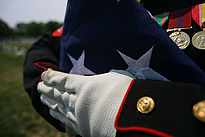 Suffolk (MA) University Law School professor Michael Avery tells us:
I think it is shameful that it is perceived as legitimate to solicit in an academic institution for support for men and women who have gone overseas to kill other human beings. I understand that there is a residual sympathy for service members, perhaps engendered by support for troops in World War II, or perhaps from when there was a draft and people with few resources to resist were involuntarily sent to battle. That sympathy is not particularly rational in today's world, however.
But wait, he has more to say:
Since Sept. 11 we have had perhaps the largest flag in New England hanging in our atrium. This is not a politically neutral act. Excessive patriotic zeal is a hallmark of national security states… Why do we continue to have this oversized flag in our lobby?
That kind of "civil-military divide" cannot be breached. Suffolk University Law School should consider carefully just whom they allow in the front of their classrooms. One has to wonder if Professor Avery could explain his views to a man such as this. I have my doubts.

Posted by
UltimaRatioReg
in
Air Force
,
Army
,
Coast Guard
,
History
,
Homeland Security
,
Marine Corps