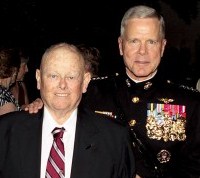 "Seamus" Garrahy described himself as "the luckiest Corporal in the Marine Corps". Perhaps, but those who got to meet him were truly the fortunate ones. Corporal Garrahy was a very successful businessman and a beloved member of his community in Gettysburg, PA. But what he was most of all was a Marine, through and through. His "steaks and beers" get-togethers at the end of the Wounded Warriors Bike Ride were the stuff of legend.
While I was at an Army war game a few years ago at Carlisle Barracks, I heard of the Bike Ride and "steaks and beers" event at the finish line, at the home of a local Marine. I assumed he had been a fairly senior dude, or at least a retired Marine. But no, I was told, he was a Vietnam Vet, got out after his enlistment as a Corporal. But, I was also told, he retained his lifelong love of the Corps, and to show his appreciation to those who suffered wounds in Iraq and Afghanistan, hosted the post-Bike Ride bash at his beautiful home in Gettysburg. I was given permission to skip out of half a day at the war game to watch the finish of the race, so I drove from Carlisle to Gettysburg, and watched the Marines cross the finish line. The sight of those Marines who had lost limbs, or eyes, or bore other scars from their wounds, riding to the finish of the hundred-mile race, was definitely worth the trip.
At the "steak and beer" event, I had the opportunity to meet and shake hands with the most gracious host, a personable and outgoing man named Seamus. I thanked him for his generosity in providing what was an absolutely incredible spread. As we chatted briefly, he mentioned that he could not begin to repay the debt he owed to those Marines who had paid such a price for their country and their Corps. I found myself humbled in the presence of so many Marines who had overcome such wounds and pain to ride the race, but also humbled by a man like Seamus whose selflessness and kindness to his Marine brethren knew no bounds.
This morning, I read the news at BlackFive that Corporal Garrahy had passed away. He'd had a long fight with bone cancer, one which I am certain he waged with the same courage and spirit that marked his life.
James L. "Seamus" Garrahy, 70, 30 Plank Road, Gettysburg, PA died Monday, January 9, 2012 at his home.

He was born June 29, 1941 in Chicago, IL the son of the late John R. and Marie Lydon Garrahy. He is survived by his wife Linda Bell.

Jim was a veteran of the US Marine Corps and remained active in Marine affairs for the rest of his life. Through the years he has hosted thousands of active and retired veterans at his home in what had become known as "Steaks and Beers". Seamus has also for the last five years hosted the finish line and post race event for the "Face of America – Wounded Warriors Bike Ride".

A Memorial Service and celebration of Seamus life will be held at a later date. In lieu of flowers memorials can be made to the Injured Marine Semper Fi Fund, 825 College Blvd, Suite 102, Oceanside, CA 92057 or the Adams County SPCA, 11 Goldenville Road, Gettysburg, PA 17325.
Semper Fidelis, Corporal Garrahy. And thank you for the way you lived and how you served. The Corps mourns deeply the loss of one of us.

Posted by
UltimaRatioReg
in
Marine Corps