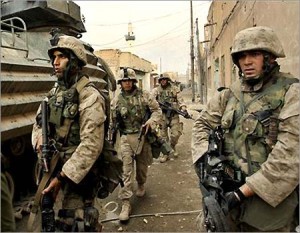 "…now it is time to think!"
This statement, alternately attributed to Winston Churchill and Ernest Rutherford, was the baseline theme of all of yesterday's speaking and panel sessions here at USNI/AFCEA West 2012.
But is it a fair statement? And is it accurate?
The implication of that statement is that senior military and civilian officials in the Defense Department have been accustomed to throwing money at problems rather than thinking through a solution. And this questionable practice is the reason for "bloated" Defense budgets in the post-9/11 world.
I disagree. While undoubtedly there are inefficiencies in Defense spending, and more can be purchased for the dollars spent, I simply don't buy into the notion that the statement implies.
Much is made of the "doubling" of the Defense budget between 2000 and 2011, but little is said of the effects of the "Peace Dividend" and the acquisition "holiday" of the 1990s. In yesterday's shipbuilding panel, of which more will be written soon, Mr. Mike Petters from Huntington Ingalls Industries (the shipbuilder formerly known as Newport News Shipbuilding and Drydock, among other names) gave us some interesting insights as to the effects such uneven procurement and "holidays" have on building ships. The cost to the manufacturer of sitting idle, and of sudden restart at a surge level, is considerable. Elsewhere, in the Navy-Marine Corps Team panel, there was also significant discussion of the very real problems experienced by prime and sub-contractors when production drops below minimums for business solvency, or unpredictable dry spells and cancellations occur.
The costs of fighting two wars that represent a level of commitment of a single Major Regional Conflict (MRC) in 1990s parlance undoubtedly drove up Defense budgets, with personnel increases for the Army and the Marine Corps, operating costs, ammunition and fuel, aircraft and ground equipment maintenance and repair, and rapid acquisitions of vital equipment like MRAP vehicles as the dollar drivers. Many of those rapid acquisitions centered on burgeoning technology and unanticipated requirements, and anticipated requirements that had not been met (up-armored M1114 HMMWVs) in anywhere near sufficient numbers over the previous decade.
However, I cannot agree that the services, especially the notoriously tight-fisted Marine Corps, suddenly spent the last decade as profligate spenders without rhyme or reason, as if they had their parents' credit card on a college weekend. If they did, then such did not occur at the tactical level.
Today, with US military involvement with Iraq at an end, and Afghanistan employing a small fraction of the US Military (90,000 of 1.44 million, just 6.2% of personnel), the "pivot" of the focus of our military to the Pacific region and the execution of the Cooperative Strategy requires meaningful commitment of adequate resources to counter the capabilities of a fast-rising near-peer in China.
While comments from each of the speakers and most panel members were couched in terms of required and critical capabilities, there was acknowledgement of the budget axe that will be the final arbiter of which capabilities we can afford, and which we cannot. Where and when that axe falls will determine this nation's ability to execute its National Military Strategy, and by extension, its National Security Strategy.
Doing "more with less", another phrase often heard yesterday, is a hackneyed and trite bit of platitude that is a signal that what we truly have is not a capabilities-based Defense budget, but budget-constrained Defense capabilities. You do not do more with less, you do less with less. That, whether it is a popular sentiment or not, is an inviolate fact of life. To the vast preponderance of the men and women of the US Military, who have always done as much as possible with what was given them through two protracted wars, the idea that thinking only takes place when all the money has been spent is an affront to them and is dismissive of their courage and commitment.
If I don't hear Churchill's words applied to our Military ever again, it will be too soon. If there is a ringing of truth in them, it should be in the ears of those who wear stars and wide gold stripes. The rest of us have been thinking all along.

Posted by
UltimaRatioReg
in
Air Force
,
Army
,
Books
,
Coast Guard
,
Foreign Policy
,
Hard Power
,
History
,
Homeland Security
,
Marine Corps
,
Maritime Security
,
Naval Institute
,
Navy
,
Proceedings
Tags:
WEST 2012