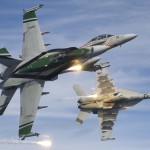 We are spending millions of dollars chasing numbers for the sake of numbers. What if we – the Naval service – knew that the ability to change the racial and ethnic numbers coming in to aviation was totally outside our control? What if we also knew that the data being entered was full of errors, inaccurate, and not related to the larger desired outcome?
What if we knew that – but – decided that we were not only going to continue to try to control the uncontrollable, but to try to create accurate metrics from inaccurate data?
Well – that is what we are doing – and we're even saying it.
The Naval Audit Service put out a report in OCT of 2011 titled, "Naval Pilot and Naval Flight Officer Diversity" that was released in a redacted version via a FOIA. You can get your own copy of it here. There is a lot of good in the report, and it deserves a full read.
The problem as some see it is outlined early.
The Naval Pilot/Flight Officer communities, a significant portion of the Navy's commissioned officers, are not on track to reflect the diversity of the nation. In his 2011Diversity Policy, The Chief of Naval Operations states that we "must…build a Navy that always reflects our Country's make up." Low enrollment, high attrition, low preference,and low selection at commissioning sources for certain minority groups, and low performance in flight training, are contributing to the lack of diversity.

If this trend continues, future senior leadership in the aviation community will not reflect the diversity of the nation.
That identifies the "what" and "so what." Is the solution inside the lifelines of the Navy to correct? As real barriers were removed well over half a century ago – then, "what next?"
The reasons for the delta are now socio-cultural in the nation at large. Just one of the core entering arguments: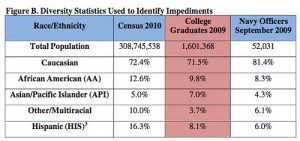 We know it is beyond our control too.
A review of the "reasons why" certain groups enroll at low rates, or have higher attrition, may identify issues beyond or outside Navy control.
This is good. This is a modern, mature, and logic based approach to a tough problem; sadly we don't flesh it out much in the report – but it is a start.
Objective standards are fair, but do not guarantee equal outcomes when, on average, the indicators for success differ at the start.
Student Naval Pilots/Flight Officers' performance is measured using a Navy standard score. To be eligible for the jet training pipeline, a student Naval Pilot must receive a score of 50 or above. We reviewed the flight training performance standards and found that they appeared objective.

However, we determined that African American, Asian/Pacific Islander, and Hispanic students' average Navy standard scores were lower than Caucasians. These lower scores negatively affected the number from each minority group entering the jet pipeline.
Is that the Navy's fault? No – that simply reflects the educational and socio-cultural challenges the broader nation has.
In the past, the Navy has got itself in trouble by pushing good people with good intentions to start to do bad things. This is where the bad comes in.
Establish metrics to monitor and track progress of enrollment, graduation, preference, selection, and performance …
We all know what metrics mean. From measures of effectiveness to "goal achievement." If you cannot move the needle due to factors outside your control and only have objective criteria based on indicators for success under your control … what can you do to move the needle that the metrics demand? The answer isn't good for anyone.
Even if we could chase numbers – are the numbers accurate?
It should be noted that race and ethnicity was self-reported by the students, and they could self-report as a different race or ethnicity when asked at different times.
Well, there we go. It is good to see in print what we have all seen in the Fleet. Fraud, folly, or foolishness; it is there when it comes to checking the block, and it increases the margin of error for all these numbers.
To our credit, the Navy has not lost faith in its objectivity, but knows there is pressure to move away from that objectivity. More than most warfare specialties perhaps, aviation is exceptionally sensitive to standards due to the minimal margin for error in that line of work. You can feel that undercurrent in this report – the professionals trying to push past the retrograde zeitgeist.
We concluded that the Multi-Service Pilot Training System, used by Chief of Naval Air Training to measure student performance, appeared objective. To account for potential differences in scoring across training squadrons, student scores are normalized over the last 60 students that graduated from the same squadron to create the Navy standard score.According to Chief of Naval Air Training officials, the Multi-Service Pilot Training System is a legally defensible and objective system.
Towards the end, the authors touch on a survey that was a lost opportunity. What would have been the results if "non-diverse" and male students were asked the same questions about themselves? Just to compare results, it would be interesting.
We also reviewed the "Naval Aviation Student Training Attrition Report," a summary of exit surveys administered to student Naval Pilot/Flight Officers after they resign from or complete major phases in flight training. When asked whether diverse students were discriminated against, 0.08 percent (4 of 4,996) of respondents indicated that this occurred, and 0.39 percent (3 of 766) of diverse respondents indicated that this occurred. When asked whether female students were discriminated against, 0.46 percent (23 of 4,996) of respondents indicated that this occurred, and 2.67 percent (12 of 450) of female respondents indicated that this occurred.
In any event – those are incredibly small numbers and considering the human condition – numbers to be proud of. You will never find 100% of people who think they are being treated fairly – but 99.92% to 97.32% ? Even by Soviet election standards — that is exceptional.
This whole exercise is sad in another, broader sense. This is the second decade of the 21st Century. Many of those entering flight training are 22-23 years old. They were born in 1990-91. So much of the training, ideology and talking points about diversity seem stuck in the 1970s. It simply is not reflective of today's generation of young people; why are we forcing division down their throats?
Unlike those of earlier generations who are making these decisions, today's young men and women live diversity every day. It is a natural part of their lives, and to force such a multi-racial and mixed-race generation to divide themselves by something as meaningless yet divisive as race (my family can pick a minimum of three if they want) is, at best, counter productive.
At worse? Review history – your answers are there.

Posted by
CDRSalamander
in
Navy
Tags:
Aviation
,
Diversity
,
training