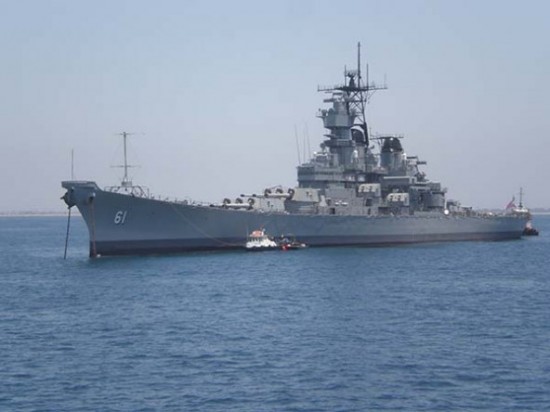 The lead ship of the magnificent Iowa-class battleships, the fastest and most advanced gun ships every to put to sea, has arrived at her new home, Berth 87 in San Pedro, opposite the Los Angeles Maritime Museum, itself newly renovated.
Iowa (BB-61) was saved from her Suisun Bay purgatory, and the cutting torch, and will be open for visitors on 7 July. The veteran of World War II and Korea was recommissioned in 1984, and suffered the tragic explosion in Turret 2 in 1989, which killed 47 sailors.
She now is the last of the four of her namesake class to be preserved, with New Jersey (BB-62) in Camden NJ, Wisconsin (BB-64 and Scott's beloved Big Badger Boat!) in Norfolk, VA, and Missouri (BB-63) at Pearl Harbor, near Arizona (BB-39), forever in her watery depths at Berth F-7.
As a museum battleship, Iowa joins her sisters, and USS Massachusetts (BB-59) at Fall River MA, and USS Alabama (BB-60) in Mobile Bay, the two surviving South Dakotas, and the Grand Dame of US battlewagons, the venerable USS Texas (BB-35) at Galveston, TX. (Texas is the lone second-generation Dreadnought still extant, and saw service in both World Wars following her commissioning in 1914.)
Iowa began her journey from the "Mothball Fleet" in Suisun Bay in October 2011, to Richmond CA to repair and restore, scrape and paint, and replace rotted teak decks that are the inevitable result of twenty years' time at the mercy of the elements. She also received the sprucing befitting a lady whom will be in the public eye. From there, she passed under the Golden Gate one last time late in May, and arrived off Los Angeles on Friday.
Many thanks to all those folks whose pictures I used in this post.
******************************************************************
As Mr. Robert Evans points out, I am guilty of a most egregious omission. USS North Carolina (BB-55) is preserved beautifully in Wilmington NC. Shame on me for missing the "Showboat". Especially since it was a favorite destination during my two tours at Lejeune!!!

Posted by
UltimaRatioReg
in
Air Force
,
Army
,
Books
,
Coast Guard
,
Foreign Policy
,
Hard Power
,
History
,
Homeland Security
,
Marine Corps
,
Maritime Security
,
Naval Institute
,
Navy
,
Proceedings
,
Travel