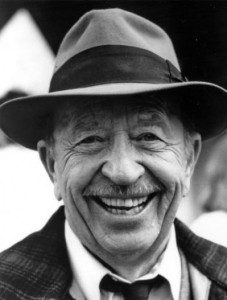 The news today carried the notice of the passing of actor Frank Cady, aged 96. Frank Cady was best known for playing shopkeep Sam Drucker on the 1960s sitcom "Green Acres". Mr. Cady looked old then, which was more than 40 years ago. What strikes one who reads the cast list for "Green Acres" is the fact that actors who played three major characters, as well as the composer of the "Green Acres" theme song, were all veterans of World War II. (Warning: clicking on the link will cause that song to run through your head during important meetings and possibly religious services, so do so at your own risk. )
That composer was the late Vic Muzzy, who served in the United States Navy. Actor Alvy Moore, who played Hank Kimball, was a US Marine combat veteran in the South Pacific. And most notably, star Eddie Albert was a Navy salvage officer who experienced the terrible carnage on the beaches of Tarawa. He talked of his experiences in the 1993 History Channel documentary Death Tide at Tarawa. Moore passed away in 1997, Eddie Albert in 2005, and Muzzy in 2009. Frank Cady was the oldest and the longest-lived of them.
These stars are all gone now, as are most of the Hollywood veterans who put their careers on hold to serve our nation. Gone with them is their collective consciousness of service in wartime that made them so very different from those who act and produce what Hollywood makes and sells today. Not every change is for the better.

Posted by
UltimaRatioReg
in
Air Force
,
Army
,
Books
,
Hard Power
,
History
,
Marine Corps
,
Navy