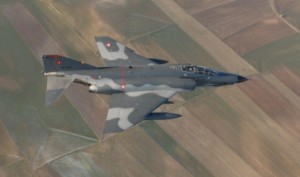 It would seem that the word "solidarity" doesn't mean what it used to.
Turkey, a long-time member of NATO, invoked Article 4 of the Charter, which calls for emergency consultation of all 28 member states, in response to the Syrian downing of an RF-4E reconnaissance aircraft. While not as serious as Article 5, which is invoked in the defense of a NATO ally that has been attacked, Article 4 has generally been seen as a preliminary to discuss options short of armed response. Turkey had threatened to invoke Article 4 back in April, when a cross-border incident in a refugee camp left five people, including two Turkish officials, dead.
From the meeting in Brussels, all Turkey got was the expected condemnation and the assurances of NATO togetherness. Turkey may have been expecting little else. Which is a good thing. In the case of Turkey and Syria, NATO is contemplating no such thing as armed intervention, or intervention of any kind. Not least of which because of Russia's stance and Putin's support for Syria's embattled Assad, combined with the general and embarrassing lack of credible capability demonstrated by NATO in Libya last year.
Despite a WAPO article with some speculation that NATO would consider sidestepping the UN and a certain Russian veto for real action against Syria, the chances of such a sidestep are virtually nil. Turkey knows that, Russia and Syria (and Iran) do, too. Making invocation of Article 4 a symbolic gesture by Turkey toward an increasingly impotent NATO, whose only action was to "condemn in the strongest terms". I am reminded of one of my favorite Daffy Duck lines. "I will do everything in my power to help you. Which will be nothing!" The rather unimpressive response to Turkey's Article 4 declaration bodes ill for any NATO member that might possibly wish to invoke Article 5, particularly if Putin and Russia wait in the wings.
Visegrad Group, anyone?

Posted by
UltimaRatioReg
in
Air Force
,
Army
,
Foreign Policy
,
Hard Power
,
History
,
Maritime Security
,
Naval Institute
,
Navy