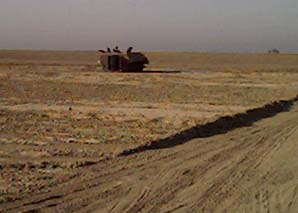 The week after my squadron returned from what was my first deployment, we held an officers' meeting in the Ready Room. At the meeting's close, our XO stood up and asked the younger pilots to stay behind. The Ready Room emptied out and eventually only a dozen of us first lieutenants and captains were left. The XO shut the door, then saw me and kicked me out too. He needed to speak to us because the squadron had to supply a pilot to be a Forward Air Controller for an infantry battalion, but he didn't want me there because I wasn't allowed to be a FAC with an infantry unit.
No one really wanted the FAC tour just yet, since we'd just finished our first deployment as new pilots and had been busting our butts learning how to fly and fight our aircraft. The war in Afghanistan was new, we were young and unscathed, and we were chomping at the bit to do our jobs. But we needed to send a pilot to the battalion, and as a woman, I was unqualified.
After nearly a year in the squadron, I was just another pilot among many. But suddenly I became a female pilot, and was set apart. And regardless of personal qualifications, my presence immediately limited the command's options.*
Why keep a capable, qualified pilot from serving as a FAC with an infantry unit? Why restrict any qualified individual based on assumptions about his or her gender? This debate has been going for years, and the same arguments against lifting the restriction on women in combat keep echoing, but after a decade of war, those arguments sound empty given the reality on the ground and in the air.
In Iraq and Afghanistan, women have repeatedly proven that they can handle the physical and mental stresses of combat in many different forms. Nearly 300,000 women have served in Iraq and Afghanistan, in a range of jobs unmatched in recent history. They have participated in combat operations at historical rates. Women can do the job, and women are doing the job, right alongside men who have long since stopped seeing them as women, and instead simply see them as fellow Marines, Soldiers, Airmen, and Sailors. My own experiences overseas and those of many of my generation—male and female—have rendered the combat restriction obsolete, reinforcing that gender does not matter if one can do the job…it's about ability.
Debates about the legal restriction on women in combat units are usually accompanied by arguments about physical strength and biological differences, the nature of combat versus the nature of men and women, and the effect women will have on men and, therefore, on unit cohesion and effectiveness. But the past decade has offered up years that counter these assumptions, showing that we have systematically underestimated our Marines and Sailors and their abilities.
Physical strength:
Women are already carrying the same loads that men are, in training and in theater (has anyone seen the pictures accompanying General Amos' road show brief?). From The Basic School to Iraq and Afghanistan, we all carry and wear lots of gear. But to erase lingering doubts about capabilities, set one physical standard for combat units and stick to it. Maybe only a few women will make the cut, but we may see less 130-lb, video-game-playing 19-year-old men, too. If someone is physically qualified, they should not be restricted based on gender. Period.
The nature of combat vs. the nature of gender:
Passive women, aggressive men, nurturing mothers, protective fathers…these are stereotypes that do not cover all—or arguably even many—people. Most people, male or female, are not suited for the violence of combat (or for any military service, for that matter). But some are. There are female Marines I'd follow anywhere and male Marines I wouldn't. We all know those who don't fit the gender "mold." Let ability be the deciding factor.
Showers and toilets:
Everybody stinks after awhile. Water bottles, solar showers, wet wipe baths. Not pretty, but I did it. Everyone does it. As for privacy and bathrooms, we all adapt and figure out how to make things work. If you have enough gear on, nobody can see anything, anyway. One of our bathrooms in Iraq was the rusted hulk in the picture at the top. Worked like a champ if timed right. If you want more details, I'm happy to provide. Bottom line, women make do, just like men do.
The effect of women on men and the breakdown of unit cohesion:
Claiming that men are "hard-wired" to compete for women insults men and women alike. It insults our integrity, intelligence, dedication and professionalism, and places the responsibility for handling this "natural" occurrence squarely on the shoulders of women. The usual argument is that men can't handle themselves around women, so women should not be allowed. Whatever happened to leadership, professionalism, and taking responsibility for one's actions? And as women and men train together, gender can disappear, and then we are all simply what we wanted to be to begin with: Marines. Not male Marines, not female Marines, but Marines. If you see someone every day and you know that person can do the job, there's no distraction.
Our Marines and Sailors are not so poorly trained or simplistic that the presence of someone who looks different will destroy a unit from the inside. Women—just like men—have heart, soul, and incredible motivation, and join the Marines to be a Marine: to be challenged, to serve with the best, and to be part of something great. Claiming that the presence of women will destroy a unit underestimates the intelligence, dedication and professionalism of our military, and—above all else—shows ignorance of what our military does on a daily basis.
Look at our forces today. Women have been serving and fighting alongside men in Iraq and Afghanistan all along, and the sky hasn't fallen. The fears have not materialized. Unit cohesion has not collapsed, the mission is being accomplished, and men and women are serving and sacrificing side-by-side. As Marines. Ask all four Wings or the Marine Logistics Groups. The Divisions are no different: find an infantry battalion without women "attached" in theater. By all measurable standards of readiness, we have co-ed units deployed today capable of successfully performing the most complex missions. If the presence of women will break down cohesion, causing readiness to plummet and units to fail, where are these failing units? Where is the mission failure?
Keeping the legal restriction in place reinforces and perpetuates the assumption that women cannot fight as well as men and cannot protect themselves. It draws lines between Marines that don't need to be there. In deployed units, this can have highly negative consequences and can poison units from within, something I have experienced firsthand.
This restriction keeps women from serving in all capacities based on what is assumed about the abilities and natures of all women and all men. Ostensibly, these regulations protect vulnerable women from the dangers of combat while keeping men from being distracted—or endangered—in combat by a woman (whether protecting her or picking up her slack). This generalizes all women and their capabilities while denying women the opportunity to fully answer the call to serve. Just like men, women are capable of great ambition and of yearning to belong to something bigger than ourselves, to serve and sacrifice. Isn't that why we all—no matter the gender—sign up?
It's time to finish this debate and do what's right. Putting up barriers between men and women based on generalized assumptions distracts those serving and wastes time and energy. We should let the best person have the job, regardless of what's between their legs. To many of those fighting the war today, it's a non-issue. They are already serving together, and have been for years.
General Amos, the Commandant of the Marine Corps, recently sent a letter to the senior leadership, addressing the ongoing discussion on women in combat. He described the research that the Marine Corps is conducting on the topic and closed the discussion with, "Our end state is a thorough, credible, and defensible Service position that responds to our civilian leadership while keeping faith with our Marines, in garrison and in combat." Let's keep faith with all Marines. Open up all MOSs to everyone, keep the standards high, and do not raise invisible barriers. Let Marines be Marines, and the rest can follow.
*as for the FAC tour, a friend took it, and I never felt right about it.

Posted by
Jeannette Haynie
in
Marine Corps