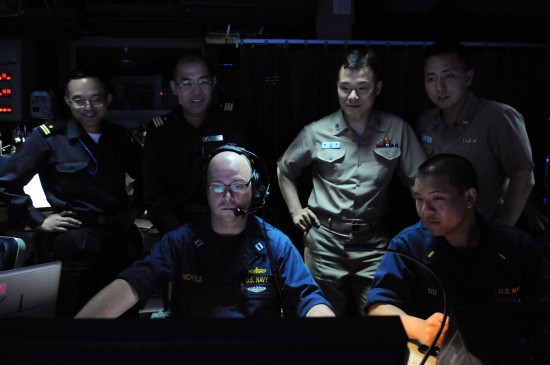 Dr. James Holmes, a USNI Member and author of both articles and books at the Institute, has a series of posts over at his blog The Naval Diplomat about the strategic thinking of Colonel John Boyd and strategy in East Asia. As an occasional student of Boyd's work, I always love reading thinkers who use his ideas to attack today's challenges. Aviators are all aware of Boyd's work because to this day we study the Energy/Maneuverability diagrams for our aircraft (which he discovered and first mapped as a Major) and those of our opponents to learn how to get the most out of our airframes. As Holmes outlines, Boyd is also the father of the OODA Loop, sometimes called The Boyd Loop. Starting at the tactical level, but also moving through the operational to the strategic, Boyd identified four phases that occur in any competition: Observe, Orient, Decide, Act.
Many people who have studied Boyd's work focus on the speed element. Speed plays an important role in his thinking. He focuses on "fast transients" in a lot of his work, or the ability to move through the loop faster than your adversary. He suggests that success comes with the ability to change directions or adapt most quickly. The element of speed draws a lot of people in, from business strategists and writers to military strategists who suggest that out-speeding your opponent will result in a shock to their system that can end fighting quickly. However, this focus ignores an important question: Can you speed in the wrong direction?
Boyd students frequently debate which element of the OODA loop is the most important. Each one has a role to play, but without accuracy in each the speed of the cycle doesn't necessarily matter. You could be speeding off a cliff. This all brings me to something that our esteemed blogger here at USNI, H. Lucien Gauthier, brought up a couple weeks ago…the perils of the information age. While his discussion took us in another direction, it got me thinking about the Boyd Loop and the networked navy.
The OODA loop continues unabated in today's maritime environments. We continue to develop new TTPs and new weapon systems (and should continue to develop them), which help us Act. Sensor systems have ever increasing range, from BMD capable Aegis to unmanned systems that will take our sensor net out even further, which allows us to Observe. However, turning all of that observation into action becomes the trick. In my reading and experience, I think that orientation and decision have become the harder parts of the loop for today's navies.
Building situational awareness (SA) is the link between observation and orientation. What is all that information telling us? The more information flows through the network, the harder it becomes for the individual, whether the TAO in Combat or the Captain on the bridge, to prioritize the information and decide which parts are important. What is it all telling me? Alfred Thayer Mahan warned that "headlessness of conditions, or recklessness of dangers, defeats efforts everywhere," however in today's networked maritime world we tend to look at ourselves as conduits of information, not the users. Pass the info in chat, make sure the Battlewatch is up to date on what's going on, let them decide what is important. This creates two issues. First, we've now increased the flow up the chain of command and made it harder for them to know what is going on. Second, Officers and Sailors learn to pass the buck, move the decision up the chain, in a zero-defect world it's so much easier to make your boss make the call, especially when she already has a 5000-mile-long screwdriver on the tool belt. The result is a lack of orientation, which leads to poor decisions made at the wrong level.
In his great article "The U.S. Navy's Leading Edge," in the September Proceedings, LT Kermit Jones points out that:
The advent of communication technologies such as email, chatting, and voice while under way has created a capacity for direct contact between much wider gaps in the chain of command than ever before. But the presence and integration of these technologies presents a difficulty in maintaining boundaries. It is harder to define or maintain decentralized command when the higher authority has immediate access to information and operational elements. This may be caused in part by the increased rate of information flow.
In our desire for speed through the OODA loop, are we causing our orientation to suffer? Are we sure we know what is happening? Jones also warns:
…there is a danger of breeding a generation of officers who do not process but simply pass along information. This raises questions about the knowledge level of current commanders. Specifically, if you don't actually make decisions (because your simply a conduit of information) why study your craft?
So, if we don't build our SA, or develop our own orientation, and we pass the decision making ever deeper through the chat rooms, how can we ensure that the Boyd Loop works properly? In naval circles the tendency toward technological determinism causes us to focus on the Observation and Action in the loop, because in those places our dominant technology gives us the asymmetric advantage. However, If the focus is on speed of the system, then there is a tendency to move from observation straight to action. But without orientation and decision making at the proper level you end up in the position of the French Fleet at The Battle of the Nile, as LT Jones describes in his article. Or you end up in CIC aboard USS VINCENNES while an Iranian airliner flies its daily scheduled flight.
The work of Colonel John Boyd gives us a great framework to assess naval operations in the 21st century. Our technological focus and desire for speed of operations are both things that a surface reading of Boyd would encourage. However, deeper study helps us to understand that each part of the Boyd Loop is important for success in naval combat.
[Photo credit U.S. Navy]

Posted by
LCDR Benjamin "BJ" Armstrong
in
Navy