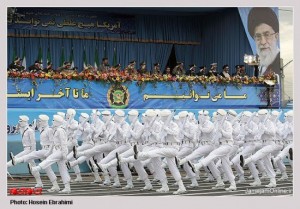 Over the past few weeks, senior military leaders and intelligence officials have publicly acknowledged the growing threat from foreign military forces to the US homeland. This may seem unrealistic given the overwhelming military advantage the United States has over any other nation's military, but there are plausible scenarios where the US homeland could be vulnerable to attack, particularly during periods of US military operations overseas.
Before examining emerging threats that may place the security of the homeland at risk, one must first consider the complex problem of escalation. According to RAND, escalation can occur in several forms: vertical, horizontal and political. Escalation can also be carried out through conventional or asymmetric means. Certainly, attacks can be executed in the future to create a more complex hybrid escalation event. The US Military has already encountered the challenges posed by escalation during Operation Desert Storm.
As Iraqi President Saddam Hussein faced the reality of an overwhelming coalition force, he decided to use his over-matched military assets to attack civilian population centers in Israel. He also ignited oil fields in Southern Iraq in order to inflict environmental damage and to restrict coalition military movement. These are examples of horizontal and political escalation, respectively.
In discussing the new DOD Strategic Guidance, Dr. Janine Davidson recently noted that adversaries will likely go asymmetric and irregular to counter a US military advantage. This implies the US homeland will likely be in play should military force be used in the future. US military leaders and policy makers have not had to contend with this reality since World War II.
A host of legal/policy concerns, such as the Posse Comitatus Act and the imposition of wide-spread martial law, would challenge conventional thinking given these scenarios. An effective response would demand an unprecedented level of coordination and integration of Title 10 and Title 32 military forces with federal, state, and local law enforcement personnel. Some scenarios would likely have local law enforcement personnel performing ad hoc para-military operations. A significant military response within the homeland would certainly stress civil-military relations and threaten the civil liberties of US citizens, particularly those of certain ethnic groups associated with the adversary. Could this lead to increased radicalization or even threaten internal stability?
Current military capabilities that could be used to attack the US homeland include:
Conventional attacks enabled by emerging technology
Special Forces conducting direct action –Mumbai style attacks
Weapons of Mass Destruction
Improvised Explosive Devices
Cyber Attacks
Psychological Operations
Economic Attacks
While these capabilities alone or in aggregate would certainly not defeat the US military, they can inflict damage to the homeland that would cause public support for military operations to either wane or force the military to take more aggressive action than would normally be prudent. Homeland attacks would also impose a significant cost imposition on the US, which would divert scarce resources away from other military operations.
Considering the prolonged military operations over the last decade, would US popular support for the wars in Iraq and Afghanistan have lasted as long as they have if US citizens were being killed in the homeland? In the future, would direct support for a critical ally, say Israel or Taiwan, withstand foreign military operations on the homeland or would US citizens demand military operations cease, as witnessed in Vietnam or Iraq?
Having to fight a two Combatant Command (COCOM) war has not been experienced by the modern US military since the National Security Act of 1947 established our current organizational structure. This scenario would provide an enormous challenge to coordinate and integrate operations between multiple COCOMs. An example the US could use as a precedent was having to respond to hurricane Katrina, while fighting limited wars in Iraq and Afghanistan. However during these events, leaders were not faced with command and control challenges or limited military resources. This would certainly not be the case in military operations against a near peer competitor.
The so called American way of war ensured the security of US interests over the past sixty years by taking overwhelming military force to the enemy's doorstep. Unfortunately, the US will not be afforded that luxury in the future. Our nation's military and civilian leaders must incorporate defending the homeland into their decision making calculus should military action be realistically considered in the future. The US public must also be aware that the decision to use military force will likely affect the livelihood of each American citizen in ways Americans have not witnessed during this generation.
The plausible scenarios associated with future wars will radically challenge our current perception of complex operations and will make the wars fought over the last 10 years seem like child's play. The results of past operations speak for themselves and future wars will be even more complex and will demand a far greater level of strategic thinking and adaptation by both military and civilian leaders.
Robert Kozloski is a program analyst with the Department of the Navy and the author of "Rethinking Threats to The Homeland: Considerations for the Joint Force" currently under review at Joint Forces Quarterly.

Posted by
Robert Kozloski
in
Foreign Policy
,
Hard Power
,
History
,
Homeland Security
,
Marine Corps
,
Maritime Security
,
Navy
Tags:
Robert Kozloski